HPT Murphy's
Photo album
If you are in or Know of people in these photos then visit the message board mentioned on the Home page and leave a note for all of us to say where you are and what you are doing now.
Photos from time served In the naval service Aboard L.E.Eithne(P31) from 1986 onwards.
All the following Photos are property of one HPT Murphy. I assume when he sent me all these he wanted them posted.I hold no responsibility for any discomfort caused by viewing some of these photos...All Captions by Mr Murphy Himself.i.e thats him firing the rhinemetall..not the pig in charge(someday...perhaps)
They are the best look at Naval Life that I have ever seen(no frills)
In no particular order...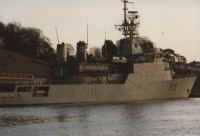 Eithne Alongside Waterford 1993
Heli Ops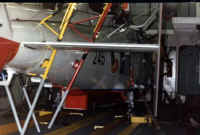 It did actually live with us breifly in 1987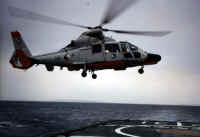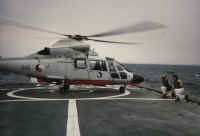 hail the Dauphin.....FDO and his young apprentice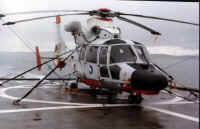 A mirage from 1987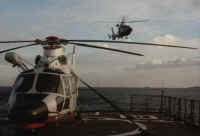 The Dauphin on the deck had suffered an engine fire the previous day and the one hovering was bringing in spare parts and engineers.Taken in the Irish sea in the autumn of 1987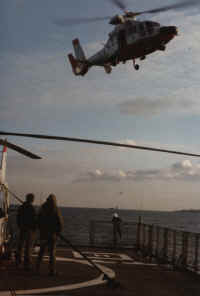 Dope on a rope.On of the repair crew arriving to work on the damaged 244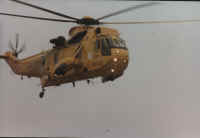 taken with a 35mm lens before he did a HIFR 1987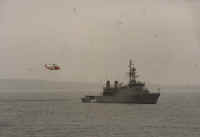 Eithne Dunmore east 13 june 199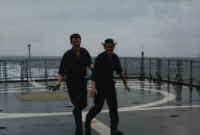 When we didn't have a helo we used to get volunteers to flap their arms and run around the flight deck.Today it was the Engineering divisions turn
Exercise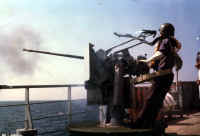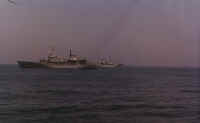 Deirdre passes Aisling on shoot 1988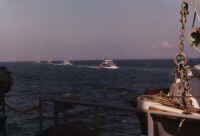 PVs line astern on a shoot 1988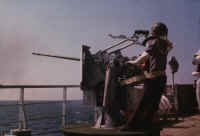 Port Rheinmetall "engage".... me 1988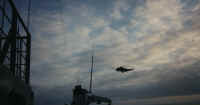 R.N AEW Seaking taking a closer look at us Oct 1987'PurpleWarrior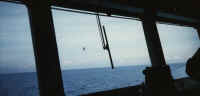 theres that bloody seaking again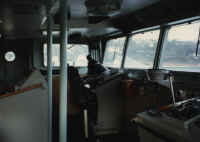 Bridge L.E. Eithne ..Christmas day 1987
Boarding Stations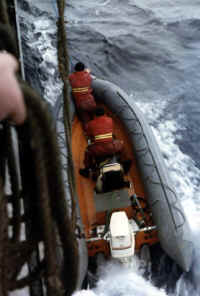 damo and mugger getting a searider alongside...notice the lack of safety gear (This is just too scary..PIC)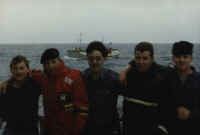 Boarding Stations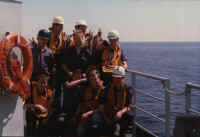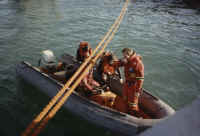 divers replacing 'anodes'on the ships hull along side in Dunlaoighre Jan 1988,The man standing is LtCdr Tom Meehan . the boat cox is Steve Mulligan and the divers are Damien Power and Coochie Doyle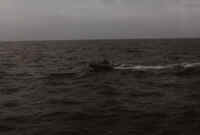 just hanging around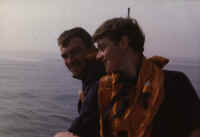 l to r A/sea's Donal 'mugger 'Maguire ' and Gerry Cousins both from Wexford Both Lunatics .Can't remember why the lifejackets.Probably ship was on fire again.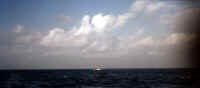 Another case of you cant outrun the 20mm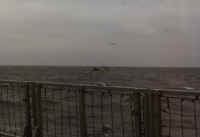 gotcha!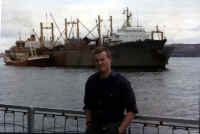 march 1988 we detained half a dozen Russian factory ships in Bantry buying fish from spaniards and Brits .The poser is none other than A/Sea Murphy.
Other Naval Service ,Dept Of Defence and Irish Vessels and Aircraft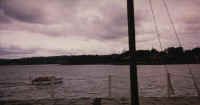 MTL Colleen 2 Haulbowline 1986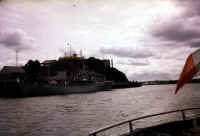 Deirdre from the David F 1986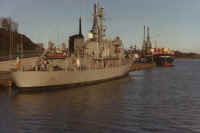 Aoife alongside waterford 1989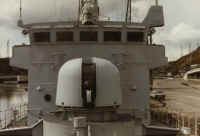 Business end of Ciaras 76mm.Alongside Waterford (by accident) 1989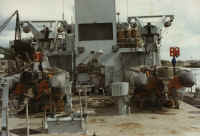 The other end of L.E. Ciara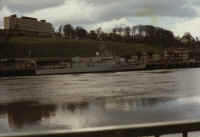 Ciara Alongside Waterford 1989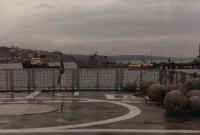 last of the Sweepers going for scrap january 1988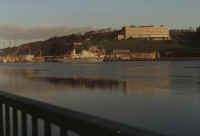 Irish Lights Tender M.V Grey Seal Alongside Waterford March 1989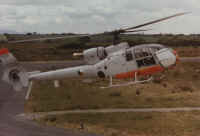 No wonder they keep crashing them some idiots wall papered the iside of the cockpit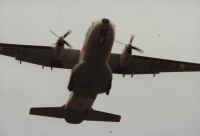 up close and personnal 1990
People and Personalities aboard L.E.Eithne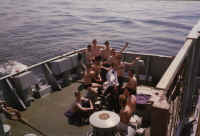 Engineering division LE eithne spring 1988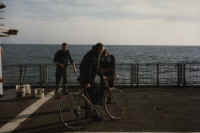 The Bosun Seanie(baldy) Smith
left to right A/sea Paul Kelly A/Sea martin'chippy'Molloy and A/Mech Tom McCarthy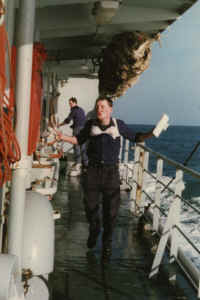 Strangely Murf has no caption for this one...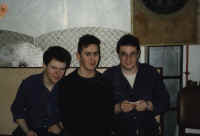 Stewards Division Eithne 86-88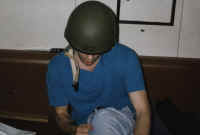 A/sea Colm Moroney.Don't ask....!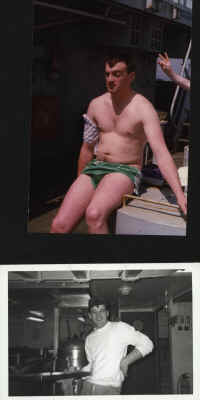 Top Donal Maguire(mugger) Bottom Denis Murphy(cookie Monster)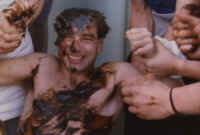 Farewell to 'Coochie 'Doyle 1988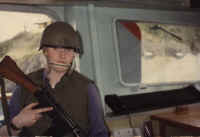 During the period when Cdr Eoin McNamara was the OC L.E Eithne we were required to mount sentries at all times after a never spoken about incident with the Ranger wing.This is me on New Years Eve 1987 carrying out on of these duties
(Compare this pic to that of the poser with the russian factory ships seen earlier..)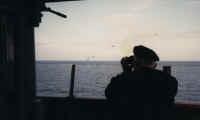 The lonliness of comand.The aforementioned officer observing R.N andR.M forces during operation 'Purple Warrior" off the Mull Of Kintyre in 1987
Foreign Naval Visitors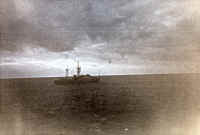 Russian spy ship watching Purple Warrior exercises from inside irish waters October 1987. We were asked to move it along.It took us a while to get the message across.Taking the cover from the 20mm usually makes the point.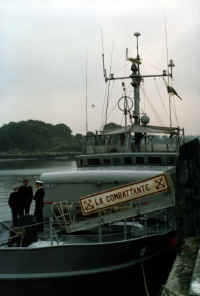 La Combattante alongside Waterford 1988.
Interesting to note that she is the sole of class and was the fore runner to the Combattante 2+3 seris.Early in her carrer she had been used for ship board Exocet trials but at this stage she was fitted with a sole L40/70 Bofors and was used as a training vessel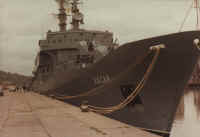 Russian training ship alongside Cork Sept 1990(Kashan)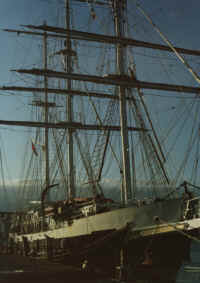 STY Lord Nelson Waterford 1988
And when you tire of the sea..You Become a reservist and Join the Cav!
Car Commander AML60,with 0.5HMG.Me.Gunner: Derek Hackett,Driver:John Fitzpatrick.Patricks Day 1997