Raheny Girl Guides
Catholic Guides of Ireland
---
38th CGI National Council
Saturday 12th Apr 2014
Raheny Unit had a great presence on the day.
Click on the photo below for more info and more photos.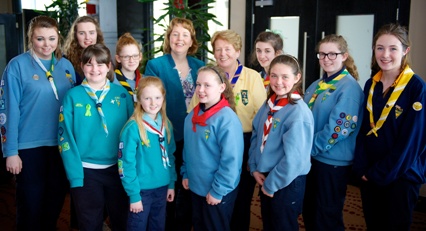 And our Rangers made it in to the Irish Independent on Tues 15th April :)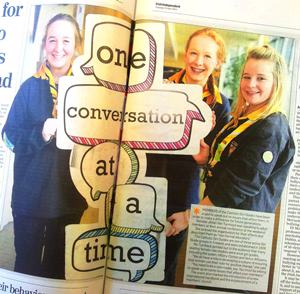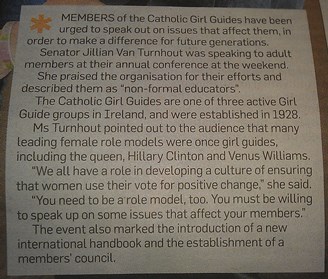 ---
Cygnet Section looking for New Members
Our Cygnet Section has spaces available at present.
Cygnets are aged 5-7 and meet in the CARA Hall from 6pm-7pm on Wed.
Please email or drop down to the meeting to get an application form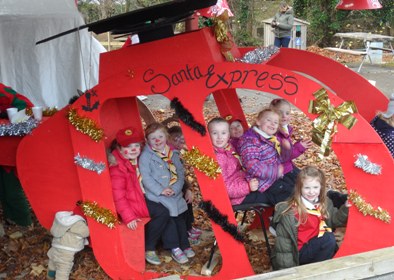 ---
Raheny (Buion An Leanbh Prague) Delegation at the
Eastern Region Members Council Election Day
Sunday 6th Apr 2014
Well done to all the girls for going forward to be selected and
to Rhianna and Caitriona for being voted on to the
Members Council for the Eastern Region, do us proud girls.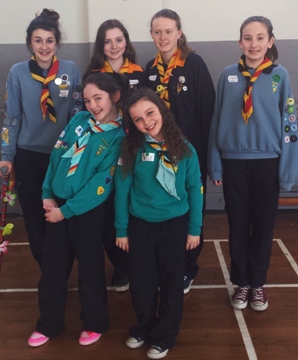 ---
Who are Raheny Girl Guides and CGI
Raheny Girl Guides are a volunteer led, youth-driven, active and dynamic branch of the Catholic Guides of Ireland.
Raheny Guides offers a varied and exciting programme for girls and young women aged 5-17.
(Cygnets 5-6yrs, Brigins 6-10yrs, Guides 10-14yrs, Rangers 14yrs+)

As an all-female organisation, the girls are free to progress and express themselves in a comfortable setting. They enjoy a varied selection of activities and follow a challenging Guiding programme. The girls learn to be themselves in a safe environment while learning the skills that will one day help them to be responsible citizens and adults. Activities differ depending on the section but range from indoor camps, outdoor camping, camp skills, community involvement, crafts, games etc.


---
If you would like to contact us for any information
please email us on rahenyguides@yahoo.com
or call us on 086 2072219 and leave a message.


---
Meeting Details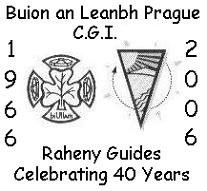 We all meet on a Wednesday Night, just different times.
The Cygnets meet in the C.A.R.A. Hall, Raheny at 6.00pm
The Brigins meet in Scoil Aine School Hall, Raheny, at 6.00pm to 7.30pm
The Guides and Rangers meet in Scoil Aine School Hall, Raheny, at 7.30pm.

We do lots of things, games, campfires, badges, crafts, international evenings and lots more. Here is a run down on the latest events that we have taken part in or have happened within C.G.I.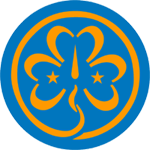 For more information on the association and a bit of history of our company go to Guiding Ireland. If you are interested in joining our association and would like further information email The National Office or if you would like to join our company or have any feed back from the site please Email Us!



---