---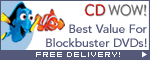 ---
Movie Quotes (Sept '04)
NAME THE MOVIE:
"Whoever heard of snozzberry?"
"Lions and tigers and bears, oh my!"
"I don't like you because you're dangerous"
"Show me the money"
"If you build they will come"
"Its got a wonderful defense mechanism, you don't dare kill it"
"I love the smell of napalm in the morning"
"Houston, we have a problem"
"We're on a mission from God"
"Tell them Scotland is free"
"I'm an insect who dreamt he was a man..."
"Play it Sam"
"Your flugelbinder is out there"
"Put the bunny back in the box"
"Doc are you telling me you built a time machine..."
"You can't handle the truth!"
"The Marine Corps wants to build indestructible men"
"Forget the fat lady. You're obsessed with the fat lady"
"..I'm having an old friend for dinner"
"Maybe now you'll never slime a guy with a positron collider!"
---

For information, reviews and ratings on recent cinema releases visit: PremierMovieReviews

---