- Edition dated Tuesday, 1st May, 2007 —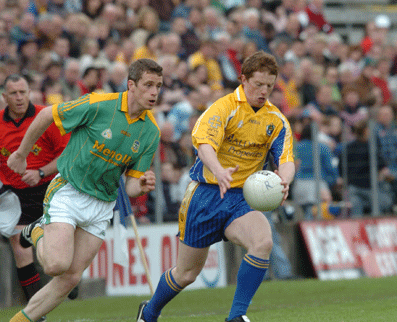 Stuart Daly, chased by Nigel Crawford, Meath, in the Allianz NFL Div. 2 final at Kingspan Breffni Park, Cavan. Photo: John Quirke
Minors enter the crucible
IT'S appropriate that in the week the world snooker championship reaches its climax Roscommon minor footballers enter a crucible of their own next weekend. Markievicz Park may be one of the most scenic amphitheatres in the country but it is the venue where Roscommon put their Connacht and All-Ireland titles on the line next Saturday at 6.30 p.m.
Last Saturday's draw with Leitrim in the first match in the round-robin series means Roscommon must win to remove any doubts about qualifying for the Connacht semi-finals.
Team manager Fergal O'Donnell was in positive mood when speaking to the media after last Saturday's match. "It was a tough game but we're happy to get a draw, we didn't lose, that's the important thing. You usually lose when you concede two goals. We're no better off than if we'd won, we have to win against Sligo," Fergal said.
"We lost Jack Sharkey during the game and Conor Boylan before the game with injuries. We made lots of mistakes and when Jack went off we had to move James McKeague back but 13 points is not a bad score.
"We missed a few frees and could have opened them up for a goal. Leitrim got a lifeline with the penalty. I was disappointed to concede two goals but the penalty was fortuitous, the player dived and the referee gave it. The referee wanted to make a mark, he made funny decisions for both teams. The sending-off of the Leitrim player was harsh.
"There is a lot of expectation about the minors this year but two years ago this team lost to Leitrim. Donie Shine is out and it doesn't look good for Jack Sharkey for the Sligo match, we'll do well to have him back.
"The biggest thing is that we're upbeat. We have to go and win against Sligo and we're through. If we lose we don't deserve to go through. This is a crazy system. If this was a normal championship we'd have an extra game and a replay. The important thing is we didn't lose."
The Leitrim game can bring Roscommon on. The knock-out nature of the match will focus minds. O'Donnell and his management team have proved themselves before in pressure situations. With their backs to the wall Roscommon can produce an improved performance and gain the win they need.
Champion Prediction: Roscommon.

Farrell wears the crown in another Royal procession
Allianz National Football League Division Two Final
Roscommon 0-10 Meath 2-12
Venue: Kingspan Breffni Park, Cavan
Reporter: Donnchadh Boyle
ROSCOMMON were left with a bitter taste in their mouth after they experienced a second heavy defeat at the hands of Meath in less than 12 months. The last times the teams met in the qualifiers in Navan, the Royal County had 12 points to spare as they came out on the better side of a 1-19 to 0-9 scoreline.
Sunday in Kingspan Breffni Park wasn't much better as a
rampant Brian Farrell landed 2-8 to secure his place as the league's highest scorer this term at the expense of Ger Heneghan.
Full-forward Farrell notched and brace of goals in the second half to secure the title for the Royals who were managed on the day by Brian's father Dudley in the absence of the suspended Colm Coyle.
The Rossies held their own for the first ten minutes and actually led by three points to two after this period but a disastrous 25-minute scoreless period saw Meath lay the foundations for their win. Heneghan got his side's fourth point in injury time to leave the teams at double scores, 0-8 to 0-4, at the break.
Roscommon had started brightly and opened the scoring through Heneghan who pointed a free after Seamus Kenny had fouled David Hoey. Meath hit back through a Farrell free before the same man edged the Royals ahead with a brilliant left footed effort from the right hand touchline.
Roscommon looked lively and when John Tiernan replied instantly with a well-taken score it looked set for an open and entertaining game of football.
Roscommon went on and regained the lead through a Gary Cox free but John Maughan's men would somehow lose their way from here and not score until the final minute of the half.
It's hard to explain why this happened. With the exception of Farrell, the Roscommon backs seemed to have the Meath forwards contained and forced the Leinster side to give away possession cheaply on a few occasions during the opening exchanges.
There was no real flow to the game with Armagh referee Padraig Hughes appearing to be over zealous with his card. By the end of the game, this reporter had ten players (five from each side) carrying yellow cards and several others with ticks to their names so it was no surprise when Meath corner back Niall McKeigue picked up his second yellow for a foul on Ger Heneghan.
The Navan O'Mahony's clubman caught Ger Heneghan high in what appeared to be a genuine attempt to play the ball. It was unquestionably a foul but common sense should have prevailed. Michael Finneran also picked up a booking for an unknown reason and this stringent refereeing meant the game never really got any sort of rhythm.
As the half wore on, Meath got a strangle hold at midfield with Mark Ward coming out the better in his battle with Finneran and Nigel Crawford getting through oceans of work alongside him. John Maughan recognised this and introduced Seamus O'Neill with five minutes left in the half to a huge cheer from the considerable Roscommon support but the switch didn't have the
desired impact as Farrell tagged on another two points (one free) to give the Royals their double scores lead at half time.
Roscommon needed to up the ante in the second half and they started the right way when Heneghan cut the game to three inside a minute of the restart. However, Meath struck back immediately when Brian Farrell struck for an opportunistic goal.
The Royals were garnering huge success with their long ball tactic into the full forward line and this time Joe Sheridan flicked the ball ahead of Farrell. The Nobber man still had much to do but
he dived and boxed the ball over the line from a cute angle to give Meath a six-point advantage.
Cox and Heneghan replied with frees but Roscommon's efforts up front looked laboured with Darren Fay in his pomp. Sheridan clipped over a '45 before Farrell added another free before the talisman struck for his second of the day. Roscommon gave the ball away as they attempted to build from the back in a flash, Meath found Peadar Byrne in space whose wayward shot fell to
Farrell and he tucked the ball away to all but end the game as a contest.
Seamus Kenny became only the third Meath player to get on the score sheet when he pointed. The wing back took his score from an acute angle as the game slowed to a walk. Meath introduced prospective Fine Gael TD Graham Geraghty but the switch was of little importance to the result.
Roscommon tried hard and Heneghan tagged on two more points including one fine effort from play but with seats already emptying in Breffni Park, the crowd had made up their mind on the result. They weren't wrong and Meath captain Anthony Moyles collected the division two cup they were denied in 2005 when Monaghan beat them with a late goal in Croke Park.
There were hardly any scenes of jubilation from the players or their supporters and they will know a much stiffer test awaits them when they face Kildare in the Leinster championship.
John Maughan said after the game that his players would take a week off and then regroup before the start of their championship campaign. Sunday's defeat will be a blow to morale having come on the back of two fine performances against both Offaly and Cavan.
The loss of Seamus O'Neill was crucial around midfield as Meath totally bossed that area with injuries to both John Nolans also crucial as Meath dominated the middle third. A disappointing end to what was otherwise a very promising campaign for the Rossies.
With the game lost, Maughan wisely took the chance to give some
members of the panel game time with David O'Gara, David Keenan and Sean Purcell all coming on as second half substitutes.
A lot done, more to do.
ROSCOMMON: Geoffrey Claffey; Sean McDermott, Anthony McDermott, Robbie Kelly (Paddy O'Connor, 41 mins); Stuart Daly
Rory O'Connor, Richard Dooner (Sean Purcell, 46 mins); Michael Finneran, Karol Mannion; David Hoey (David O'Gara, 51 mins)
Gary Cox 0-2 (2f), Cathal Cregg (David Keenan, 61 mins); John Tiernan 0-1, Enda Kenny (Seamus O'Neill, 32 mins), Ger Heneghan 0-7 (6f).
MEATH: Brendan Murphy; Ollie Harrington, Darren Fay, Niall McKeigue, Seamus Kenny 0-1; Anthony Moyles, Caoimhín King; Mark Ward (Graham Geraghty, 59 mins), Nigel Crawford; Niall McLoughlin, Kevin Reilly
Peadar Byrne; Stephen Bray, Brian Farrell 2-8 (6f), Joe Sheridan 0-3 (1 '45).
REFEREE: Padraig Hughes (Armagh)

Late Leitrim equaliser leaves minors with fight on their hands
ESB Connacht minor championship
Roscommon 0-13 Leitrim 2-7
NOW, it's straightforward. Roscommon must beat Sligo next Saturday in Markievicz Park or their reign as All-Ireland champions is almost certainly over. A well-struck point from a most contentious free by corner-forward Adrian Croal four minutes into injury-time gave Leitrim the draw their gutsy performance deserved in an exciting, if error-ridden Connacht minor championship round-robin match before a paltry attendance at Hyde Park last Saturday evening.
Roscommon played well in patches and, as Fergal O'Donnell said afterwards, 13 points is a good score at this level but the concession of goals at crucial stages twice propelled Leitrim back into the game.
It was the archetypal Roscommon-Leitrim match. Every ball was ferociously contested and Roscommon couldn't shake off a determined challenge by the visitors.
The most disappointing aspect of the evening was the poor attendance. The crowd was estimated at around 800 which meant that about five per cent of the legendary Roscommon exodus of 16,000 or 17,000 people that went to Ennis last September showed up for the first defence of the crown.
This is virtually a new team but the class of 2007 is defending an All-Ireland title that brought as much joy to the people of Roscommon as anything else in the last two or three generations and they deserve better support than this.
Roscommon started with just three players -- James McKeague, Kevin Higgins and Paul Garvey -- who were regulars last year along with Alan O'Hara, who came on to such telling effect in the All-Ireland final replay.
The two players who were expected to be the cornerstones of this year's side -- Niall Carty and Donie Shine -- are injured. Carty is out for the year and Shine will miss next Saturday's match which increases the demands on the other All-Ireland medal holders to step up to the plate. It also places more pressure on new players to deliver and in that respect the performances of newcomers such as Niall Brogan, Eamon Bannon and Darren McDermott was encouraging.
With a strong wind behind them Roscommon began confidently but struggled as the game went on. Darren McDermott slotted a free in the first minute and team captain Garvey followed up with a point from play three minutes later.
The expectation that teams playing Roscommon this year would raise their game was quickly shown to be correct. Mark Beirne struck from play in the seventh minute and while Alan Duffy responded by flicking over a point after Barry McPadden parried Garvey's initial shot Croal brought the gap back to the minimum in the 12th minute from a free.
The home team then put on a concerted spurt of pressure. Bannon won possession and off loaded to Higgins who lofted over a point from 30 metres and a quick ball from Eugene Stritch found Kevin Cummins who was fouled. McDermott's quick free set up O'Hara to score and increase the lead to three.
After famously going through all of year's championship without conceding a goal this year's campaign was just 18 minutes old before the opposition found the net. Niall O'Connor was fouled although a Drogba-like dive helped to make up referee Pat McGovern's mind.
Darren O'Malley got a hand to Shane Murphy's low shot but the ball squirmed over the line off the left post. Buoyed by the score Leitrim, who were in control at midfield, swarmed forward only to hit three wides.
Roscommon regrouped and finished the half impressively. McDermott kicked a 40-metre free right-footed between the posts after 25 minutes and three minutes later Garvey, playing at centre-forward, collected a knock down by Higgins, embarked on a jinking 30-metre run and chipped over a point.
The captain was off-target from a free but McDermott sent the home team in leading by three points at half-time when he converted an injury-time free.
Despite facing into the breeze Roscommon played well in the third-quarter Although Diarmuid Clancy pounced on a wayward defensive clearance two minutes after the resumption Roscommon hit back with points from McDermott and the increasingly prominent Paul O'Grady.
In between those scores Leitrim's Tomás Beirne was unfortunate to be sent-off. Beirne's lunge at Neil Collins was clumsy and mistimed rather than malicious but, having being booked already, the second yellow did for him.
Roscommon lost full-back Jack Sharkey through injury in the 42nd minute which forced a defensive re-alignment with James McKeague reverting to full-back. That seemed to have a greater impact on the home team than Beirne's dismissal did on Leitrim as the visitors had the next two points from Alan Wynn and Christopher Higgins.
McDermott hit back with a 45th-minute point from left of goal after a Garvey pass but Leitrim struck for a second goal five minutes later. Emmet Mahon's long-range free was parried by O'Malley and O'Connor sent the rebound to the net.
The home team responded with their best score of the match. O'Hara took a pass from Duffy, drove at the defence and set up corner-back Brogan to score. However two wides followed and David Tiernan equalised with four minutes of normal time left.
It looked as if McDermott had won the game when he scored from a free in the 28th minute. That free, for a foul on Higgins, was soft but that decision was balanced in the fourth and final minute of injury-time when McGovern adjudged Conor McCawley has been fouled after hardly any contact. Croal made the most of the chance with an expertly-struck point from 40 metres.
Both teams now play Sligo. With Roscommon playing Sligo first they must win to keep their fate in their own hands. ROSCOMMON: Darren O'Malley (Michael Glaveys); Neil Collins (Castlerea St. Kevin's), Jack Sharkey (Kilmore), Niall Brogan (Strokestown) (0-1); Eamon Bannon (St. Ciaran's), Kevin Brady (Elphin), James McKeague (Creggs); Eugene Stritch (Michael Glaveys), Kevin Higgins (Western Gaels) (0-1); Alan O'Hara (St. Michael's) (0-1), Paul O'Grady (Kilbride) (0-1), Darren McDermott (Eire Og) (0-6, five frees); Paul Garvey (captain) (Kilmore) (0-2), Kevin Cummins (Michael Glaveys), Alan Duffy (Padraig Pearses) (0-1). Subs used: Sean Walshe (Clann na nGael) for Cummins (42 mins), Donie Shine (Clann na nGael) for Cummins (60 mins), Jack Conlon (Tulsk) for Duffy (60 mins).
LEITRIM: Barry McPadden; Eamon Reynolds, Conor McCawley, Declan Tiernan; Aidan Dolan, Damien Gilheaney, Christopher Higgins (0-1); Thomas Beirne, Emmet Mahon; Shane Murphy (1-0, penalty), Mark Beirne (0-1), Diarmuid Clancy (0-1); Adrian Croal (0-1, free), Niall O'Connor (1-0), Alan Wynn (0-2). Subs used: David Tiernan (0-1) for Clancy (42 mins), Rodger Baker-Kenny for Declan Tiernan (56 mins).
Referee: Pat McGovern (Galway)

First-half Sligo goals prove decisive
TG4 Connacht Senior Ladies Football Championship
Sligo.............................3-14
Roscommon...................1-10
Venue: O'Rourke Park, Castlerea
THE Roscommon ladies lost out in the opening round of the championship to an impressive Sligo side on Saturday evening last. With little to seperate the sides in the opening exchanges, two quick Sligo goals shortly before half-time put them in a commmanding position and although the girls battled hard throughout it was Sligo who ran out 10-point winners in the end.
The result is indicative of how times of changes for ladies football. It is only six years since Roscommon won the All-Ireland junior championship and less than two years since they claimed the All-Ireland intermediate title. That same year Roscommon came extremely close to beating Mayo in the senior championship. The county's fortunes have plummetted in the interim.
Sligo have been closing the gap on Roscommon since the start of the century but the extent to which last year's All-Ireland junior champions have passed out the home team was an eye-opener. Roscommon have still to play Galway and Mayo and neither game is an inviting prospect at the moment.
The players who represented their county on a balmy evening in
Castlerea put trouble off the pitch behind them to produce a
spirited performance. Losing by ten points wasn't the worst result in the world considering the choppy waters that Roscommon had endured in the build-up to this game.
One bright spot was the performance of Emer Casey who showed the type of form which illuminated Croke Park in the 2001 All-Ireland junior final. Casey scored 1-7 in a superb display and deservedly won the Player of the Match award. Fiona Gavin, Maria Keenaghan, substitute Claire Grehan and Jenny Downey all played well.
While Sligo were in a different league to Roscommon for most of the opening half, the home side did mount credible resistance after the break.
Roscommon didn't suffer a heavier defeat because some of Sligo finishing was woeful, they shot 14 wides in all.
However, Sligo's better overall balance always looked likely to hold sway. Three goals in a blistering first-half minute spell propelled them into a comfort zone. At times it became too comfortable with Marion O'Donnell and Noelle Gormley culpable of missing two glorious goal chances.
Noelle Gormley opened the scoring for Sligo inside the opening minute from a free. Roscommon equalised when a clever crossfield pass from Michelle Carey found Kathryn O'Sullivan and the Strokestown player pointed with aplomb.
However, Sligo weren't long in finding their range. Points from play by Therese Marren, Louise Brett and Smith opened up a 0-4 to 0-1 advantage. Roscommon replied with points from Jenny Downey and Emer Casey but another fine move involving O'Reilly and Marren procured a score for Marion O'Donnell.
The goal that Sligo were threatening finally arrive in the 15th minute. After Nicola Tully spurned a decent goal chance for Roscommon, Sligo ruthlessly took the home side's defence apart. Gormley worked an opening after linking up with O'Donnell and Imelda McNulty to find the net.
Two points from play by Casey alongside a free from Michelle Carey suggested that a Roscommon response was in the offing. However, two Sligo goals in a minute effectively killed off Roscommon's challenge. O'Donnell waltzed through the primrose and blue defence for a easy three-pointer before Louise
Brett danced her way along the endline for another.
Sligo were rampant now and further points, all from play, by midfielder Byrne, Marren (2) and McNulty opened up a 3-9 to 0-6 advantage at the break.
In fairness to Roscommon, they refused to buckle in the second half. Casey kept showing the way forward for her side. Her point in the 34th minute oozed class. Sligo went down the field for two eyecatching points of their own from O'Donnell and wing-forward Karen Maloney.
Casey's penalty in the 53rd minute was clinically dispatched after
O'Sullivan was upended. However, Sligo were never in any danger of surrendering their initiative with Marren and Gormley adding late points to announce their return to senior level in style.
SLIGO: K. Connolly; F. Maye, A. Doohan, M. Keane; T. O'Hara, S. O'Reilly, R. Goodwin; B. Byrne (0-1), L. Smith (0-1); I. McNulty (0-1), M. O'Donnell (1-2), K. Maloney (0-1); L. Brett (1-1), N. Gormley (1-3, two frees), T. Marren (0-4). Subs used: C. Kennedy for Goodwin (52 mins), J. O'Connell for Maye (54 mins), E. O'Reilly for Brett (54 mins), C. Doyle for Keane (57 mins).
ROSCOMMON: S. Finnerty; M. Keenaghan, F. Gavin, E. Hussey; C. Kelly, L. Sharkey, S. Cooney; A. McGeeney, E. Casey (1-7, one penalty, three frees); K. O'Sullivan (0-1), M. Carey (0-1, a free), N. Tully; J. Downey (0-1), T. Taylor, C. Raftery. Subs used: C. Grehan for Hussey (26 mins), P. Keadin for Raftery (half-time).
Referee: G. Guinan (Galway)