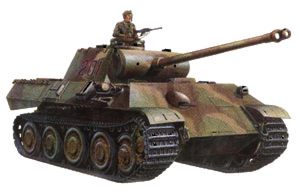 After over 8 months of no activity whatsoever (couldn't be arsed) I'm back onto another project.
Having purchased an excellent book last year 'Panther & Its Variants' by Walter Spielberger - I'm doing another 1/25th Panther. Its another Academy, but this time I'm adding Zimmerit - and will try a little bit of extra detailing
Here's a pic of the Upper Hull in the process of the getting the putty applied.