Welcome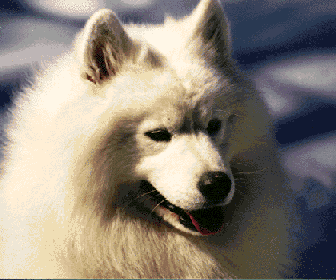 The object and aim of the Irish Samoyed Club is to promote and encourage the breeding and showing of the Samoyed. Membership is open to all owners and breeders of the Samoyed and to all persons interested in the Samoyed breed. Membership is on a subscription basis; which becomes due on the 30th of September each year.
The Irish Samoyed Club is registered with and affiliated to the Irish Kennel Club and abides by all decisions made by the Irish Kennel Club. The Irish Samoyed Club endeavours to hold an annual show under the auspices of the Irish Kennel Club. All officers and committee members are elected annually by paid up members. Membership application can be obtained by contacting the club secretary; forms must be submitted via post.
We have included a link to the Irish Kennel Club and a copy of the Code of Ethics as set out by the Irish Kennel Club, also include is information on the breed standard, history, characteristics and medical problems,
We have included comprehensive information on hip dysplasia in the section on medical problems, hopefully it will be of some use to you in explaining this condition.
Please check out our breeders section; linked to the notes on pedigree's, contact should be made directly with the breeders which are listed, all of whom are registered with the Irish Kennel Club.
If you, like me have found it difficult to understand the green star system, then our page on the green star will be a welcome asset.
Why not check out our guest map and post a comment.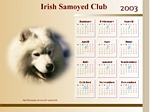 Here is a desktop calendar for 2003, click here to enlarge, right click on enlarged picture to set as background, or copy to computer and set up manually.




Privacy Statement

Information and data collected online by Irish Samoyed Club (through e-mail, guest book,newsletter subscription) will only be used for its intended purpose, and deleted when no longer required. No information will be given by Irish Samoyed Club to any third parties or agencies.
No personal information will be stored on this site. If you choose to sign our guest book, all information you provide will become available to anyone viewing the guest book.




Irish Samoyed Club © Copyright 2002. All rights reserved.