Patrick O'Rourke
1917-1996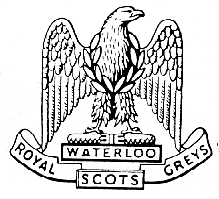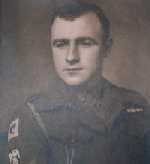 Patrick O'Rourke was born in Dundee in 1917 and just two years before he died, we the family asked him to write down some of memories of his experience in World War 2 serving in the Royal Scots Greys, of which he often talked. He was not in the best of health when he wrote this, having suffered a stroke, and our only regret is that we never peruaded him to do it sooner, but the family hope that you will find it interesting as it gives an insight into one of a generation, the like of which we may never see again. A generation whose attitudes were forged by the experiences of service in sometimes horrific conditions, and who rarely complained about their own predicament after the witnessing the sacrifice of their friends and comrades. We know that he thought of them every day, to the day he died.
To this end, please read on, the memoirs of Patrick O'Rourke, a soldier, a husband and a father, in his own words:-



"My name is Patrick O'Rourke and I was born in Dundee in Scotland on the 5th September 1917-the eldest of six. My military life started pre-war when my brother Joseph and I joined the territorial army, the Scottish Horse. As teenagers we looked on this as a lot of fun. We attended Drill nights at a place called Invergowrie near Dundee and went to Perth on Saturday afternoons for riding at "Patrick's Riding School". We usually had fish and chips afterwards (including train fare we could still have change from £2/6d.) Once a year we travelled to Blaire Atholl in Perthshire for two weeks camp. Horses were supplied by the Remount Depot at Weedon in Northants. The uniforms we wore were the usual cavalry type except we wore the Balmoral type of headress which was picturesque. Our bounty was £5.00 per year.
In 1938 we transferred to The Royal Scots Greys, the Regiment was at the time in Hounslow in Middlesex, England. We were given a railway travel warrant and our instructions were to travel from Dundee to Kings Cross in London and then by underground to Hounslow. Unfortunately the I.R.A. placed a bomb on the railway line. I cannot remember how we reached Hounslow.
When we reached the Regiment there was quite a lot of confusion. they had just received orders for embarkation to Palestine. They were due to leave in a weeks time. Of course Joe and I could not go just then so we helped with the packing. There were 200 grey horses to be looked after. This was a big job. There were hundreds of boxes, bundles etc. This job took about three months. There were about 60 soldiers left so we moved to Redford Barracks in Edinburgh, a modern barracks compared to the old Cavalry Barracks in Hounslow which were built in 1600 or so.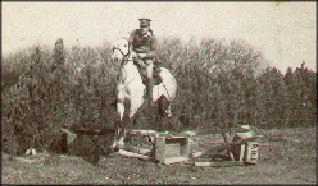 We lived alone above the stables. Redford Barracks at this time were probably the best barracks in the country-good accommodation for both horses and men, a good square and a riding school. It took a few weeks to settle then training started in earnest - education, square bashing and riding school and other parades. After a few months we were off to Palestine to join the Regiment, about 150 altogether with the horses and we left Gorgie siding for Southampton in the south of England. We boarded the "Rehesios" and set off. The Mediterranean was very quiet but we were kept busy with stables as usual. The accommodation was a bit rough - sleeping in hammocks took a bit of getting used to.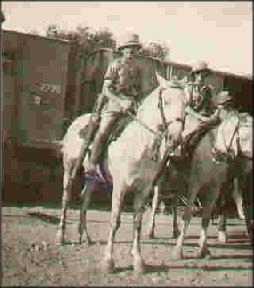 After about two weeks we landed in Haifa and were met by a party from the Regiment who helped us load the horses on to a train for Rehovot where the Regiment was stationed. It was decided to reform "C" Squadron and most of us were kept together. I went to 3rd Troop "C"Squadron and my brother went to 2nd troop. The Regiment was very busy so we were thrown into the deep end and were operational right away. Some of the troops had never ridden a horse before but they soon got used to it!
War broke out when we were in Jerico and I shall never forget when we had a parade to tell us of mechanisation. We were not pleased, but it had to be. Soon we had to start attending courses on driving tanks, wireless operating and gunnery, as well as the horses which we still had of course. We rode out in the mornings and trained with the tanks in the afternoons. They were light tanks about 17 tons (General Stuarts).









The last mounted parade of "C" Squadron at Nablus, Palestine 1941.
We moved from Rehovot to various outposts, Artuf and Latrune, so we did a grand tour of Palestine. "C" Squadron did a spell at Ranallam which was a Christian Arab Colony, and then on to Nablus where we held our last mounted parade. The Regiment joined up at Jenine where we did some more training on tanks. Our next move was to Khataba in Egypt on the canal zone. The we received a full complement of tanks, 3 to a troop, 12 tanks to a squadron. The stop at Khataba lasted quite a long time - long enough for a bath and a cup of tea in the NAAFI!. Eventually we moved into the Western Desert, a very different kettle of fish, just acres of sand. We were spread out in squadrons about 1/4 mile apart. Our first action was against Rommell, he called reconnaissance in force - it was quite a battle. "B" Squadron had light tanks (Stuarts), they had a few casualties, about 6 I think. I was operating a wireless set in a Grant tank in "C"Squadron, we were hit a couple of times, but nothing too serious. We knocked out about 5 "Mark 4" German tanks and the next day we had a look around - the German tanks had burnt out with the crews still in the tanks - we just covered them in petrol, and cremated them.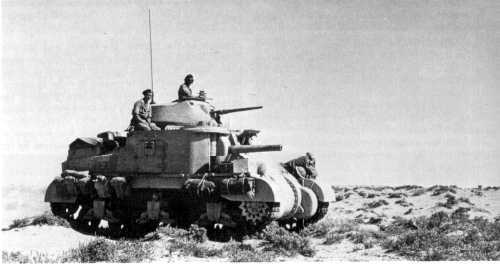 A Grant Tank in North Africa in 1943

About this time we were bothered with Stuka dive bombers. The dive started out of the sun - absolutely terrifying. We were having a bite to eat when they attacked. My mess tin was shot out of my hand and I was left with just the handle, very lucky!

We were now with the 22nd Armoured Brigade. Life in the desert was boring, apart from enemy aircraft which kept us pretty busy, and a few tank battles. We eventually reached Tripoli, although we had a rather hectic time at Nafilia. It started with a charge of the Light Brigade (Honeys) at Nafilia. Our tank was knocked out first, all the crew were in a Wadi. Our track was blown off so we could not move. We received 26 hits. Fortunately darkness was soon upon us and the Germans retreated. We were soon towed out. We had a meal - cold spuds and bully beef. Our next stop was Souarni Ben Adam. This was a nice spot, plenty of trees, it was a relief to get away from the sand. The 7th Armoured division went on to Tunisia and we stayed at Souarni for about 8 months. We handed over all our tanks to the 4th Armoured Brigade. We were left with only one fit tank "the fighting haggis!" We built a sort of hut and during this period we underwent some trade tests. We came under Major General Sir Brian Robertson and were given jobs at the docks. We were on posts when the bombers came over. We took a compass bearing of where the bombs dropped and tried to find out the next day where the floating bombs were dropped. The Battleship and a Hospital ship were badly hit and put out of action.

The Commanding Officer, Colonel Sir Ranulph Twistleton-Wykeham-Fiennes, had gone home by this time, badly wounded and Tim Readman had taken over as C.O. About this time he sent for me and said he was sending me back to Gaza for an intelligence course. I was supposed to fly from Castel Benito but there were no seats left on the plane so I waited until the next night. This time I got on the plane but just before it took off I was told to give my seat to a V.I.P. I was not very pleased, until the next day when I was told that the plane was shot down over the "Med". I was sent for by the C.O. Tim asked me if I would drive his Dingo. This was a small Daimler Scout Car, and looking back, it was quite a messy time. Colonel Fiennes returned from the U.K. and resumed command.

The time was approaching for us to move on, and we boarded a ship for Italy but first we went to Bizerta in North Africa then to Salerno. This was a very tough job. Italy had capitulated and we were given the news about 9pm. the previous night. We heard a sigh of relief at the news. However, when we attempted to land, all hell let loose. The Germans were secure in the rocks and high ground and we suffered many casualties. One ship was sunk. Our main target was Battapaglia. The German tanks arrived in force and quite a battle took place. The battle for Salerno seemed to last forever. After 17 days when we had counted all our injuries we moved on to Maiori.

This war in Italy was so different from the one in the desert. Apart from the weather - a not very pleasant Italian winter - there were many casualties. The worst news was the death of the Commanding Officer. On this particular day in November we went to a place called Fontanella Fredda, when I say "we" there was Colonel Fiennes, Major Peter Borwick and myself in a Scout Car (Dingo). At Fontanellla Fredda the Colonel left the car and stepped onto the verge on to some trip wire and set off some mines which threw him up into the air. Major Peter Borwick went over to help him, but he too went up on some mines. I managed to get them back on to the road, this alerted the Germans who ,let us have a few shots of shellfire. Although I managed to get the car started it would not move. I got out to see what the trouble was and found that an unexploded shell was jamming the back wheel. The Colonel was shouting at me to get a move on (or words to that effect!). I took the shovel out of the car and prised the shell clear. At last we were able to move and set off for the Regiment. I radioed the Regiment and told them I had 2 wounded officers. On the way I met the Brigadier and told him what had happened. He told me to take them both to the hospital, but the Colonel had different ideas, he told me he wanted to go back to the Regiment as soon as possible. We arrived back and they were both taken to hospital in Naples. We learned later that the Brigadier's Dingo went up on a mine on the same road that I travelled on and his driver lost both of his legs. We heard later that the C.O. died on the 25th November. Indeed a great loss to the Regiment. This more or less was the end of operations with the C.O. out of action. For a short time I was sent to R.H.Q. to operate the rear link to the Brigade. While I was there I actually took the message that the C.O. had died. I was very surprised as I saw him in hospital the previous day. The Colonel was walking about. Peter Borwick was in bed not looking very well.

We left Italy on the 28th January and on the 5th February we saw the coast of Northern Ireland and we soon saw the Mull of Kintyre, Arran and Ailsa Craig and the next morning Greenock Goroch, Port Glasgow and to Dunbarton to Shieldhall Docks. We then entrained for Worthing in the south of England (I had never heard of it before) where we billeted in empty houses. Worthing is a nice place, I liked it very much and still do. Quite a few of us settled there after Demob.
We were there preparing for D-Day 6th June and did a lot of work on the South Downs with tanks etc. I was given a new car, a Humber, and I was driving with the C.O.Colonel Tim Readman, so I saw a lot of the County.

We left for Normandy from Gosport and on the 6th June were on the water. We landed on Sword beach and this was the start of a bloody war. Places like Hill 112, Caen, Falaise, Seine, Antwerp, Avelghen, and Flushing all remain in my memory. Eventually we finished up at Wiesmar on the Baltic where the Recce Troop travelled about 60 miles at full speed and which was the end of the war for us.

When the war finished we were employed for a while, namely collecting abandoned German vehicles and bringing them in. They were large vehicles, very heavy and it was quite a job. I picked up a nice horse called "Paddy". We moved to Rottenburg complete with horses where we fixed up a trick ride - quite an experience after all the years of mechanisation. From Rottenburg we moved to Lintfort where we did a horse show, we got some vaulting pads from Scotland which made vaulting a lot easier.

I left the Regiment at Lintfort. I was demobbed at Guildford in Surrey and moved to Worthing to be married. 48 years later I still live in the south of England. I joined the London Branch of the Regimental Association when I left the army and became Secretary for 27 years. I also served on the Committee of the Combined Cavalry Old Comrades Association for 10 years. They organise a large parade in Hyde Park in London every year.

The Royal Scots Greys became amalgamated with another Regiment and are now The Royal Scots Dragoon Guards. My youngest son (Patrick Joseph O'Rourke) served 5 years in the Regiment, in the Regimental Band, but THAT is another story!"


Patrick O'Rourke 25/3/94



"Dear Patrick, Your father was a truly great man who I was proud to know, Best wishes, Ran (Fiennes)"
Sir Ranulph Fiennes, Explorer and author, Royal Scots Grey and son of Col.Fiennes mentioned above.

N.B.Sincere thanks to Jim Randall, another of the last "real" Scots Greys for some of the photos and his help on identifying them.




Click on the Eagle for more photos
Please feel free to e-mail us with your comments, we look forward to hearing from you.




Patrick Joseph O'Rourke

scotsgrey@eircom.net
or at
Sleeping Warrior Productions

or Brian Patrick O'Rourke
brian@bporourke.freeserve.co.uk

Web page built by his family, Brian, Patrick and Brenda and dedicated to his wife, our Mother, Sheila.
We will be constantly updating and improving it as we can.
We also apologise for not replying to any mail lately due to being a victim of serious Spam, the addresses being taken from this page. We hope this won't be a problem now!



Links to other sites of Scots Greys and other related interest
The Regimental Web Site of the Royal Scots Dragoon Guards
The Scottish Military Historical Society Scots Greys Page
Details of the Regimental Museum in Edinburg Castle
The family page of Chas Girdwood, great nephew of George Kay of the Regimental Monument in Edinburgh
POW-MIA Canada. All wars never to be forgotten.
The Queen's Own Cameron Highlanders 1939-1945



Page updated January 2005 on his anniversary, in his memory RIP