CRAFTS
---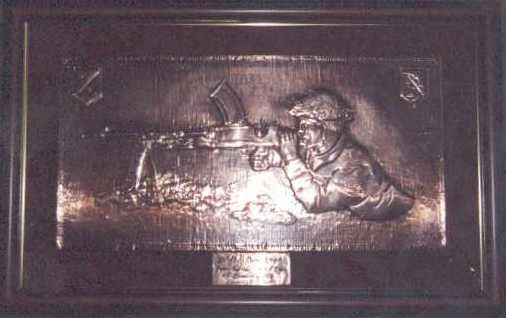 An example of the work of Tony Hyland
This frame is about 30cm by 50cm.
Tony works in copper and can create a relief in a copper sheet to almost match any photograph he is given to work from. He has some of his work on display in places like Dublin Airport. His work is usually mounted in a wooden frame on a leather background. He is often commissioned to produce work by local people who would have a colleague retiring or moving. He would then be provided with an appropriate photograph and having produced a beaten copper image from this would mount it onto his framed leather. He will also work from an idea without a photograph.

Tony can be contacted by phone at (353)5477014 or by writing to
Mr Tony Hyland,
Gurteen, Templeshanbo, Enniscorthy, Co. Wexford, Ireland.


---

I will display an image of some of this work later.
Patrick Murphy
Patrick Murphy works in wood and makes fruit bowls and other types of wooden containers. He also makes games like table skittles and ring boards (a board with numbered hooks on which one tries to land rubber rings).