name: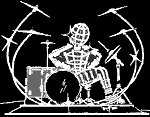 mark ryan
born:
02nd june 1976
nationality:
irish
favourite band:
tool
favourite song:
more than a feeling.
biggest influence:
william calhoun & aaron comess.
favourite food:
indian
favourite drink:
cider
favourite movie:
leon.
favourite book:
books what are they? remember i'm the drummer.
when did you learn how to play?
many many moons ago.
name of your first band?
the duke street kings.
where have you gigged:
didn't (i left just before they started giging)
when you become rich & famous what celebrity would you like to beat the ever living shit out of & why?
eamon dunphy (cos i think he's a twat)
most desirable date (besides your significant other)?
natalie imbruglia.
personal quote:
never moon a werewolf - mike binder