Paul Brady "the Roy Keane" of Irish Handball
<![if !vml]>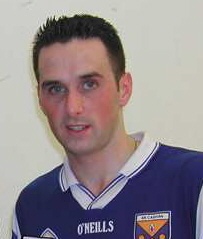 <![endif]> Tick, tock, tick, tock have you ever watched the hands on a clock moving up close. They move with precision and timing. The
nearest they remind me off in terms of hands in handball belong to one Paul Brady. Brady's golden hands move with electrifying
speed, power, precision and split second timing. Brady's handball career has all been about timing. I interviewed the
Mullaghoran native on the steps of Kingscourt Handball Club on a balmy Sunday in June overlooking the Gaelic football fields
of Kingscourt a short distance away. The first thing you notice about this handball star at first glance is his boyish good looks,
soft spoken demeanour, well mannered, clear sparkling eyes, polite, intelligent, good humoured, serious but underneath it all he
has what sets him apart from all other handball players. His great self inner belief, steely determination, his attitude to the
sport and above all his will to win no matter what obstacles are placed in front of him.
<![if !supportLineBreakNewLine]>
<![endif]>
Fr. John Gilhooley first to inspire Paul Brady
Fr. John Gilhooley in St. Pat's College in Cavan was the first to install in the young Brady that fierce determination and will to
win that he now brings into every game he plays. Paul has vague memories of playing in the 60 x 30 court in Mullaghoran before
going to St. Pat's but remembers playing with his brothers around the gable end of the house. Paul got the name Gunner from his
Uncle Phil who won All-Ireland football medals with Cavan in 1947, 48 and again in '52 he also played in the Polo Grounds in
New York. A golden era in Cavan G.A.A. Paul would have seen Michael Finnegan playing when he was 15 - two years older than Paul was. He was the one who showed me the level I could go to and was someone I looked up to at that time. He laughs when he said that "Michael will enjoy reading that he was my hero growing up" Paul didn't start playing handball until around 12.He won a number of Ulster titles but the elusive All-Ireland medal was hard to find its place in the Mullaghoran man's home. He won Feile at 14 at Headford in Galway.
It was mostly doubles he played at Juvenile level. "I just was not strong enough to play singles and not having success in doubles found it frustrating. It was killing me to lose games and going home in the car after games. I didn't have much success at Juvenile level it was all a learning process as he says himself. The desire was there at an early age to go far. Fr John Gilhooley had and still has huge influence on him and has great memories of his time in St. Pat's College in Cavan. Fr. John instilled in him the will to win. He pushed all the young players, which was good. It has to be within you as well and I had it. Kit and Michael Finnegan were very supportive too as handball was getting established in Kingscourt. Not much success but very many happy memories's of my time in St. Pat's.
Winnipeg 1997 was make or break time the turning point in Brady's career
Brady went out to Winnipeg in 1997 more in hope than anything else and made up his mind that if he didn't achieve success he was going to pack it in completely. Paul lost the Irish trials to Ciaran Meenagh of Tyrone 11-10 in the tiebreaker. He was hurting from all the defeats very much. "I definitely was on my last legs and was going to endeavour to win something else at another sport. Winning in Winnipeg meant so much to me and was my first major success in singles. It was the turning point that drove me onto greater thing". In 2000 Brady won the US Collegiates men's open singles in Springfield Missouri repeating what Tony Healy had done the year previously. Paul's first success was winning the All-Ireland U-16 doubles with Padraic Kiernan in 1995 and believe it or not has a European One-Wall title having won the Under 17 grade in Roscommon in 1997. 1998 was an exceptional year winning the University championships, then the All-Ireland Minor championship and went to the USHA Nationals in Orange County California and came home with the 19 and under title and also in December of that year won the USHA Juniors in Chicago. He agreed that he enjoyed great success in those 3-4 years but hit a brick wall when going up to senior first.
Brady best in the World
When he first played Senior and taking part in the Pro Stops he struggled in his first year losing the Irish doubles, lost the singles and nationals to Tony Healy and for two years success was hard to come by. He got frustrated again but "kept the faith" keep trying and your day will come he said. Paul beat Vince Munoz in the final of the Pro stop in Minneapolis in 2002 the first Irish player to achieve such a feat. He remembers playing very well that weekend. David Chapman got beat in the quarters and everything fell into place. Paul went over to America for a year before that and the Irish believed that the Americans were better than they were but Brady changed all that big time. I believed that they could be beaten and that was a turning point for Paul at senior level. That Pro Stop victory gave me the confidence since then until now. It gave me the belief and confidence in myself. Over the years I suffered with cramp it's something I get in most Championship matches in football. Brady went to specialists to try and stop it. In the World Singles final held in Dublin in 2003 playing Tony Healy, Paul somehow knew he would get cramp. When it happened he remembered thinking I'm going to have to let the second game go having been in arrears 10-3 when the unthinkable happened he went down with cramp and looked in serious trouble. He remembers they were giving me milk and all sorts of things that were making me sick. I definitely was worried at one stage but had to give it everything. I was confident in myself that I could do it and I did. In February 2004,Paul won the Ultimate Challenge against David Chapman. The previous week he lost to Chapman in Dallas. I put the question to him was it Cavan cuteness not to show his hand? It definitely was Paul acknowledged. I always wanted to be the best player in the world and I had lost to Chapman in all previous encounters. I knew the time would come when I would beat him. Paul weighed up his options carefully the prize money was $3,000 in Dallas and a week later $50,000. "Certainly I did hold back I didn't want to beat him that day but to get close enough to tell myself that I could beat him and left him thinking that he was the best. I was very confident that the next week the main thing was to qualify to meet him. All I was thinking was to get to the final and beat him. I knew my time was coming and thankfully it did". Paul Brady's views on his great friend Tony Healy. Tony is obviously one of the toughest opponents that I ever played against and will be again this summer and is a great competitor.
Winning the US Nationals last year was another great achievement. Oddly enough winning the Nationals meant even meant more to Paul than winning the World's at the time becoming the first Irish player to break that barrier. Every young Irish coming out for the US championships can now believe they can win the US Nationals and World Championships. "I am very proud of that fact that I changed the psyche for every young Irish player. I played Tony Healy in last years US Nationals semi-final and was pretty sure who ever won would go on and win the final. Brady went on to beat the Canadian Danny Bell in the final. At the time I didn't realise it but as time has gone on I have appreciated it a lot more. I want to win it again - make no mistake about it". Paul has made huge sacrifices to the sport and wouldn't divulge his trade secrets on how he trains and I for one wasn't going to press him on it. He does his own thing, which works for him, and he ultimately gives everything he has to it. "Nothing else matters in life to me at the moment than to win these tournaments. Make hay while the sun shines was the phrase Paul used. The bottom line is no matter what happens, what ever I have to do; where ever I have to go to be a better player to win I will go and do it. That is what it boils down to for me". Paul is 27 in September and I asked him how long more he will keep up this dedication and commitment to handball, especially if the rewards are not there. "I don't think about it if the rewards are not there. I'm not thinking that far ahead all I am concentrating on is this summer and then I will re assess the situation then. It's not something I don't care to think about. I just focus on what I have to do for the present and that will all work out when
the time comes .
<![if !vml]>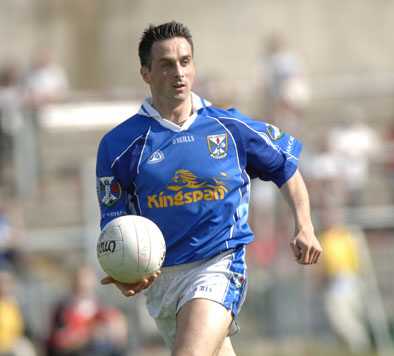 <![endif]>
Paul took a month off to go to Zambia last December where his Uncle Fr. Jim Brady a member
of the St. Patrick's Kiltegan Missions is working and I went out just before Christmas. It
had been a hectic year especially with the football suspensions and appeals.
While it was a successful year on the handball courts it was overshadowed by all that
negative publicity. I just felt I wanted to get away from everything and it was very
different and a great experience. I took the time to think about what I wanted to do
and achieve.
Paul now works as a Coach with Cavan G.A.A. and this helps funding his trips to and from the
US Next question I asked Paul you're an exceptional Irish sports man do you often wonder
why you were chosen to follow such a path in life from a small club in Mullaghoran to
become Irish, US and World Champion? "I certainly do and thinking when you go into the
courts remembering where you came from and the amount of time I played in St. Pat's
and Mullaghoran. I suppose it was beyond my dreams at some level as I went on.
Certainly I always dreamed and believed. I used to say to myself even when I wasn't
enjoying success that some day I would be the best in the World at handball. It was
something I always set my sights on. It has taken a long time to achieve. I would be
overwhelmed but as time has gone on - I have would contemplated more I believe Paul trails
off momentarily. A visible pause and silence from the World champion … I believe that is where
I am meant to be at the minute. I don't want to give that up. It could all blow up in my face
but it's good to have achieved at some level. I am hungry to hold onto my titles and will be fighting tooth and nail this summer to keep them.
I am meant to be the best player in the World I believe that. It is who I am and I going to fight to keep my identity. That gives me a lot of motivation.
Brady has won All-Ireland senior singles and doubles championships with Michael Finnegan their third in four years. Vodafone Player of the Year in 2003, together with success in the FBD Nationals sees Brady's trophy cabinet expanding all the time.
Paul sees his greatest attribute in handball as turning adversity into success. I think all the times I have lost and I learned a good bit more from them than probably other players and emotionally that drives me on. It cuts a lot deeper when I lose to other players and I want it more. I suppose that's my greatest strength, desire I want success. Paul mentions Naty Alvarado and Tony Healy as great challenges to his titles. I could keep going on, as there are loads of American and Irish players. I take each opponent separately every player will be difficult. Brady doesn't focus much on other players but more on himself. If I am right I won't have to worry about anything. If I am playing well I know I can win. That is how I look at it. Paul somehow manages to juggle handball with his football interests with Cavan. He has got used to it over the years. With each year I have to reassess to see what's the best way to stop burn out.
<![if !supportEmptyParas]> <![endif]>
In my first year at Senior that is what happened to me and over the years I have juggled it about to make less demands off myself even this year more than ever I played less football to get ready for the summer. Thankfully it's now June and I don't feel burnt out. Five, six years ago around March even before All-Ireland finals I would be burnt out. That is probably a lot of the reason why when I first played Senior I lost, I was so over trained. I had no concept of peaking where as now I learn from my mistakes. Now I just stay fresh for these tournaments. It is just trial and error over the years.
After the doubles trials I took a break and I went to a tournament in New York and I enjoyed it. In the last 4-5 weeks the training has been upped but there had already been a base now it's is just getting mentally right and getting ready to fight for the titles". I asked Paul a World figure that he would like to meet another pause and then quick as a light switch he came up with the name Roy Keane "Aye I would like to meet him" came the reply.
I like his attitude to winning and he has such determination. Jokingly I asked him was he the Roy Keane in handball and Gaelic Football (he laughs)" oh no you better ask some of the lads on the football field that think I am a Roy Keane. I do enough shouting". I admire his determination it is something I see in myself determined to do anything to win.
Paul would like the elite handball players in Ireland better looked after. It would be nice to get more publicity for all handball players who don't enjoy the same profile as the footballers as regards endorsements, sponsorships and jobs. Paul would like to see the Irish Handball Council being more progressive as an organisation. "I think the G.A.A. is fobbing us off and the handball organisation is accepting it. They don't have the same drive especially now in the Celtic Tiger times the money the G.A.A. are bringing in. Now is the time to be pushing this on. It is up to the Irish Handball Council administration to start thinking more on that at the minute to be driven to achieve more as I don't think enough is being achieved".
Final question put to Paul on further ambitions. My immediate ones are the US Nationals that is all I'm thinking off and after that the Worlds obviously. Try to maintain the success to keep the run going. Again in football for Cavan to get some success maybe next year possibly this year who knows?
Brady's passion, commitment and will to win in handball are an inspiration to us all. As Roy Keane is, Brady is the best and wants to be best. His obsession in handball is a healthy one and for the moment nothing else matters in life. The clock is ticking down to June 26th in Orange County California for the start of the US Nationals and August 4ththe commencement of the World Championships in Edmonton Canada.
Paul Brady's heart is beating strongly, "the gunner" Irish handball artist is ready to paint a perfect picture of sporting greatness. With that great God given talent Paul has been given to play handball, matched with utter belief and conviction Irish eyes will be smiling this summer. The Mullaghoran man with the boyish looks and the fastest pair of hands in handball soon to show the World the time is right, the time is now.
Tick, tock, tick, tock.