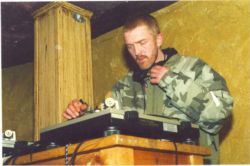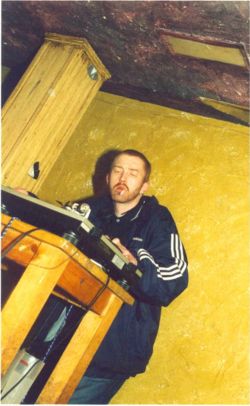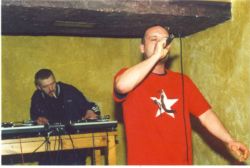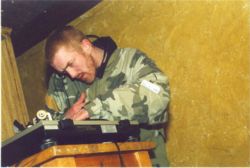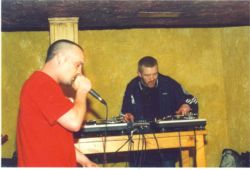 DJ Mek , Ri Ra, Ghost n'Jay The High Stool March 17th
So Rodney P didn't show ...so what!
Big disappointment didn't last long as in his place a very angry DJ Mek assembled replacements Ri- Ra and back from the dead duo Ghost n Jay. Definitely a proud to be Irish sceanario. The show went on from 8.30 to 2.30 superbly punctuated by Meks 'alright I'm playing now' attitude to the whole night.
Scary Eires Browne was in the house too but the reunion didn't drag him up. Still nice to see the original army under one roof. The highlight for me was the return of Ghost n Jay. They were the original mek produced duo from the old ('92) days. A very respectable looking Ghost took to the stage with Jays scratch rhythms over beats by Coleen. The whole act was a confident outing in refinding their feet but Ghosts moves and flow radiated a determined return. The crowd none of whom had any idea who they were, were well won over after a very short set. The beats really stood out , obvious but twisted. certainly original in a Premier style. Great to see them back Mek then came up and did the mek thing .... again a lot of newcomers in what basically is a rock joint so if you never saw the mek thing, you got the whole deal.
A masterclass in party rockin doubles n' scratchin. I heard The Whispers 'and the beat goes on' an applause grabbin 'Johnny the Fox' routine, ragga fools gold, Michael jackson and at the stage where people were grooving and smiling, totally won over he drops 'London Calling'. So a man of the people for the people! But the stand out moment was a warped strange 2 copy workout of Ian Browns 'I've got the fear' very surprising and very strange.
Ri- Ra stepped up for a set over new instrumentals as mek shot noises over an english style boom bap.This was hard rhythm n' rhyming, his new 12" ' Paddies in the front bar' have come from the Adrian Sherwood Studio so its that tech reggae beat with a rap focus. Ri Ra s delivery is steel flows. He has honed a shout style thats a rhythm complimentary to the beat rather than quickfire over the music. A hardworking set over a PA from hell gave the crowd another side of this hip hop game. In a word, solid.
The vibe kept up till all DJs ran out of records to play. This was a night of pure music, hip hop is all encompassing and to win over new converts is part of that mission.
Rumours of Mek playing in Limerick soon to be confirmed, keep checking this site