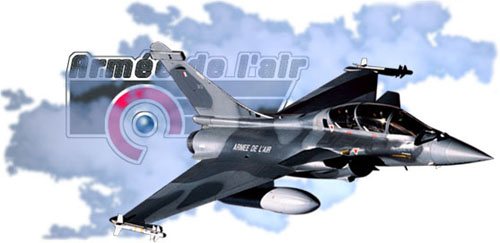 The French Air Force operates just over 1,000 aircraft of various types (combat, transport, liaison, training and helicopters), from the Mirage 2000 to the Epsilon.

Twenty front line squadrons maintain 380 aircraft at readiness, prepared to carry out missions at a moments notice. In order to take full advantage of the flexibility of air power and to optimize the use of a limited number of aircraft, all squadrons have primary and secondary missions:
| | |
| --- | --- |
| | Air-Defense with ground attack |
| | Ground attack with air-defence |
| | Reconnaissance with ground attack |
AIR ACTIVITY
The air activity is conducted in France from about twenty operational bases and five air defence radar sites, supported by approximately ten other bases (HQs, operation centres, supply and maintenance depots, etc.)
The pre-positioning of some air assets overseas (combat and transport aircraft, helicopters) facilitates a swift response to any request for assistance within the framework of bi-lateral agreements and thus enables the defence of French national interests.
The total annual flying commitment generates 320,000 flying hours each year

Aircraft of the French Airforce :
Fighter/Attack Aircraft :
-Rafale B/C
| | |
| --- | --- |
| | Rafale is a twin jet combat aircraft capable of carrying out a wide range of short and long range missions in day and night-time and in all weather conditions, previously carried out by a number of different aircraft. The missions include ground and sea attack, air defence and air superiority, reconnaissance and high accuracy strike or nuclear strike deterrence.The aircraft has been developed for the French Air Force and Navy. 76 have been ordered out of a total requirement of around 300 (60 for the Navy and 234 for the Air Force) |
-Mirage 2000 C/B/D/N/-5F
| | |
| --- | --- |
| | Mirage 2000 is a multirole combat fighter by Dassault Aviation of France. It has been operational with the French Air Force since 1984 and has been selected by Abu Dhabi, Egypt, Greece, India, Peru, Qatar, Taiwan and the United Arab Emirates.Mirage 2000-5 is the latest of the Mirage 2000 family, and incorporates advanced avionics, new multiple target air-to-ground and air-to-air firing procedures using the RDY radar and new sensor and control systems. |
-Jaguar A/E
| | |
| --- | --- |
| | Produced to meet a joint Anglo-French requirement in 1965 for a dual-role advanced/operational trainer and tactical support aircraft, the Jaguar has been transformed into a potent fighter-bomber.A variety of weapons including cluster, freefall, retard and laser guided bombs, as well as rockets can be carried on the four wing and one fuselage stations. Two 30mm cannon are mounted internally. To mark targets for laser-guided weapons, the aircraft carries the thermal imaging and laser designation (TIALD) pod. For self-defence, overwing Sidewinder infra-red missiles are carried and the aircraft is fitted with a comprehensive suite of electronic countermeasures. |
- Mirage F-1 CR/CT/C/B
| | |
| --- | --- |
| | Following on the Mirage F-2, which was a revival of the classic arrow-wing design with stabilizers, the Mirage F-1 is a defense and air superiority single-seater plane. This revival was made possible by technological advances which permit manufacture of ultra-thin but robust wings, enabling at supersonic speeds flight performance equivalent to that of delta wings. The integrity of the fuselage structure allows the aircraft to carry a maximum amount of fuel. |
Air surveillance and Support :
-Boeing E3F-AWACS
| | |
| --- | --- |
| | The E-3 Airborne Warning and Control System (AWACS) is built by Boeing Defense & Space Group. The role of the E-3 is to carry out airborne surveillance, and command, control and communications (C3) functions for both tactical and air defense forces. In the USA the aircraft carries the designation E-3 AWACS. The UK designation is E-3 Sentry AEW (Airborne Early Warning) and the French designation is E-3 SDA (Systeme de Detection Aeroporte). |
-C 135 FR/KC-135R
| | |
| --- | --- |
| | The piloted component of the strategic air assets includes the in-flight refuelling capability of the C 135 FR aircraft powered by four CFM 56 engines ; these aircraft also provide refuelling for all combat aircraft within the Air Force. |
- C160 Gabriel
| | |
| --- | --- |
| | The C-160 Gabriel configures an ELINT subsystem provided by Thomson-CSF Radars & Contre-Mesures for detection, analysis and location of radar sources with a COMINT subsystem provided by Thomson-CSF Communications for detection, interception, classification, listening-in, analysis and location of radio transmitters. Thomson-CSF Radars & Contre-Mesures has developed complete SIGINT electronic intelligence systems for integration on board aircraft such as DC-8, Boeing 707, C-160, Transall and C-130. |
- DC8 Sarigue
Thomson-CSF work in communication electronic warfare includes realization of the major listening-in and electromagnetic intelligence collection systems for the French forces, realization of interception and counter-measures tactical systems for numerous international customers on all continents. The company has contributed - in cooperation with Thomson-CSF Detexis - to the realization of French airborne intelligence programs, such as Sarigue and Transall Gabriel. France monitors radio communications of neighboring countries using the Gabriel and Sarigue intelligence planes.

The DRM (Direction du renseignement militaire) collection network consists of a small electro-magnetic interception unit aboard a Hélios spy satellite, and listening stations aboard Sarigue and Gabriel aircraft as well as aboard the Berry, a naval vessel.
Transport :
-C 160 Transall F/NG/R
| | |
| --- | --- |
| | The Transall C-160 first flew in 1963. Production was completed in 1972, but in 1977 the program was reinstated to produce a "new generation" C-160 for France. The last of these new generation aircraft entered service in 1987. The wings are high-mounted and equally tapered outboard of the engines with blunt tips. Two turboprop engines are mounted under and extend beyond the wings' leading edges. The fuselage is long, thick, and tapered to the rear with a round, solid nose, stepped cockpit and upswept tail section. The tail flats are mid-mounted on a thinned body, equally tapered with blunt tips. The fin is tall and tapered with a blunt tip and a fairing in the leading edge. 67 in use in the French Airforce in the Tanker/Transport role. |
-C 130H/H-30 Hercules
| | |
| --- | --- |
| | The C-130 has been in continuous production since 1954 and over 2,100 Hercules have been built for 64 countries, accumulating over 24 million flight hours.The improvements built into the C-130J, which entered production in 1997, have enhanced the performance of the aircraft in terms of range, cruise ceiling,time to climb, speed and airfield requirements. |
- CN-235-100
| | |
| --- | --- |
| | The CN-235 is a high-wing, pressurised, twin turbo-prop plane with STOL performance that can carry a maximum payload of 6,000 kg. Its maximum cruising speed is 240 Ktas and it has a range of 2,250 nautical miles with a payload of 3,550 kg. The CN-235 has been conceived for tactical military transport and is capable of operating from unpaved runways and has excellent low level flying characteristics for tactical penetration.The CN-235 can be used to transport up to 48 paratroopers who may jump out either of the two side doors or the rear ramp. The CN-235 is able to carry out high and low altitude (HAD, LAPES) in-flight drops distribution of up to four tons of supplies to forward troops. On medical evacuation missions, the plane can transport up to 21 stretchers, with four medics. |
- A400M
| | |
| --- | --- |
| | The A400M (formerly known as the Future Large Aircraft) is a military transporter designed to meet the requirements of the air forces of Belgium, France, Germany, Italy, Spain, Turkey and the United Kingdom. The Airbus Military Company, a subsidiary of Airbus Industrie, is responsible for management of the A400M programmeDevelopment of the aircraft is scheduled to start in 2000, with entry into service in 2006. It is expected that the number of transporters required is about 280 aircraft, with Belgium requiring 12 aircraft, France about 70, Italy 32, Portugal 9, Spain 35, Turkey 20 and the UK 45. |
HELICOPTERS :
- SA 330 Puma
| | |
| --- | --- |
| | An agreement between was signed in 1967 between Westland and Sud Aviation (later known as Aerospatiale) covering licence production of 48 SA330Es which were to be known as Puma HC1s.The Puma can operate as a casualty evacuation aircraft, troop transport for up to 16 fully equipped troops, as a medium lift transport carrying up to 5,500 lbs of freight. |
- AS 532 UL Cougar (RESCO)
The Cougar name was adopted for all military variants, and in 1990, all Super Puma designations were changed from AS 332 to AS 532 to distinguish between civil and military variants. The Cougar was designed to provide high performance, ease of deployment, low operating cost, comfort, plus high mission readiness. For military use and adapting to modern battlefield conditions, it features survivability, suitability for tactical flight thanks to exceptional manoeuvrability, low observability, low vulnerability to projectiles, crashworthiness. A multirole helicopter, the Cougar can be armed with machine-guns and pod-mounted cannons, with rockets, or with antisubmarine or antisurface weapon systems to suit different mission requirements. Additional missions include: VIP transport, electronic warfare, and anti-submarine warfare.

| | |
| --- | --- |
| | AS 532 Cougar Mk I UL/AL is the "long" version which can carry up to 25 commandos or 6 injured passengers lying down and 10 other people. Like the other versions, it is capable of lifting 4.5 tons on a sling. The Horizon battlefield ground surveillance system can be installed on the AS 532 UL. |
-Cougar (Horizon)
| | |
| --- | --- |
| | The Horizon system, Helicoptere d'Observation Radar et d'Investigation sur Zone, is operational with the French Army. The helicopter surveillance system was originally developed to counter any possible threat by the tank fleets of the Warsaw Pact countries. The end of the Cold War and the uncertainty of the timing and scope of new military threats has brought emphasis to the importance of Command, Control, Communications and Intelligence, C3I, and the role of the heliborne surveillance radar. |
- AS 555 AN Fennec
| | |
| --- | --- |
| | The AS 550 C3 is the combat version of the single-engine Fennec. It is fitted with sliding doors, a raised landing gear, an instrument panel adapted to tactical flight and provisions for night flight with night vision goggles. It can be fitted with axial weapons such as a 20-mm gun, pod-mounted rocket launchers, a gun, a side-firing machine gun, or in the anti-tank or air-air version, it can carry 4 missiles. The AS 555 UN and AS 555 AN are the land versions of the twin-engine Fennec. The AS 555 UN is particularly intended for reconnaissance/observation missions, IFR training. The AS 555 AN is the armed version. It can be fitted with the same weapons equipping the AS 550 C3. |
-NH90
| | |
| --- | --- |
| | The NATO Frigate Helicopter (NFH) is one of two versions of the NH90 twin engine multirole helicopter being developed by NH Industries. The other version is the NH90 TTH Tactical Transport Helicopter. NH Industries, the prime contractor for the programme, is a joint venture company owned by Agusta of Italy (26.9%), Eurocopter Deutschland (24%) Eurocopter France (42.4%) and Fokker of the Netherlands (6.7%). The estimated requirement by the participating countries for naval NH90s is 182 (France 60, Germany 38, Italy 64 and the Netherlands 20) and 544 for the Tactical Transport version. Four prototypes have been built and flown and first deliveries are planned for 2003. |
Sources :
Visit the Site's Forum ''World's Armed Forces Forum''
The pictures and text displayed on this site have been found by me on the Internet or given to me by visitors. If these are copyrighted, let me know and I will remove them.