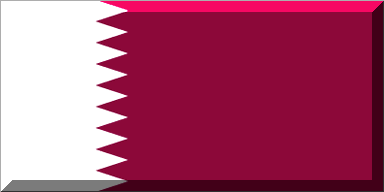 Having abstained from the UAE after independence from Britain in 1974, Qatar began forming it's own defence forces with UK aid. In 1974 the mainly helicopter equipped Air Wing of the Public Security forces achieved air force status, following deliveries of more British helicopters and ex-RAF Hunters as the QEAF's first fixed-wing and combat types. Modernisation and reorganisation plans then resulted in 1979 orders for six Dassault/Dornier Alpha Jets and 14 Mirage F1 multi-role fighters delivered during 1980-1984. Based at Doha International Airport, with several outlying available for helicopter operations, QEAF units experienced severe congestion and evident vulnerability in the 1990-91 Gulf War, resulting in new infrastructure contracts worth more than $200 million in France.
| | |
| --- | --- |
| | They involved construction of a dedicated military air base and HQ, with hardened aircraft shelters, air defence radars and Roland missile batteries southwest of the capital at Al Udaid. A 1987 military co-operation agreement with France also led to $1.6 billion contracts in 1994 for nine single seat Dassault Mirage 2000-5EDA combat aircraft and three two-seat Mirage-2000-5DDA combat trainers, with deliveries starting in December 1997. Qatar's remaining eleven Mirage F1EDAs and two two-seat F1DDAs were returned to Dassault in part-exchange, and subsequently sold to Spain. |
Orders from a £500 million late 1996 letter of agreement for a UK arms package including 18 BAe Hawks 100s and 15 Shorts Starburst SAM systems have been delayed by budget reductions and falling oil prices. For government and VIP transport, the Emir Wing operates single civil-registered examples of the Airbus A340-221, Boeing 707-336C and -3P1C, Boeing 727-2P1 and two Dassault Falcon 900s. The recent ending of the long-standing border disputes with Saudi Arabia and Bahrain will have had a beneficial impact on the defence posture of this small peninsular state in the Arabian Gulf. Additionally, the mutually-agreed arms control being exercised by the members of the Gulf Co-operation Council will probably see Qatar's limited but effective armed forces enter a period of stasis, with no new acquisitions foreseen.
Aircraft of the Qatar Emiri Air Force :
Fighter/Attack Aircraft :
- Dassault Mirage 2000-5EDA / DDA
The Fleet of 12 Dassault Mirage 2000-5DAs (9 Single Seat Mirage 2000-5EDAs and three two-seat Mirage 2000-5DDAs )are comparatively new, having been delivered as recently as 1997, and are unlikely to require upgrade in the immediate future. This fleet is more than adequate for air defence of this small gulf state which can be armed with Magic 2 and MICA air-air missiles.

Mirage 2000-5 is the latest of the Mirage 2000 family, and incorporates advanced avionics, new multiple-target air-to-ground and air-to-air firing procedures using the RDY radar, and new sensor and control systems. Mirage 2000-5 is available as a single-seater or two-seater multi-role fighter. The aircraft has hands-on throttle and stick (HOTAS) control. Mirage 2000-5 incorporates the Thales VEH 3020 head-up display and five cathode ray tube multifunction advanced pilot systems interface (APSI) displays.

The 2000-5 Mk 2 will have the Damocles pod with thermal imaging camera, also from Thales Optronique.Mirage 2000 is equipped with a multi-mode Thales RDY doppler radar, which provides multi-targeting capability in the air defence role, and the radar also has look-down/shoot-down mode of operation. The radar can simultaneously detect up to 24 targets and carry out track while scan on the eight highest priority threats.
- Alpha Jet C
In 1979 six Alpha Jet C trainers were ordered and today serve with No.11 Close Support Squadron which provides weapon training for pilots who have undertaken pilot courses overseas, but in times of war would be used for attack missions.

The Dassault-Breguet-Dornier Alpha Jet is a twin seat subsonic fighter bomber that due to its conception and versatile characteristics is particularly suitable for supporting air offensive operations, surface forces operations as well as for the advanced training on bomber fighters and operational conversion training, with the capability of using different weapon configurations. Its equipment allows it to obtain great efficiency when planning and executing missions.
Qatar Emiri Air Force Helicopter Wing :
- Aerospatiale SA 342 G/L
The Qatar Emiri Air Force operates some 14 Gazelles with No.6 Close Support Squadron. These are armed with HOT anti-tank missiles and often support motorised and tank battalions of the Qatari Army.

The Eurocopter/Aerospatiale SA 341/342 Gazelle is a French built light utility helicopter which was first flown in 1967. Military missions include attack, antitank, antihelicopter, reconnaissance, utility, transport, and training.
- Westland Commando Mk 2/3
Also in service within the rotary wing of the Qatari Emiri Air Force are 12 Westland Commandos which main roles include troop transport, sea surveillance and anti-shipping roles. In the Anti-ship role the Qatari Commandos can be armed with AM39 Exocet anti-ship missiles and resembles the Sea King in appearance.

Upgrades have been completed been completed of Qatar's Westland Commando helicopter force, which includes at least two Mk 3s equipped to launch the AM 39 anti-ship missiles supplementing normal ASW equipment abd armerment. The Qatari Commandos serve with No.8 Anti-Surface Vessel Sqn. and No.9 Multi-Role Sqn.
Sources :
Visit the Site's Forum ''World's Armed Forces Forum''
The pictures and text displayed on this site have been found by me on the Internet or given to me by visitors. If these are copyrighted, let me know and I will remove them.