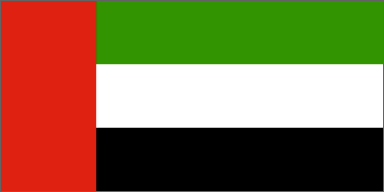 The UNITED ARAB EMIRATES AIR FORCE is funded by the seven emirates - Abu Dhabi, Ajman, Dubai, Fujairah, Ras al-Khaimah, Sharjah and Umm al-Qarwain - which form the UAE. Combat aircraft, trainers and transports are controlled jointly and four of the states have aircraft operated as royal flights. Within the seven states of the United Arab Emirates, only Abu Dhabi has a truly combat-capable air force. Abu Dhabi has also finalised the 'last big deal of the century' by signing a $6.4 billion contract for 80 Block 60 F-16s on March 5,2000.. The aircraft will be armed with the AIM-120 AMRAAM and the UAE's Marconi Electronic Systems-developed precision guided munitions family.Dassault did not lose out entirely, as the UAE also ordered 30 Mirage 2000-9s and committed to upgrade 33 of its Mirage 2000 fleet. The -9 has both an air-to-air and air-to-surface capability and will be equipped with Matra BA Dynamics Mica active radar guided medium range AAM and ASRAAM short-range IR guided AAMs.
| | |
| --- | --- |
| | The Hawks are also compatible with a range of UK- developed munitions not cleared on the Alpha Jet. The first of seven AS15TT-armed Panther helicopters is to be delivered by late 1999 with the remainder to arrive in 2000. The air force is split into a western and central air command based in Abu Dhabi and Dubai, respectively. Western command has air bases at Al Dhafra, Bateen and Al Ain Sharjah international airport. The largest base is Al Dhafra which has two squadrons of Mirage 2000s and one with Mirage5s. It is also home to the Abu Dhabi Royal Flight, the AH-64As, the Cougars and the Puma transports. Central command's assets are all at Mindht and are divided between a light attack squadron equipped with Hawks, a transport squadron, a helicopter squadron, a flying school and the Dubai Royal Flight. |
The air force has a requirement for more training aircraft to support the introduction of more than 140 Mirage 2000-9 and F-16C/D Block 60 combat aircraft over the next few years. The UAE is expected to upgrade its 20 BAE Systems Hawk Mk63 and 18 Hawk Mk102 trainers to a common standard as well as acquire new aircraft. Germany has offered to share development of an advanced trainer/light combat aircraft (LCA) with the UAE, focussing on the AT-2000 Mako, which could enter production in 2007 and be operational by 2010. Seeking to break into the lucrative Gulf market, the German sales push included an October 1999 offer of 30 ex-Luftwaffe Alpha Jets, a move that could thwart further Hawk sales. In March 2000, the UAE signed a long-delayed, and hotly contested, US$6.4 billion contract with Lockheed for 80 Block 60 F-16s, with deliveries scheduled to start in late 2004 and end in 2007. The UAE has also been cleared to receive 491 AIM-120B AMRAAMS, 267 AIM-9Ms, 163 AGM-88 HARMs, 1,163 AGM-65D/G Mavericks and 52 AGM-84 Harpoons under the F-16 deal. The UAE is also expected to receive the Black Shahine Matra/BAe stealthy Apache cruise missile despite US objections that this contravenes the MTCR.
Aircraft of the UAEAF :
Fighter/Attack Aircraft :
- F-16 C/D Block 60
| | |
| --- | --- |
| | The contract solidifies the UAE's May 1998 selection of the F-16 after a long and thorough process in which the Block 60 aircraft was evaluated against other advanced fighters including the Eurofighter Typhoon, France's Rafale and Boeing F-15E. ON MAY 25, REPRESENTING ONE of the largest and most expensive sales of U.S. fighter aircraft this decade, the United Arab Emirates (UAE) announced on May 12 that it will purchase 80 F-16C/D fighters, including weapons and support systems, worth an estimated $7 billion. The aircraft will be equipped with more advanced features than the F-16s currently flown by the U.S. Air Force and the UAE, as part of the package, will also receive the AIM-120 Advanced Medium Range Air-to-Air Missile (AMRAAM). A U.S. government official described the UAE F-16, which will be built with a new Block 60 platform, as "comparable to or superior to" U.S. F-16s, which are based on the Block 50 and 40 platforms. Aside from being equipped with additional fuel tanks above the wings, which could extend range by almost 30 percent, the UAE aircraft will also feature an improved mission computer, new cockpit displays, a larger engine and a more advanced radar, the development of which will be paid for by the UAE. |
- Mirage 2000-5 Mk E/R/D
| | |
| --- | --- |
| | The UAE Air Force and Air defence has been operating MIRAGE 2000 for many years and has contracted with Dassault Aviation for the delivery of 30 new MIRAGE 2000-9 aircraft and for the modernisation of its existing fleet of MIRAGE 2000 up to the latest-9 standard. The UAE will be the first 2000-9 operator following its $2-billion order for the aircraft. Delivery of the new 2000-9s is scheduled for late 2001. The air force will form two or three squadrons.Upgraded UAE 2000s will get the Thomson-CSF multimode fire control radar (RDY model), along with Matra's MICA missile and its advanced short range air-to-air missile (ASRAAM) for air superiority. Matra BAe Dynamics expects the MICA and ASRAAM missile order will be worth about $515 million. |
- Hawk Mk60/100
| | |
| --- | --- |
| | The Hawk 60, powered by an Ardour Mk.861 turbofan engine, provides air combat manoeuvring and weapon conversion training. It is highly spin-resistant, requiring full rudder to initiate and maintain a spin and recovering in one turn after centralising the flying controls. Stall characteristics are predictable and progressive.The UAE is expected to upgrade its 20 BAE Systems Hawk Mk63 and 18 Hawk Mk102 trainers to a common standard as well as acquire new aircraft. |
- * New Trainer Competition
| | |
| --- | --- |
| Mako | Acquisition of this comparatively large fleet of new and advanced combat aircraft brings with it the requirement for an appropriate pilot training package and the UAE has initiated a competition for a selection of a suitable type. On the shortlist are the BAE Hawk Mk.63&Mk.102, surplus Luftwaffe Alpha Jets, the K-8 and the EADS Mako. |
Transport :
- C-130H Hercules
| | |
| --- | --- |
| | The Abu Dhabi and Dubai air forces are largely integrated into the UAE air force. Two C-130Hs were delivered to Abu Dhabi in March 1973, and then sold back to Lockheed in 1984, in exchange for two new aircraft which arrived in December 1983. Two other C-130Hs were delivered in June 1981, augmenting a C-130H-30 delivered in April 1981 and an L-100-30 delivered in 1979 originally delivered to Dubai. The C-130Hs now operate from Bateen AB, Abu Dhabi, with the Transport Wing, Western Air Command, while the two stretched aircraft fly from Minchat AB, Dubai, with the Transport Squadron, Central Air Command. |
- C212-200 Aviocar
| | |
| --- | --- |
| | The CASA C-212 AVIOCAR 100 is a two turbo propeller engine aircraft, for light transportation, with a metal structure, high wing, with a fixed tricycle landing gear and propellers with a variable and reversible pitch. The AVIOCAR may use short runways, at both take off and landing: Short Take-off and Landing (STOL). The C-212 is CASA's answer to the needs of different Air Forces in the field of light military transport and can operate in areas lacking in infrastructure and on unpaved runways. The C-212 was designed with high-wing configuration and fixed landing gear, and is fitted with turbo-prop engines, STOL characteristics and incorporates simple and reliable systems. |
- CN.235M/MPA / C-295M 'Persuader'
CN-235

C-295

The CN-235 is a high-wing, pressurised, twin turbo-prop plane with STOL performance that can carry a maximum payload of 6,000 kg. Its maximum cruising speed is 240 Ktas and it has a range of 2,250 nautical miles with a payload of 3,550 kg. The CN-235 has been conceived for tactical military transport and is capable of operating from unpaved runways and has excellent low level flying characteristics for tactical penetration.The CN-235 can be used to transport up to 48 paratroopers who may jump out either of the two side doors or the rear ramp.

The United Arab Emirates (UAE) has opted to procure four C-295M 'Persuader' maritime patrol aircraft (MPA). The C-295M is a stretched version of the CN-235M, ready fitted with the EADS CASA Fully Integrated Tactical System (FITS). Other differences from the CN-235 include a different wing geometry, more powerful Pratt and Whitney Canada engines, reinforced landing gear and more modern avionics. The UAE's choice may be linked to the fact that it already operates seven CN-235 variants in the transport configuration
Helicopters :
- AH-64A Apache
| | |
| --- | --- |
| | The AH-64A Apache, widely recognized as the most advanced, combat-proven attack helicopter in the world for the past decade, is the predecessor of today's unmatched AH-64D Apache Longbow multi-mission combat helicopter.Armed with 16 laser-guided precision Hellfire missiles, 76 70 mm rockets, or a combination of both, and a 30 mm automatic cannon with up to 1,200 rounds of high explosive, dual purpose ammunition. |
- SA342L Gazelle
Picture taken by : George Joachim

The Eurocopter/Aerospatiale SA 341/342 Gazelle is a French built light utility helicopter which was first flown in 1967. Military missions include attack, antitank, antihelicopter, reconnaissance, utility, transport, and training,

| | |
| --- | --- |
| | SA 342L: Export light attack variant with Astazou XIVM engine. |
- AS532UC/SC Cougar
| | |
| --- | --- |
| | The Cougar was designed to provide high performance, ease of deployment, low operating cost, comfort, plus high mission readiness. For military use and adapting to modern battlefield conditions, it features survivability, suitability for tactical flight thanks to exceptional manoeuvrability, low observability, low vulnerability to projectiles, crashworthiness. A multirole helicopter, the Cougar can be armed with machine-guns and pod-mounted cannons, with rockets, or with antisubmarine or antisurface weapon systems to suit different mission requirements. Additional missions include: VIP transport, electronic warfare, and anti-submarine warfare. |
- IAR/SA 330 Puma
The Puma can operate as a casualty evacuation aircraft, troop transport for up to 16 fully equipped troops, as a medium lift transport carrying up to 5,500 lbs of freight. Manufactured under Aerospatiale/Eurocopter licence by IAR S.A. Brasov as a troop carrier and a tactical support helicopter, the 330L Puma proved to be a multi-role helicopter and in financial terms became one of the most successful medium utility helicopter.

The first contract for the new company is likely to be the sale of 10 new-build AS 330 Puma transport helicopters to the United Arab Emirates (UAE), plus the upgrade of an additional 15 Pumas already operated by the UAE Air Force.
- AB412EP
Sources :
Visit the Site's Forum ''World's Armed Forces Forum''
The pictures and text displayed on this site have been found by me on the Internet or given to me by visitors. If these are copyrighted, let me know and I will remove them.