2002

Vodafone Launch Sponsorship Of New Club Jerseys (February)
On Tuesday 19 February 2002 Deirdre McGreevey, Vodafone Corporate Relations Manager for Connacht/Ulster launched the new jersey to be worn by St. Mary's GAA Club during the coming year. The launch was held at the new Clubhouse and Grounds in Carnaun, Athenry. Vodafone are proud sponsors of the club and we at the club welcome them on board and look forward to working with them over the year ahead. Below is Deirdre McGreevy, Vodafone Corporate Relations Manager, Connacht/Ulster, pictured with Athenry hurlers Brian Higgins and Gerry Keane and Club officials Jarlath Cloonan, Tom Carr and Kevin Coyne at the unveiling of the new Vodafone jersey for St. Mary's GAA Club Athenry.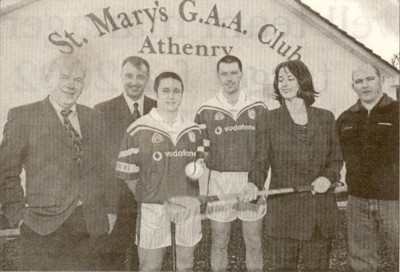 St. Patricks Day (March)
St. Patricks Day was another fun day out for the members of St. Mary's GAA Club Athenry, having a float in the local parade. A large crowd viewed the parade with floats from all the local townlands and organisations. Not having the Tommy Moore Cup (Cup presented to the All-Ireland Club Senior Hurling Champions) on display was a dissapointment as St. Mary's were proud winners of the coveted cup in 2000 and 2001, but the Under 14 Hurling team that won the County Championship in 2001 displayed the cup proudly and thanks to all the panel for turning out in the club colours for the parade. Vodafone, who are sponsors of St. Mary's GAA Club Athenry, Manchester United and Ferrari, supplied the club with Manchester United jerseys and Ferrari Formula 1 racing driving suits for the day. Our thanks to them for their help on the day and indeed throughout the year. Also to Peter Gilhooley of GK Developments for all his help and is the proud sponsors of Club na nÓg. Some photos of the day out can be seen below. A special thanks goes to the club members who put the float together, Vincent Madden, Martin Loughnane, Benji Madden, Patrick Grealish, Vincent McHale and Kevin Coyne.


Athenry Win 2001 Under-21 'A' Hurling Championship (April)
Connacht Tribune Report 05/04/2002
ATHENRY 1- 08 CASTLEGAR 1 - 07
Any team that relies too much on one player will eventually be caught out as Castlegar discovered to their cost when Athenry put paid to their dreams of winning a third consecutive County U-21 'A' hurling title at Kenny Park, Athenry. This was a disappointing final replay, marred by a constant drizzle and slippery conditions, and yet Athenry were worthy winners as they had a better balanced side with greater attacking options.

Even though Cashel had a few late chances to equalise and bring the game to extra time, they simply did not deserve toas they had relied far too much on the free taking heroics of young Ger Farragher over the hour. Farragher accounted for all but one point of their total, with the remaining score coming from his midfield partner, Adrian Grogan, so their limitations in attack werereflected in the fact that not one of their six forwards managed to register a score.

They came up against a gritty and tenacious defence, for whom full-bacd Diarmuid Cloonan was outstanding. Cloonan mopped up everything that came his way as he towered over the Cashel forwards for the hour. The full-back began the game in style, clearing three balls within the first five minutes before Farragher opened Cashel's account from a 65 yard free. Midfielder Shane Donohue and full-forward Cormac Cloonan replied with two frees for Athenry, but scores were at a premium and it was not until the 25th minute that Farragher had the teams back on level terms. Grogan edged Cashel in front with a well-taken point a minute later - their only score from play - but Athenry finished the half with a florish. Donohue provided a good pass for Cormac Cloonan to turn and run twords the Cashel goal and the big full-forward's shot took a deflection before landing over the bar. As the first half entered injury time, Liam Howley sent a fine ball into Cloonan and the full-forward unleashed an excellent strike to the left hand corner of the net for the decisive score of the game.

Athenry led by 1-03 to 0-03 at the interval and their full-back line, particulary Cloonan and John Madden, continued to show firm resistance after the break. Farragher reduced the deficit with a 50 yard free, but corner forward David Donohue the first of three excellent points from play to restore Athenry's advantage. Substitute Kevin Higgins put them four points up with a well-taken score, but two Farragher efforts from placed balls had Cashel right back in it less than ten minutes gone in the second half.

Cloonan added a free for Athenry, followed by a short range score fron Donohue, and the game sparked to life when Farragher blasted a 25 yard free to the net following a foul on Ronan O'Flynn after 47 minutes. But Cashel simply did not have the fire-power to build on that goal and David Donohue replied quickly after connecting with a long range free from Diarmuid Cloonan. Cashel did pile on the pressure in the closing minutes, but again Cloonan was inspirational and they could only manage one more free from Farragher, who also missed a couple of long range efforts near the end.

The relief among the Athenry followers was palpable, but the two Cloonans, Madden, Michael John Quinn, Shane and Davin Donohue, and Derek Carroll had done enough to wrest the 2001 title from the defending champions. Apart from Farragher, Jonathan Lynch, Grogan, and David O' Gorman tried hardest for a more limited Cashel side who kept battling up to the end.


Golf Glassic 2002 (July)
A very sucessful three day golf classic was held recently at Athenry Golf Club. Held on the 4th, 5th and 6th of July it proved to be a very enjoyably outing for every one involved.The Club wish to thank all those who participated in the event and those who sponsored tees and greens.
Results:
1st: Eamon Burke, Noel Fox, Gerry Burke and Eoin McEvoy - 97 pts.
2nd: Tony Kelly, Seamus Mulkerrins, Christy O'Grady and Eugene Corley - 96 pts.
3rd: Tony Keady, Gerry Raftery, Tom Horan and Patsy Lynch - 95 pts.
4th: Jarlath Cloonan, Tom O'Donnell, Maurice Prendergast and Brian Traynor - 95 pts.
5th: Jim Duane, Donal Walsh, Pat Collins and Andy Murphy - 94 pts.
6th: Johnny Greaney, Brendan O'Connell, Padraig Flattery and Gerry Hanley - 94 pts.
7th: Martin Fitzpatrick, Jarlath Somers, Tom Lane Jnr. and Bob Reilly - 94 pts.
8th: Michael Lane, Tom Lane, Padraig Ryan and Leo Coffey - 94pts.


Galway Senior Hurlers beat Cork (July)
On Sunday 14th July in Semple Stadium, Thurles, Galway Senior Hurlers beat Cork on a score line of 0-21 to 1-09 to qualify for the quarter-finals of the All-Ireland Hurling Championship. Played on a brilliant summers evening it was a proud day for St. Mary's GAA Club and the parish of Athenry with 5 Athenry stars playing their part, namely Michael Crimmins in goal, full back and championship depudant Diarmuid Cloonan, scoring ace Eugene Cloonan at full forward, with the lively Brian Higgins and the dependable Joe Rabbitte being introduced as substitutes. They now face Clare in the quarter-finals in the new look Croke Park on 28th July. St. Mary's GAA Club would like to wish the management and squad the very best of luck in the upcoming game.


Opening of new Clubhouse (August)
A very large crowd turned out on 17th August for the official opening of the new clubhouse and grounds in Carnaun. The official opening was performed by Mr Sean Kelly, President Elect of the GAA. A feature of the day was a match between 2001 All-Ireland Champions Athenry and 2002 Champions Birr from Offaly. Preceeding this game was the minor final of the Colin Conneely Cup between Athenry and Sarsfields, with Athenry being sucessful. A special word of thanks must go to Mr Terry Burke and Mr Stephen Durkan of Eurotec Signs, Oranmore who kindly sponsored the day.


Brian Feeney back training with the senior team (August)
Ex Athenry and Galway captain Brian Feeney has returned from his work commitments in Italy and has resumed training with the Athenry senior squad. With his vast experience both on and off the field his return is of great importance to the club with so many young hurlers to guide that are coming up through the ranks. No doubt he will be pushing for his place on the senior team with his wealth of tallent.



Athenry U-14 Camogie Team win All-Ireland (September)
The crowds and bonfires that greeted the Athenry U-14 Camogie Team who were Gold Medal winners at the National Community Games Finals in Mosney were a fitting end to a fantastic weekend for camogie in Athenry.
The girls and their team management were overwhelmed by the welcome home they received both on the square in Athenry on Sunday night and during their tour of the parish on Monday evening.
It would be impossible to single out any player or players who contributed more than another to their tremendous win over a very strong Cork side on Sunday afternoon in Mosney. The united effort that this team produced to score 3 -1 to 1 - 5 was evidence of their determination to bring home gold.
Following a relatively easy win over St. Phelims of Cavan on Saturday with a score of 4 - 8 to 1 - 0, the girls (some as young as 11) showed a remarkable maturity in their attitude to what was required of them in preparation for Sunday.
Athenry were 2 points ahead at half time with scores from Noreen Coen (1-0) and Maeve Carr (0-1) but a very early Cork goal in the second half meant the Athenry girls had to call on all their resolve and determination to turn the game to their advantage again. A goal in quick reply from Laura Loughnane regained their two point lead but three successive points from Cork saw the Athenry girls trailing by one point with about 10 minutes remaining. However, urged on by the large crowd of parents and supporters who had travelled from Athenry, the girls kept pressure on the Cork goal and were rewarded with a fine goal from Stefanie O'Dwyer and they held this two point lead to the final whistle.
There were jubilant scenes of tears and joy as the following panel of 16 received their Gold Medals:
Deirdre Ward, Mary Ward (capt), Marie Carroll, Jessica Gill ( who also won Gold in the Long Puck), Katie O'Dwyer, Rachel Waldron, Maeve Carr (0-1), Madeline McDonagh, Laura Loughnane (1-0), Stefanie O'Dwyer (1-0), Natalie Jordan, Noreen Coen (1-0), Ester Devally, Emma Loughnane, Maeve O'Sullivan and Kayla Hallissey.
Galway U-21 Hurlers loose All-Ireland Final (September)
Galway Under-21 Hurlers under the management of Athenry man John Hardiman lost to a teriffic Limerick team in the All-Ireland Under-21 Hurling Final at Semple Stadium, Thurles yesterday (Sunday). On a scoreline of 3-17 to 0-08 it was a heartbreaking end to the season for this gallant young galway team. Michael John Quinn came on early in the second half at right half back but despite his gallant effort it was an up hill struggle all the way to the final whistle.


Cathal Moran returns to the fold (September)
Senior hurler Cathal Moran has returned to training after he announced his retirement after last years county final defeat. It was good to see this lively and talented corner forward tapping over points as he graced the new pitch in Carnaun. The Club would like to wish him every sucess with his new Auctioneering business here in the town of Athenry which he opened earlier this year.


Fund Raising Draw (September)
A fund raising Draw was launched recently by the club to help support the day to day running of the club. The draw will take place on the 21st of December at the Club's Annual Social in the Castlegate Hotel. Tickets are priced at €20 / Book of 12 tickets €200 and can be obtained from any committee member. The following are the list of prizes:
1st: Sun Holiday - 2 Weeks in Lanzarote for 2 people.
2nd: Weekend for 4 people at the City West hotel with Golf and Dinner.
3rd: Weekend for 2people at the City West hotel with Golf and Dinner.
4th: Combo TV and Video Set.
5th: Bicycle.
6th: Stereo Music Centre.
7th: 2 Season Tickets to Pearse Stadium for 2003.
8th: Membership to Club Gym for 2003.
9th: Portable TV Set.
10th: Voucher for Bellissimo Health Complex.


Under-12 Football (October)
The under-12 Footballers had a great win over Dunmore in the Championship Final last weekend. It was a great end to the season with victory going to the traditional "hurling" parish against such a formidable footballing side as Dunmore. To the footballers, their manager Willie Hannon and his fellow selectors we offer them our congratulations.


Senior Hurling (October)
Athenry had a deserving win over Loughrea in this bruising Championship Quarter-Final in Ballinasloe on Sunday 14th October with the final score being Athenry 1-19 ~ Loughrea 1-10. They now face neighbours Carnmore in the Semi-Final in Athenry on the 20th October. The Athenry team that lined out against Loughrea was: Michael Crimmins, Michael John Quinn, Gerry Keane, John Feeney, Brian Higgins, Diarmuid Cloonan, Paul Hardiman, Brendan Keogh (Captain) (0-01), Brian Hanley, Joe Rabbitte (0-02), Pat Higgins, Shane Donoghue, Donal Moran (1-04), Eugene Cloonan (0-09, 0-07 frees), David Donoghue (0-02). Subs: John Conway (0-01) for Pat Higgins, Richard Brady for John Feeney, Aidan Poinard for David Donoghue, Emmett Caulfield for Eugene Cloonan.

In the other Quarter-Finals Portumna defeated reigning champions Clarenbridge, Sarsfields defeated Turloughmore while Carnmore overcame Craughwell.


Senior Hurling (October)
Due to adverse weather conditions both County Championship Semi-Finals which were due to be played on the 20th October were cancelled. It is hoped that they will be played on the Bank Holiday weekend, 26th / 27th / 28th October.
Senior Hurling (November)
With a seven point win over Carnmore, Athenry Senior Hurlers qualified for their 5th county final in a row where they will meet old rivals Sarsfields, who had a one point win over Portumna with a Joe Cooney goal in the last minute of the game. The final takes place on Sunday 10th November in Pearse Stadium at 2.30pm

Senior Hurling (November)

County Final

ATHENRY 1-16 :: SARSFIELDS 3-07


In a hard faught County Senior Hurling Final played in Pearse Stadium, Galway, St. Mary's Athenry had a deserved 3 point win over old rivals Sarsfields. Trailing by 5 points (1-07 to 0-05) at the interval Athenry came out in the second half with all guns blazing to score 1-04 without reply, the goal coming from man-of-the match David Donoghue. Sarsfields replyed with a goal from a 21 yard free from Joe Cooney but Athenry came back with 6 more points to leave the score 1-15 to 2-07 in favour of Athenry. With time nearly up Sarsfields pounced for their third goal from Patrick McMahon, leaving just 2 points between the teams but Athenry scored another point from a Eugene Cloonan free which proved to be the last score of the game and held out for a 3 point victory.
Athenry: Michael Crimmins, Michael John Quinn, Gerry Keane, John Feeney, Brian Higgins, Diarmuid Cloonan, Paul Hardiman, Brendan Keogh, Brian Hanley, Joe Rabbitte (0-02), Pat Higgins (0-01), Shane Donoghue, Donal Moran, Eugene Cloonan (0-09, 6 frees), David Donoghue (1-04), Subs; John Conway for Brian Hanley, Cathal Moran for Donal Moran.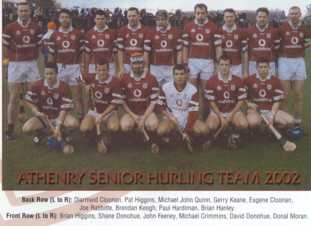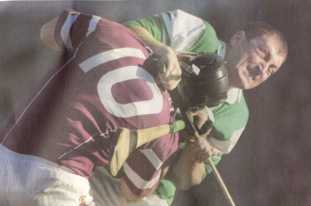 Joe Rabbitte being tackled during the 2002 county final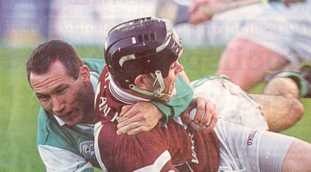 Paraic Kelly of Sarsfields tackles Eugene Cloonan
during the county final

Connacht Final
In the Connacht Final played on the 17th November in Ballyforan Athenry had a good win over Four Roads from Roscommon.

All-Ireland Qtr-Final

On Sunday 24th November Athenry had a very convincing win over Sean Treacy's of London on a score line of Athenry 4-15 to Sean Treacy's 0-05. A feature of the game, which was played in Ruislip, North London, was the performance of full-forward Eugene Cloonan who finished with a personal tally of 4-09, with the other scores coming from David Donohue 0-03, Joe Rabbitte 0-02 and Brian Hanley 0-01. It was over as a contest after two minutes as Eugene Cloonan had 1-01 on the board while Sean Treacy's centre half forward Mick O'Hara was sent off for a dangerous tackle on Athnery's Michael John Quinn. All of Sean Treacy's scores came from their Tipperary born full-forward Timmy Moloney. After 17 minutes of the second half the match was delayed for 15 minutes as a London emergency services helicopter had to land on the pitch to ferry an injured patient from a nearby housing estate to hospital. It was a very unusual situation and must go down in history. It was learned afterwards that the Ruislip pitch is a designated landing area for such emergencies. Our good wishes go to the injured party and indeed the emergency crew who do a difficult job. I'm sure they were wondering what 30 people running around a park waving sticks were at. An enjoyable weekend was had by all with a few songs still being heard from the bar into the early hours of the morning.
.
July 1999
COUNTY CUP S.H.C.
The big two Athenry and Sarsfields, have strengthened their positions as the leading fancies for the County Cup with high-scoring displays in the past week. Title holders Athenry wrapped up their Group A campaign with a 2-15 to 1-11 win over Mullagh at Duggan Park, Ballinasloe last Wednesday evening, and then crushed Castlegar 4-17 to 2-12 at Turloughmore on Sunday evening.
Athenry scorers vs. Mullagh: E. Cloonan (1-6, 0-3 frees); J. Rabbitte (0-4, one free); D. Donohue (1-1); D. Moran (0-2), B. Hanley, A. Poniard (0-1 each). Vs. Castlegar: E. Cloonan (1-10, 0-9 frees); D. Moran (1-3); D. Donohue (1-1); C. Moran (1-0); P. Higgins (0-2); B. Hanley (0-1).
Sarsfields completed their Group B campaign with a 3-14 to 1-6 win over Kinvara, and other weekend results were: Loughrea 3-13, Ballinderreen 2-8; Carnmore 0-15, Gort 1-10; Clarinbridge 2-15, Craughwell 0-11.
Seven of the eight qualifiers for the quarterfinals are now known: Athenry, Sarsfields, Abbey-Duniry, Turloughmore, Kilconieron, Gort and Portumna. The eighth ticket is between Ardrahan and Liam Mellows in Group A.
The relegation play-off series will be between Castlegar, Ballinderreen, Craughwell and Killimordaly or Meelick-Eyrecourt. Group games to be played: Ardrahan vs. Liam Mellows; Killimordaly vs. Meelick-Eyrecourt.
Two games do not have to be played: Abbeyknockmoy vs. Turloughmore and Craughwell vs. Portumna.
Underage G.A.A.
Last week was a very busy one for Athenry's underage teams. The minor hurlers overcame Tommy Larkins in a high scoring game - 2-18 to 3-10. Athenrys best performers were John Madden, Thomas Kelly, M. J. Quinn (0-1), Keith Coffey (0-2), John Brady (1-2), Pádraig Quirke (0-1) and Cormac Cloonan (1-11, 0-7 frees). Many of the same players featured on the minor football team which defeated Cortoon Shamrocks by 2-8 to 1-9 in the first round of the championship. Athenry's scorers were: Niall O'Brien (1-1), Kieran Flannery (1-0), Darren Madden (0-3), John Madden, Brian Farrell, Brian O'Regan and John Brady (0-1) each.
The Under 16 hurlers lost to Craughwell in their first round match but may yet recover and qualify if they win their remaining matches. The U-15's reached the final of the Brian Daly Memorial Tournament but lost out to the host club, Killimordaly.
The U-12 hurlers secured their second win in their group by defeating Tommy Larkins, and so have qualified for the knockout stages. Goalkeeper John Grealish, Brian Forde, Stephen flannery, Ciaran O' Donovan, Cathal Fahy, Sean Glynn, Conor Cannon, Brian Loughnane, Michael Kelly, Emmet Mc'Gowan and Derek Moroney played very well for Athenry
The performance of the week , however, was Athenry's victory in the Community Games football county final. In a most exciting final Athenry emerged victorious by a single point after extra time. The score for the encounter was: ATHENRY 4-8 , MOUNTBELLOW 5-4.

August 1999
St Mary's, Athenry 4-18 Tuloughmore 0-11 Galway Advertiser August 26 th 1999
St Mary's of Athenry sent out a warning. They are by no means a spent force.
They routed a poor Turloughmore side before a big crowd at Clarenbridge on Saturday evening in the quarter-final of Galway Senior Hurling Championship, and they are; now once again just two games away from taking the last Galway senior hurling title of this millennium.
For most of this game Athenry were awesome. When they got into their stride they cast aside Turloughmore with ease. After 90 seconds Eugene Cloonan and Cathal Moran had Athenry two points ahead. Turloughmore's Francis Forde set up Cathal Moore for a point, but from the long puck out by Michael Crimmins, Athenry struck back as Cloonan collected the ball and pointed. Forde swapped a free with Cloonan as Turloughmore began to come into the game. After Francis Forde had a goal shot well saved by Michael Crimmins, Darren O'Shaughnessy from a free, and Padraig Walsh from 60 metres had Turlough level with the champions at 0-4 each.
Then it all went wrong for Turloughmore. Joe Rabbitte was fouled 12 minutes into the game, and players got entangled with each other as a minor scuffle developed. After the tussle it was Athenry who stepped up several gears, and inside five minutes they had the game wrapped up.
Eugene Cloonan and Donal Moran pointed before Brian Hanley released to Pat Higgins who was unmarked, and he unleashed a blistering shot that gave John Garrett little chance in the Turloughmore goal. Donal Moran set up Pat Higgins for another point, and Cloonan pointed a free from his own 65 to put Athenry ahead by 1-8 to 0-4.
Turloughmore began to look ragged, missing scorable frees, Cathal Moran scored a beautiful point from an acute angle on the right wing and, Eugene Cloonan ended the game as a contest when he blasted a 20m free to the net. A Cathal Moran point had Athenry with a 12 point lead at the interval, St Mary's Athenry 2-10 Turloughmore 0-4.
A class team, who have strength and depth, shattered the hopes of the young Turloughmore side who had produced promising performances in their games against Loughrea and Kilconieron. The only Turloughmore player to come out of this game without losing credibility was Padraig Walsh. County star Cathal Moore was a big disappointment, while Francis Forde also failed to sparkle. Darren O'Shaughnessy and Gerry Burke tried hard against a defence that stood solid.
Brendan Keogh, who came back from Russia for the game, stepped in at centre back in place of the injured Brian Feeney. Brian Higgins, John Feeney, and Paul Hardiman excelled in defence. Joe Rabbitte and Pat Higgins used their experience and strength, and their distribution was clinical. Eugene Cloonan was one e again a revelation, finishing with a personal scoring tally of 2-8.


October 1999
Reigning champions advance with ease!!
Athenry 2 - 24 Ardharan 2 - 7
The Senior team's advancement to the county final was the highlight of an overall good weekend for the club. However on Saturday a goal rush by Kiltomer was the difference between the teams in a hard fought county Intermediate semi-final at Loughrea. The match finished on a score line of Kiltomer 4 - 12 Athenry 1 -15. The Juniors (A) battled well with Ballygar in the county quarter final and what was a low scoring match finished in a draw Athenry 1 - 6 Ballygar 1 - 6. A last minute 20 meter free by John (jack) Brady rattled the back of the net to give Athenry a one point victory over Carnmore in the Under-16 A2 county semi Final.


Under 21's first outing
Its hard to believe it but the Under 21 hurlers of Athenry will have their first outing of the 1999 (A) Championship next Saturday at Ahascragh against Killimor. The late start is not surprising considering that the 1998 final at this level was contested just five months ago. On that day St. Mary's Athenry over came Loughrea by two points to win the clubs seventh title. On Sunday next the 11th of September the Junior A quarter final Replay will take place with Ballygar in Ballymacward.
Minors Secure 1/4 Final spot 17/10/99
Having suffered a 10 point defeat at the hands of Clarinbridge in their opening match last Easter Sunday, the club's minor hurlers looked destined to have an early exit from the 1999 championship. However the character of these young hurlers showed in the remaining group games with wins over Loughrea (May), Tommy Larkins (July) and Rahoon - Newcastle (September). Loughrea qualified from the group following their second win over Clarinbridge two weeks ago. This meant that the Bridge and Athenry would have to do battle again for the other 1/4 final spot and that they did in Ballinderreen last Saturday afternoon. Clarinbridge did not have it all their own way this time around but led at half time on a score line of 1-5 to 1- 3 with Athenry's goal coming in the first five minutes from a Cormac Cloonan ground stroke. Nobody in Ballinderreen except those in the Athenry half-time dressing room would believe what would happen next. The character of the Athenry lads came to the fore again as they out scored Clarinbridge by 11 points to 5 in the second half to win the match and qualify for the 1/4 final.
This was a 15 man team effort by the Athenry lads in beating a very experienced and talented Clarinbridge side.
Under 21's win but Junior A's go out 14/10/99
A mixed weekend as the Junior A team lost to Ballygar in the 1/4 final replay on Saturday followed by a impressive win by the Under 21 team over Kilimor on Sunday to start their title defense in style.
Tom Howley Lotto win
Presentation of cheque worth £8,300 to Tom Howley in the Skillet Bar on Wednesday the 13th of October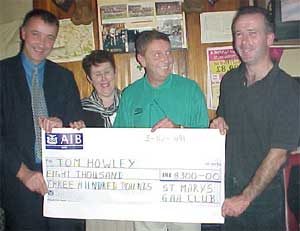 Tom and Anne Howley (centre) being presented with their cheque
by club officers Tom Carr and Dermot Monaghan


November 1999
Connacht are Railway Cup Champions for 1999 - 27/11/99
The all Galway, Connacht team captained by Joe Rabbite defeated Munster in the Railway Cup final in Thurles last Sunday on a score line of 2 - 13 to 1 - 15. Less that 500 people were present in Thurles as the Railway Cup has lost its former prestige, but from a Galway hurling point of view a important corner was turned last Sunday as we look forward to the first championship of the new millennium. Last Sunday must also go down in the history books as the first time ever that five men from the same club played in a Railway Cup final and were the winners of Railway cup medals on that day. Of course the five I have referred to are all Athenry men namely Michael Crimmins in goal, full - back Brian Feeney, wing - back Paul Hardiman, center - half - forward Joe Rabbite and corner man Eugene Cloonan. I stand to be corrected on this record so please advise by E-Mail.
Major honours for past and present
When the Murray & Spelman / Connacht Tribune Galway GAA teams of the century were revealed in last week's Tribune dated November 19th, it was no surprise to many that Athenry's finest P. J. Molloy was named left - half forward. The Galway Hurling and Football teams of the century will be honoured at a gala banquet in the Ardilaun House Hotel on Sunday night the 5th of December. Micheal O Muircheartaigh will be master of ceremonies and guest of honour will be GAA president Joe McDonagh. To the present and Eugene Cloonan has been selected as Galway sports star in Hurling for 1999. Eugene was top scorer in the league, had the best individual score in a championship match in 1999 (2 - 10 in the Q/ final replay with Clare) and last but not least helped his beloved Athenry at Under - 21 level to win the 1998 county championship this summer and of course back to back county senior championships a few weeks ago.
Comeback too late as Minors exit championship - 11/11/99
The Athenry minor team bowed out of the championship at the 1/4 final stage in Ballinasloe last Sunday.They lost to Portumna by a single point on a scoreline of 2-7 to 2-6. Athenry started well and led by a score of 1-2 to 0-0 after twelve minutes. However an injury to a Portumna player delayed the game for eight minutes and following the resumption they scored 1-3 without reply leading at half time by a single point. The First ten minutes of the 2nd half was evenly contested with both sides trading points but then a second goal followed quickly by a point put Portumna four points ahead going into the last ten minutes. Athenry tried hard to bridge the gap but the Portumna defense held strong. However a brilliant goal worked by M J Quinn and finished by Kerian Flannery in the last minute put the minimum between the sides, however the final whistle was blown from the resultant puck out. Best for Athenry on a day when the defense worked hard were Michael John Quinn, Seanie O' Brien and Robert Loughane. The Athenry Club would like to congratulate Portumna and wish them the best for the remainder of the championship. The game was played in a very sporting manner and Portumna have a real star in Damien Hayes who together with our own M J Quinn helped Galway win the All Ireland minor championship earlier this year.
Under 12 Football Team Win League Final.
The Athenry U-12 footballers achieved a magnificent victory last Sunday when they beat Renvyle in the county League Final in Moycullen on a scoreline of 5-5 to 5-3. Athenry raced into the lead with a goal from Derrick Moroney and a point from Trevor Ruane. Renvyle however replied with a goal and a point in the 2nd quarter to Athenry's two points but a goal from Philip Kelly gave Athenry a half time lead of 2-3 to1-1. On the resumption the Athenry captain Cathal Fahy scored a magnificent goal to put eight points between the sides. At this stage it seemed all over but then came a super comeback from Renvyle saw them score three goals without reply. Further points and a further goal by both sides had the game evenly balanced going into the last three minutes. Renvyle now lead by a point but a winning goal from Kieran O Donovan saw the young lads from Ath An Ri hold out for a unbelievable two point win. On a day when there were stars everywhere Goalie John Grealish, backs Brian Loughnane, Brian Forde and Michael Kelly played their hearts out. Athenry's midfield were on top due to a great display from Sean Glynn and Kieran O Donovan. Forwards Philip Kelly Connor Cannon caught the eye and a great display from Captain Cathal Fahy swayed the game in Athenrys favor. Athenry would like to Acknowledge the super trophy put up by the Renvyle club and to thank them for their hospitality and a great game. The winning team toured the parish on their return and finished with a celebratory meal in Supermacs. Well Done to all concerned.
Under 21's didn't spoil the party - 1/11/99
Last Sunday saw the Under 21 hurlers take to the field in Ballindereen for their second match in the 1999 championship. It was a repeat of last years county under 21 (A) final (which was played this summer) with the Athenry lads going one point better, having three points to spare over Loughrea on a score line of 0-13 to 1-7.
On the week after a county final win and celebration it was good to see all the Athenry players looking sharp and hungry. The five county players showed their class through out but the outstanding display of the day came from the returned yank Richie Brady who controlled the game from center half back. A close second would be Tom Howley who worked hard for and scored two second half points. On Saturday last in Loughrea the under 16 team narrowly lost the A2 final to St. Thomas on a score line of 2- 5 to 2-3. Next weekend it will be the turn of the minor team in the county 1/4 final against Portumna.


January 2000
AGM 2000
A large crowd attended the first St. Mary's GAA club AGM of the new millennium, which was held in Dobbyn & Coffey's last Monday night the 24th of January. In his Chairman's address Dermot Monaghan stated that the retention of the county senior cup was the highlight of a very fruitful year for the club. He congratulated Noel Kelly, his selectors and players for winning the county Under -21 championship of 1998 during the year. Dermot complemented and congratulated the people involved in the juvenile section of the club for the success reached at under age football through out the year. The ongoing development of the facilities in Carnaun gave him a great deal of satisfaction and he strongly pointed out to the meeting that it is a necessity as we go forward into the 21st century. Finally to Pat Nally, his management team and the Senior hurlers of the club best wishes were given by all at the meeting for their forth coming All-Ireland club semi-final clash.
The following officers and committee were returned on the night:
President: Fr. Tony King PP
Hon. Vice Presidents: Bobby Gardiner, Pake Ruane Pa Hall & Gorgie Moran
Vice Presidents: Pake Higgins & Paddy Conway
Chairman: Dermot Monaghan
Vice Chairman: Tom Cloonan
Secretary: Jarlath Cloonan
Joint Treasurers: Michael Quinn & Tom Carr
PRO: Conrad Byrnes
Board Delegates: Mixie Donoghue(h) & Gerald Corbett(f)
Executive Committee: Officers plus Ann Cloonan, Leo Coffey Martin T Kelly team managers and team captains.
The following are the team managers for the year 2000:
Pat Nally senior and Noel Kelly Under-21 to remain until after their respective championships are complete.
Minor: Tom Cloonan
Junior A & B: Gerry Treacy
Junior C: Brendan Burke.
Club Secerty Jarlath Cloonan congratulated and thanked the following people for the year gone by.

Congratulations to:
Michael J Quinn On winning an All-Ireland Minor medal
John Hardiman Manager of the All-Ireland winning minor team
David Donoghue & John Conway On winning All-Ireland Intermediate medals
Michael Donnellan On winning under 14 All-Ireland medal
Joe Rabbitte, Brian Feeney, Paul Hardiman, Michael Crimmins and Eugene Cloonan On winning railway cup medals
Eugene Cloonan On receiving ''Galway Hurler of the year " award and All-star nomination
Tom Cloonan On receiving "Galway special dedication" award
P J Molloy On being selected on the "Galway team of the Century"
Shane Donoghue On receiving the ' U C G Hurling Scholarship'
Joe Rabbitte, Brian Feeney, Paul Hardiman, Michael Crimmins, Eugene Cloonan, Brian Hanley and John Feeney Who were members of the Galway Senior Panel
Eugene Cloonan, Aidan Poniard, Shane Donoghue, Diarmuid Cloonan and David Donoghue Who were members of the Galway Under 21 Panel
Conrad Byrnes and Athenry Vocational School On winning the All-Ireland Title
County Vocational Team On winning the All-Ireland Title
Thanks to:
A special word of thanks to all our officers and committee members for their work on behalf of the club during 1999.
Also thanks to the following:
Our medical team of Noreen Hanley, Mary Murphy, Mixie Donoghue, Colm Flynn and local Doctors.
For looking after hurleys and sliotars: Brendan Burke and Bobby Gardner
For the use of the hill and lights: Pat Holland and Kathleen Bane
For keeping our jerseys in good order and condition Kathleen and Michael Quinn
For providing facilities to welcome home winning teams Ned Waldron, Tommy Quinn and the Community Councils
Our referees Mixie Donoghue, Anthony Freeney and Patsy Lynch
To the local media Tuam Herald, Connacht Tribune and Galway Bay FM for their assistance and coverage of the club events
To Phelim Murphy and John Prenty for a grant of £2000 from the Connacht Council
To Vincent Walsh of the Galway Supporters club in Dublin for a contribution of £500
To all who have become patrons of our club
February 2000
Club na Nog A.G.M report 2000
On last Wednesday night, 2nd Feburary, juvenile chairman Vincent Madden opened the second Club na Nog A.G.M by welcoming everybody to Dobbyn & Coffey and stated how delighted he was to see such a great turn out. Vincent recounted that the past year was extremely busy at juvenile level with upwards of 70 games played in league and championship, from under-10 right through to under -16 in both hurling & football. The highlight of the year was the capturing of the football (under-10) community games title for the very first time. Thanks to Martin Whyte, Willie Hannon and Owen Divilly. The under - 12 footballers kept the tide of success going by capturing the North & County titles, thanks to Michael Gibbons, Patrick Grealish and Tom Divilly. On the hurling fields the under - 12 team lost out at the county semi - final stage, however showing great promise for the future as they move through the grades.
Juvenile secretary Tom Divilly thanked all the team managers for their effords with the teams and the help they gave him in his role through out the year.Tom gave special thanks to the sponsors of the juvenile club Blitz, Peter Gilhooley & Jimmy Fahy for the trophies and Angela & Michael Crimmins for the plaques.
The following were selected as the incomming Juvenile officers and team managers for the year 2000:
Chairman: Vincent Madden
Secretary: Tony Ruane
Treasurer: Michael Crimmins
Team Managers - Hurling
Under - 10 - Diarmuid Cloonan
Under - 12 - Tom Divilly
Under - 14 * - Tom Cloonan
Under - 16 ** - Sean Hynes
* Under-13 competitions will have the same management team as Under -14
** Under-15 competitions will have the same management team as Under -16

Team Managers - Football
Under - 10 - Martin Whyte
Under - 12 - Willie Hannon
Under - 14 * - Mike Gibbons
Under - 16 ** - James Foran
Welcome on board our new sponsor for the year 2000 Peter Gilhooley
Lotto Winner!!
23 - 01 - 00
NUMBERS DRAWN: 8 - 9 - 22 - 29
There Was One Jackpot (£9,000) Winner : Congratulations to Liam Greaney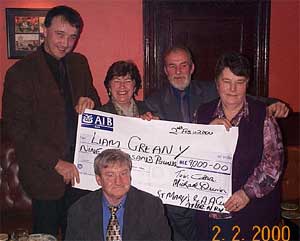 March 2000

AIB Club Final Special
St Marys Athenry 0 - 16
St. Josephs Dorra Barefield 0 - 12
Parish Tour
All primary schools will be visited today by Joe and Pat Nally (Wednesday). Tour of the parish starting at 8.00pm, April 1st (Saturday) at the castle and going out to hanley, then to Mulpit, palmerstown, lisheenkyle, castle lambert, cashla,cussane, castle ellen, tysaxon, newcastle, tiaquin, colemanstown,clonkeen, ballyboggan, ballydavid, Athenry. A big night then in Coffey Dobbyn with two doscos at 6 pounds, all donated by Paddy Coffey to the players (holiday?) fund. this is your last chance to celebrate under one roof the great victory. Details in the sports page of the Tribune. Be there.
Anyone buying or selling tickets?
The Club final ticket distribution strategy spearheaded by club secretary Jarlath Cloonan was a major success over the weekend. With a 1000 applications on his desk by Friday morning, Jarlath with fellow officers Michael Higgins, Mike Quinn and Tom Carr processed all applications on Friday evening / Saturday morning and finally distributed over 3000 tickets by 6.00pm Saturday evening. It will be lonely around the fields come 2.00pm on Patrick's day.


April 2000
Brady's double
ALL-IRELAND VS JHC FINAL
ATHENRY VS 5-12 CAUSEWAY CS 1-10
Team captain John Brady led by example when scoring two first half goals to send Athenry on the road to All-Ireland glory at Bruff yesterday. Athenry added further opening half goals from full-forward Denis Gibbons and Damien Rooney as they sailed to a commanding 4-5 to 0-4 interval lead. Causeway did fight back in the second half and it was score for score but the loss of star centre-half-back Stephen Power prior to throw-in time proved too great a handicap.
SCORERS - Athenry: J Brady 2-3, D Gibbons 2-1, D Rooney 1-3, B Cullinane 0-2, T Smith, B Burke, M Donlon 0- 1 each. Causeway: T Fealy 0-6 (fs) R Murphy 1-1, F Carroll, G Houlihan, D Casey 0-1 each.
ATHENRY VS - A Ryan; T Moran, B Costello, M Moran; J Coll, J Farral, P Rooney; B Burke, D Rooney; B Cullinane, T Smith, G Berminghan; J Rooney, D Gibbons, J Brady. Subs: M Donlon, P Greally, E Morrissey.
CAUSEWAY - S Young; D Fitzpatrick, N O'Connell, J Fitzgerald; F Carroll, R Murphy, J Griffin; B Young, D Casey; J Houlihan, R Costello, D Quill; B O'Grady, P Fealy, T Flynn. Subs: M Bowler, M Keane.
On last Saturday evening the 15th of April 2000 in the Tourloughmore pitch Athenry the reigning county under-21 champions (1998 championship) crashed out of the current championship (the 1999 championship) to a well prepared and spirited Castlegar side. The score-line of this 1/4 final clash was Castlegar 2-10 Athenry 1- 9. Before the game a minutes silence was observed as a mark of respect for the memory of Tom Mac Namara who died earlier Saturday morning. Tom Mac was a great supporter of all Athenry teams no matter what the grade.
Parish a blaze for the glory tour
Last Saturday night the 1st of April every man, woman and child in Athenry parish got a chance to salute their hurling heroes as the St. Mary's club went on tour with the senior team and of course the Tommy Moore cup. The Ozone layer over Athenry got a hammering as Bonfires blazed at every crossroad, head of the road, farmhouse gate, bad bend and so on. And what happened when the cavalcade passed? people joined it on the journey back to Athenry town to the players DO in Dobbyn & Coffey.
On Sunday in Ballinasloe (which definitely was one of the 'old cows days') the Under-21 hurlers (1999 championship)advanced to the knockout stages with a convincing win over Kilnadeema/Leitrim. Stars of the show were the Cloonan brothers Eugene and Diramuid with Michael John Quinn a close third. Following this game the Senior team overcame a spirited Oranmore outfit in their first tie of the 2000 league.


MAY 2000
First round successes
Both the Under-21 and Minor hurling teams started the 2000 championships with wins over Gort and Carnmore respectively.
The Seniors start the defense of their county and All Ireland crowns when they take on Clarinbridge in Ballinasloe next Saturday evening.
Guinness Golf AM-AM a great success
Up on 90 teams played in the Guinness golf AM-AM last Thursday and Friday the 11th and 12th of May. It was a great success, as the course at Athenry golf club was in perfect condition, the weather held up and the winning score was magnificent. John Kelly, Roy O'Brien, Joe Glynn and Mark Gillian were the winners with 102 points.


JUNE 2000
Seniors secure 1/4 final spot in the ESAT hurling county championship 2000
Yesterday evening Saturday June the 16th in the 'Back Lawn' (Kenny Park Athenry), the reigning All-Ireland club champions recorded a 17 point victory over Tourlouhgmor in the ESAT county senior hurling championship on a score line of 4-17 to 0-12.
This latest victory together with wins over Clarinbridge and Killimordaly during the past month, means that Athenry top their group with 6 points and have their place in the 1/4 final already booked.
Indeed since Tommy Moore returned to Athenry all the club adult teams have performed well in their respective championships. The intermediate team remain unbeaten with wins over Killimor, Beagh and last weekend they had a 1 point victory over Castlegar on a score line of 2-14 to 3-10. The Junior 'A' team under the guidance of new manager Gerry Tracey beat Liam Mellows in their first group match last weekend.
The Minor and Under-21 teams have not stirred since their first outings in April (see Archive).
To see what is happening at under age in the club go to our Club nOg page for updates on the national school Hurling Blitz and also a link to the county Juvenile hurling Website.


JULY / AUGUST 2000
Busy time for Under - 16 hurlers and footballers
While many of the hurling county championships grind to a halt during the summer months due to the preparation of the county teams, the under - 16 hurlers and footballers of the parish were busy. The footballers under manager James Foran have qualified for the 'B' league final which will be played some time in September. They also had a good run in the championship getting to the county semi final only to be beaten by a margin of 2 points by Williamstown.
When most of the same set of lads were not playing football they were with team manager Paddy Kelly playing group matches in the under - 16 hurling 'B' championship. As a result of a good run in the group this team qualified for the quarter finals which will also be played in September.


SEPTEMPER/OCTOBER 2000
Under - 12 Football league winners - Two in a row
While most minds are contemplating the prospects for the eagerly awaited county final in Duggan Park next Sunday, the under-12 footballers and there management team collected their second county League title in a row (Division 3) on Saturday morning in Oranmore. Mervue were the opponents in the final and entered as slight favorites haven already beaten the Athenry lads in an earlier league match. This was a much tighter affair with Athenry leading by one point at half time. For the first 15 minutes of the second half it was neck and neck with heart and spirit from both teams but it was Athenry that scored the vital goal in the last 10 minutes to win on a score line of 2 - 06 to 1 - 04. John Fahy proudly collected the league cup on behave of his team, making team manager Willie Hannon and his fellow selectors Vincent McHale & Tadhg Costello well pleased with their Summer & Autumn's work.
Cloonan runs riot - Athenry 0 - 18 Carnmore 1 - 7
COUNTY star Eugene Cloonan served up a magnificent point scoring exhibition as All-Ireland club champions Athenry overwhelmed Carnmore in a one-sided Galway senior hurling semi-final at Kenny Park yesterday. Outsiders Carnmore had no answer to Cloonan who finished the hour with a whopping fourteen points, four of which came from play. Athenry, who are seeking their third consecutive Galway championship title, laid the foundation for their convincing victory with a sterling first half effort against the wind. With Cloonan displaying great accuracy, Athenry led by 0-9 to 0-3 at the break. Although Carnmore tried hard on the resumption and full-forward Michael Killilea's close range goal gave them some hope, there was never any chance of Athenry losing their grip on the game especially as Brendan Keogh and Brian Hanley continued to rule the roost around midfield.
SCORERS - Athenry: E Cloonan 0-14 (0-9 fs, 0-1 x `65') C Moran 0-2 D Donohue, P Hardiman 0-1 each. Carnmore: M Killilea 1-5 (0-5 fs) D Walsh 0-2.
Champs tested, but advance to Semi-final
It will go down as one of the most exciting and action packed senior 1/4 finals for years with the true metal of reigning county and All-ireland club champions Athenry tested by Abbey-Duniry. Beaten in the last county finals by there opponents of Saturday evening Abbey-Duniry were determined to turn the tables. Going in one point behind at half time in a half which saw them trail by six points at one stage, Abbey-Duniry must have felt this was going to be their day. With never more than three points between them in the second half Abbey-Duniry found themselves on sixty minutes one point in front. But the true test of champions is to answer the call when it is asked of them and that Athenry did with two fine points in injury time from David Donoghue and Eugene Cloonan. At this stage of the championship all that matters is the result which showed a one point win for Athenry, 2 - 14 to Abbey - Duniry's 3 - 10.
Earlier on Saturday morning the Minor hurlers were beaten by Portumna in a group play off on a score line of 1 - 12 to 0 - 11. It was disappointing result for the lads but they can be proud of their whole hearted performance against a team which fielded four of the recent Galway All - Ireland winning panel.
ESAT county hurling championship 2000
Twice All-Ireland club champions Sarsfields sent out a warning to all contenders when they knocked Portumna out of the championship on a score line of 0 - 20 to 3 - 8 to advance to the Semi - finals. Caranmore another strong team of the '90s also advanced to the other semi - final by defeating neighbours Castlegar on a score line of 3 - 12 to 1 - 13.
Abbeyknockmoy and Killimordaly will do battle some time over the next couple of weeks to see who will play Sarsfields.
The remaining quater final will a repeat of the last two county finals with Abbey-Duniry and Athenry taking centre stage should be a cracker!


NOVEMBER / DECEMBER 2000
Under - 16 Football League triumph
When you play a county final in November you can count yourself very lucky to get a fine day, well that was the case for our under-16 footballers who captured the division 2 north league title in Menlough last Saturday the 4th. Tommie Larkins were the opposition and provided all the early running, going in at half time two points to the good. However positional changes at the interval made by the Athenry Management turned their game around as the performance of the players throughout the field went up a gear. The constant pressure applied by the Athenry lads resulted in two well taken goals scored by John Ryan and Johnny Mernagh. At five points up going into the last 10 minutes it was time to defend with Michael Donnellan and Joseph O'Connor cutting out attack after attack. A late goal by the Tommies left the score line Athenry 2 - 8 ~~ Tommie Larkins 2 - 6 and that is how it Finished. Surprisingly there was no cup/trophy at the end to be presented to the winning captain Pakie Byrne however Manager James Foran and his fellow selectors Peter Gillhooley, John Connolly, and Tommie Fahy got the win they worked hard all year for. Well done to all concerned.