This site has been in existence since 1998, and has introduced me to a number of "EISOMATES" ( others who suffer from Eisenmenger's Syndrome) and to my happy pleasure there are quite a few people now in contact with me who share this illness. If you have this illness/disease/handicap (call it what you like) then know that you are not alone...... not by a long shot. Mind you, there are not that many of us. As this site has not changed much in the last few years, some may have considered me a 'gonner'. Yes I am still alive (21/10/2008) and I hope to get back to this site more often as I am now retired and have loads of time to do so. Please keep in touch, I am here and do want to hear from you all. I also want to freshen up my site, and have a couple of ideas. If you have any suggestions, please let me know. Mind you my HTML abilities are limited. (Tadhg 21/10/2008)
---
My name is Tadhg and I am married to Liz. We have two children, Cian and Sadhbh. Cian was born on the 5th June 1995 and Sadhbh was born on the 8th August 1998.The name Cian comes from an old Irish word meaning 'ancient'. Tadhg is an old Irish word meaning 'poet' or as I have been recently told is an old Irish word for a badger, and Liz is short for Elizabeth which in Irish is Eilís. Sadhbh is an old Irish word meaning 'goodness'. Cian and Sadhbh are the first Cian and Sadhbh in the family as far as I am aware, and I have not come across these names in my research on our family. Mind you this research into a family of Sullivans, whose story I have been researching with my brother, has come to a grinding halt. It takes so much time.
Cian is one of the many children worldwide who has undergone open heart surgery to repair a 'hole-in-the-heart', which would have been passed to him from me given my Eisenmenger's Complex. This was 1998 and in Feb 2001 it was followed with surgery to remove a thrombus from his heart, which developed after the first operation. He is a true 'Heart Child' and deserves both Bravery Awards from Crumlin Hospital.To say he is fit and well is an understatement. Sadhbh on the other hand got through the loop and has no heart defect at all, thank God. See our family Heart History to see how lucky an escape she had.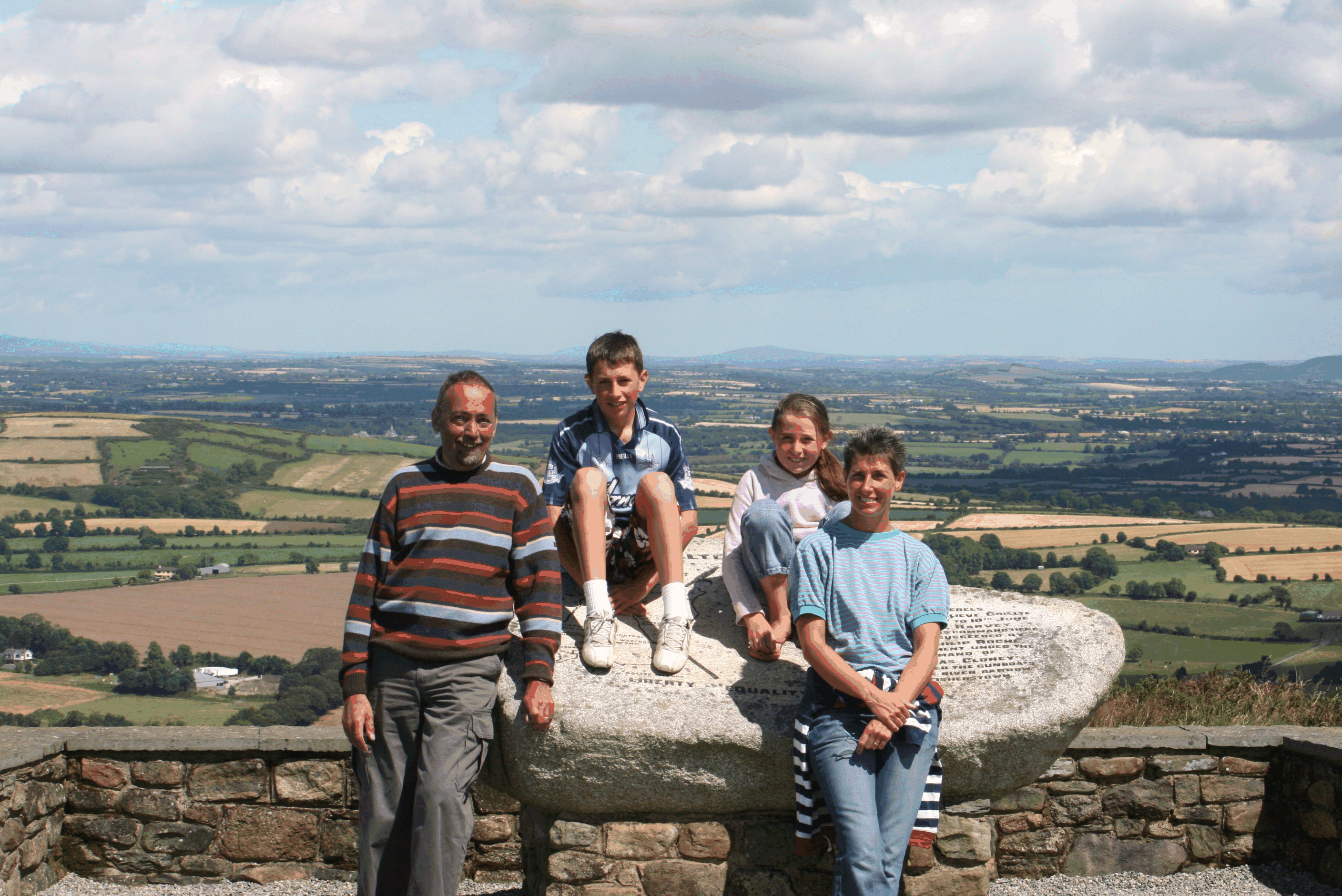 Liz , Cian, Sadhbh and or course myself. We were visiting Slieve Coillte summer 2007. You can see 6 counties of Ireland from here!
The background is Dunbrody Abbey, which is one of our yearly family outings. It is an amazing place.
I know that a lot of people do not like homepages to become family photo albums, (yawn - boring). But it is hard to resist. I promise I will keep it to just two photos at the most.
If you are interested in the name Sullivan, then there are a couple of links which I have found interesting listed below. We live in Dublin but our family originally hails from Kerry in the south west of Ireland.
Perhaps you came here because of an interest in Eisenmenger's Syndrome, a condition from which I suffer. I have penned my experiences with this condition over a long number of years. I have established contact with some fellow sufferers and have also outlined my experience since starting this HomePage. To all of those who have contacted me I extend my thanks, as it has been an eye opener.
If you share an interest in Eisenmenger's Syndrome, or indeed suffer from the condition you are more than welcome to mail me with your comments, wise or otherwise

Other Sullivan related sites:
More about Sullivans] [And again with Sullivans][The name Tadhg]
Click here for more family images You will need to have a VRML Plugin to your browser and the images take a little bit of time to download