Henry Whelan - Cyclist, Chairman and Gentleman. By William Parnell



Born in Dublin and reared in Drimnagh, Henry did not come from a family with any particular background in cycling. He started cycling in 1948 at the age of 15, on a Hercules bicycle purchased for him by his uncle for the princely sum of 9/0s/0d. It was a bit of a Hire Purchase agreement between Henry and his uncle, because Henry spent 18 months paying back the price of the bike. Henry, like most young lads of the day, was working by the age of 16.
Never one to hang around, Henry joined the newly-formed Orwell Wheelers in 1948. He up-graded his bike and straight away he was racing and touring with the club.
"In those days," says Henry, "there were no separate races for Juniors. You had to learn your trade with the Senior men."
12 Hour feat
It didn't take Henry long to learn. In 1949, at the age of 16, he rode the Orwell Wheelers 12 Hour TT Championship and finished second, covering "204 miles and 209 perches" according to the inscription on the medal. Whatever way you measure it, it was a long distance to ride in 12 hours, especially at such a young age! The same year, Henry competed in the first ever Dun Laoghaire Grand Prix.
In spite of his capacity to eat up the road miles, Henry regards himself as having been primarily a Track rider. In the late 1940s and early 1950s, track racing took place on grass - there was no tarmacadam track in Dublin at the time. Cycle races were frequently run as part of athletics meetings in venues such as Lansdowne Road and College Park and large crowds attended.
Lansdowne Road
In the Dining Room of Henry's Walkinstown home hangs a picture of him racing in Lansdowne Road in 1951 against some of the top names of the day - Jim McQuaid, Jack Ryan and Noel Tully. He explains,
"I was there to ride another event and I was asked to fill-in for a rider from England who failed to show up. I was asked to make up the numbers in the heats of the 1,000 metre race".
Always obliging, Henry took to the Start line and duly proceeded to not only qualify for the Final, but to win the event outright in a tight sprint finish!
There was further success on the grass for Henry in 1951, as he won the National Championships at 14; Mile, took the Silver medal for Second place at 12; Mile and finished Third in the 3 Mile Championships. Forty years later, Henry is still a mean sprinter in IVCA races. Clearly, the skills he learned on the track did not desert him over the years.
Desertion
It will come as some surprise to learn that, although the cycling skills did not desert Henry, Henry deserted cycling for the best part of 30 years. In 1955, Henry married his sweetheart, Margaret. As countless men (and women) have discovered, marriage puts a great constraint on free time. Henry graduated to a motor bike as a means of getting to and from his job in a clothing factory and he did not return to pedal power until the early 1980s.
In the interim, Henry and Margaret reared 2 sons and a daughter and, in the late 1960s, Henry started his own business in the ladies clothing trade. As Henry explains:
"When I got married and had a young family, I hadn't time to cycle. And when you're in business on your own, it's a 24 hour a day job."
The road back
Ironically, it was through his business that Henry was re-introduced to cycling and, ultimately, to the Vets. A new business starting up on the same street was looking for fabric, which Henry duly supplied. He was offered two bicycles in part payment and, as Henry's son was looking for a bike around that time, he accepted the bicycles. This led to him going out for spins with a neighbour and IVCA member, Dick Walsh.
One Sunday, Henry cycled out to Ashbourne alone to collect money from a client. On the way home, he came across some riders competing in a Time Trail. Henry sat in behind one of them for a few miles and found he could hang on. When he mentioned this event to Dick Walsh later, Dick told him it was the Veteran's Association he had stumbled across. And the rest, as they say, is history. Henry was bitten by the bug again, although running his business meant that he still had little time for training and it was often difficult to get to evening races. However, racing was, in Henry's words, "great therapy from work." He joined Orwell Wheelers again - as well as the Vets. - and is a current member.
Henry retired from work in 1996 and this gave him more time to ride his bike. He now gets out on Tuesdays, Thursdays and Sundays, clocking up runs in the region of 50 miles when he's not racing. He describes himself as a "State Sponsored Pro.", funded by the Department of Social Welfare's Pensions Office.
Mr. Cippollini
One of Henry's most memorable moments off the bike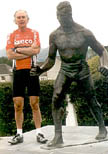 was when he met a Saeco sponsored Pro. Alongside the old black and white racing photos in Henry's front room is a photo taken outside Dublin Castle in 1998, of Henry being greeted like a long-time friend by Mario Cippolini. He met Cippollini again at the Italian's hotel in Dublin and found him to be very courteous and gracious. Those who know Henry will testify that these are qualities he himself possesses.
On the bike, one of Henry's proudest moments was winning the IVCA League in 1997. The results sheets for 2001 show that Henry is still getting up in the sprints, and just like Cippollini, he is consi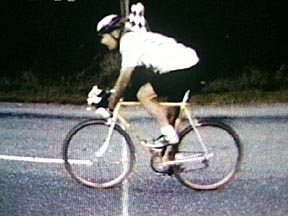 stently beating men who are years younger than him. His success is all the more remarkable when you learn that Henry broke a hip a few years ago in a fall from his bike while holidaying in Majorca. He still has a plate in his hip, which he claims is made of titanium. However, Henry always maintains a modest approach to his success and he always has words of encouragement for new members.
In the Chair
Henry is now starting out on his second year as Chairman of the IVCA. He has also filled the position of Treasurer of the Association in the past.
So what are his aspirations for the Association as he heads into his second year as Chairman?
"I'd like to keep up the progress we have made in the last few years in terms of attracting new members and maintaining standards," he says. "When I was Treasurer, we had 80 members. Now we have 300. I'd also like to see the Association attracting more members from outside the Dublin area and continuing to hold events for everyone - racing, touring and leisure riders".
Apart from cycling, Henry has, up to now, had no other pastimes. However, the development of the IVCA Website (www.ivca.info) has prompted him to purchase a computer, so he will now be taking up surfing (the Web) as well. In addition, he has four grandchildren between the ages of 18 months and 10 years to keep him on his toes.
We wish Henry all the best at the head of our Association over the next year.