The spectacular Vee overlooking the Golden Vale where one can see views of Waterford, Cork and Tipperary. Cuilin House is ideally located for touring the south of the country and convenient to ports, airports, train and bus stations.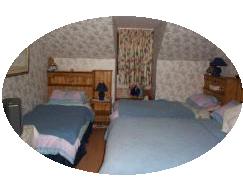 Cuilin House is within walking distance of Thurles town centre and yet is located in the peace and quiet of the countryside.

An extensive choice of Breakfast to suit all tastes is served in our Guest Breakfast room. Should you require a packed lunch, this will be no trouble. We offer ample car parking, breakfast menu, television in bedrooms, tea and coffee facilities. Our breakfast and guest lounge are tastefully decorated with Antique furniture. We have 3 large en-suite bedrooms with a double and single bed in 2 rooms, the third room has 2 single beds and a double.