Prices for Rooms are as follows:
Bed and Breakfast per person sharing
Minimum €35.00 to Maximum €45.00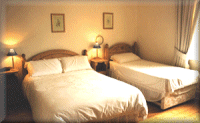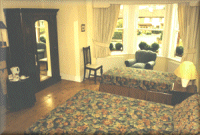 Single Minimum Occupancy - €55 Maximum €70
Open all year with exception of December 20th - 28th.
Below is our Breakfast Menu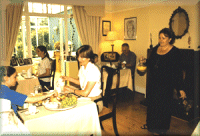 If you would like any special requests, Maureen and P.J. will be happy to accommodate you.
Full Irish Breakfast to include Bacon, Fried Egg, Sausages, Black and White Pudding and Tomato
Bacon and Egg (Fried or Scrambled)
Poached Eggs and Toast
Scrambled Egg, Plain or with Smoked Salmon
Continental
Yogurt and Fruit
Selection of Cheeses.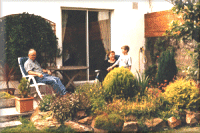 Choice of Cereals including Muesli, Corn Flakes etc., Fresh Orange Juice, Homemade Brown Soda Bread/Toast, Jams and Marmalade, Tea/Coffee.
Breakfast is served on our dining room and afterwards you can take a stroll in our mature garden where we also have a beautiful orchard of apples, pears and plums or just relax in our conservatory or patio overlooking the garden.