INTRODUCTION: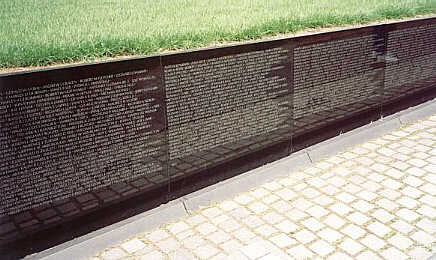 The Vietnam Veteran's Memorial, "The Wall that Heals", Washington D.C.,U.S.A. Photogaph © 1992 W.S. O'Shea
The Vietnam Veterans' Memorial in Washington D.C. bears the names of some 58,200 men and women who died while serving with the U.S. Armed Forces in Vietnam. A half-size replica of the Memorial, known as "The Wall That Heals", visited the four provinces of Ireland from 16 April to 3 May 1999. It honoured the sacrifices made by sixteen known Irish-born citizens and over 4,500 Irish Americans who lost their lives in Vietnam. Edmond J. Landers, from Oola, County Limerick, Republic of Ireland; just five miles from Tipperary Town, was one of those sixteen Irishmen honoured. This is his story. . . . . . . . .
Edmond Landers' Certificate of Discharge from the Irish Reserve Defence Forces
EARLY LIFE:
Edmond John Landers was born in the village of Oola, County Limerick on 7 July 1937, to John and Mary Landers. He was the youngest in the family of four boys and three girls, and was educated at Oola Boys National School from 1941 to 1953. In July 1953 he took up his first job as a barber's assistant with Mr. John C. Carey, at 10 Main Street, Tipperary Town; before going to London where he worked for over a year. His initial introduction to the military way of life began in November1955, when he joined the F.C.A. (Irelands Reserve Defence Forces) in his native village of Oola. He served both in the Pallas Battalion and the 3rd. Field Supply & Transport Company, at Sarsfield Barracks Limerick City.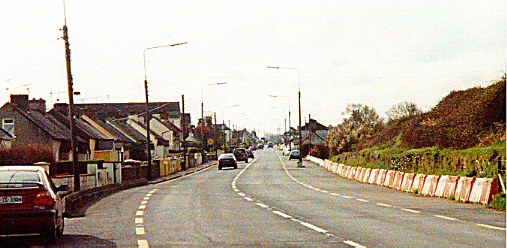 Village of Oola,County Limerick, Photo © 2001 W.S. O' Shea.
Oola, County Limerick is the birthplace of E. J. Landers. The village lies on the main N 24 road between Limerick City and Tipperary Town, on the borders of counties Limerick and Tipperary and in The Republic of Ireland's southern Province of Munster. In the photograph above, the railway embankment can be seen on the right of the picture. The village graveyard lies between the road and the railway line, not far from the crossroads.