Latest Lifford News
Latest match results.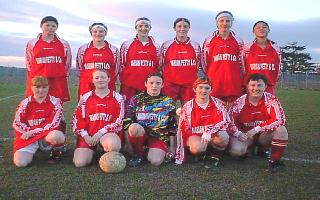 Wilton 2 Lifford 3
Lifford travelled to Bishopstown in cork on St. Patrick's Day to play Wilton in the first match of the Western League tournament. The match was played under floodlights. This was a great experience for all the girls.

We also played an u.16 friendly match before the senior game. This game was scoreless at half-time but Lifford dominated the second-half and ran out 4-1 winners thanks to a hat-trick from Charlene Reynolds and another goal from Selina Moylan.


The senior match was a treat to watch with both teams playing very attractive football. Coach Pat Bowdren has Wilton passing the ball better than any team I've seen.
Caroline Slattery gave Lifford an early lead but Wilton equalised with a superb volley following a corner kick. Eight minutes before half-time Yvonne Tracy put Lifford ahead again with an unstoppable drive from the edge of the box. Samantha Mc.Carthy made it 3-1 a minute later when she finished off a passing sequence involving 5 players which started in the Lifford penalty area.
The second half was evenly contested with chances at both ends. Wilton reduced the defecit with 8 minutes remaining and Lifford had to defend their slender lead for the remainder of the game. The final whistle was a relief to Lifford with Wilton a little unlucky not to have secured a draw.
Castle Celtic(Galway) 3 Lifford 4
Lifford's second match in the Western league turned out to be a thriller.
The match was played in Galway on a beautiful sunny day. Lifford were in command early on and took a deserved lead after 10 minutes when Charlene Reynolds was on hand to score from a cross by Irene Hehir. Castle Celtic began to come more into the game and scored a brilliant equaliser on 25 minutes. A move involving Caroline Slattery,Lisa Mc.Cormack and Holly Pierce set up Charlene Reynolds for her second goal to put Lifford in front again. The same player was unlucky not to complete her hat-trick when she headed just over the bar from a corner. This was 15 year old Charlene's debut for the senior team. Caroline Slattery almost increased the lead when Holly Pierce put her through but she slipped as she shot with only the keeper to beat.
Castle Celtic started the second half in determined fashion and put Lifford under constant pressure. They were unlucky when a shot cannoned off the crossbar and a number of times Lifford managed to scramble the ball away in a crowded goalmouth.
Lifford scored a third goal against the run of play in the 60th. minute. Samantha Mc.Carthy went past 4 players and sent Lisa Mc.Cormack clear down the right wing. Lisa's cross found Caroline Slattery unmarked at the far post and she tapped the ball into an empty net. Lifford started to get back on top and created a number of chances. Just when Lifford were looking comfortable Celtic scored direct from a corner kick with the help of a tricky breeze. With 8 minutes remaining a defensive blunder resulted in an equaliser for Castle Celtic. Lifford appeared to have thrown the game away but refused to give in and went in search of a winner. A great run by 14 year old Selina Moylan gave Irene Hehir the chance to score an opportunist's goal with the Celtic defence waiting for each other to clear the ball.
This was a deserved victory for a very young Lifford side with only 3 senior players on the team.



Lifford 4 Wilton 0
Despite the scoreline Lifford had to fight hard for this victory which secures the Western league title. Both sides played well in the first half and chances were few. Irene Hehir gave Lifford a half-time lead when she cracked home a free-kick from outside the area.
Lifford gradually got on top in the second half and Selina Moylan put Lifford further ahead when she beat her marker and shot low to the corner of the net. Irene Hehir scored the third goal following a great pass from Catherine O'Loughlin. Caroline Slattery completed the scoring when she chipped the keeper from 30 yards.
Claire Walsh and Louise Henchy were unbeatable in the centre of the Lifford defence, while full backs Eimear Johnston and Bridget O'Halloran were in sparkling form. When Bridget left the field with an injury substitute Marie Whelan from the u.16 team made her senior debut and looked comfortable throughout.
Another newcomer, Sharon O'Brien, had an excellent game at midfield and was ably supported by Anne Keane, Catherine O'Loughlin and Charlene Reynolds. Marie Crowe was always dangerous on the right wing while keeper Sue Mc.Namara was as solid as a rock.


Lifford u.16 2 Wilton u.16 1
First half goals from Selina Moylan and Charlene Reynolds gave Lifford u.16 girls a narrow victory over a useful ball-playing side from Wilton. The game was very close throughout with Lifford just about deserving to win.

The u.12 girls played a friendly against St. Caimins school and the match ended scoreless despite a number of chances at both ends.



Three Lifford girls make the final Irish u.16 panel.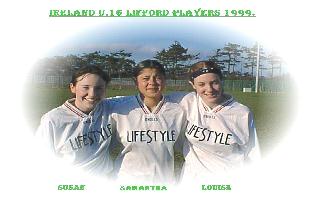 Louise Henchy, Samantha Mc.Carthy and Susan Mc.Namara have all been selected for the Irish panel to play in the International Easter tournament in Dublin. The tournament includes teams from Ireland, Wales, Scotland, England and the U.S.A.
On Easter Monday Ireland play Wales, Tuesday they play the U.S.A. They play England on Thursday and Scotland on Friday.

We congratulate the girls on their achievement and wish them luck in the tournament.





The tournament was won by U.S.A. They were far too strong for the home countries and played excellent football. Their passing game was a delight to watch and they also showed some fine individual skills.
The Irish girls have a long way to go to reach their standard of play, but inviting the Americans over should prove to be of great benefit.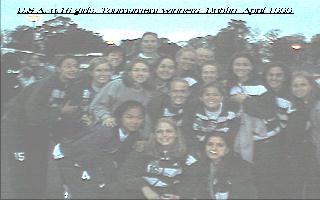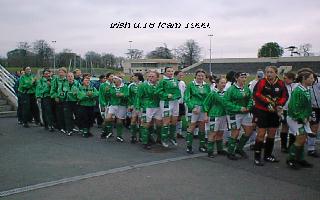 <-U.S.A. u.16 girls






Ireland u.16 girls->






USA cup tournament in Minnesota.
Lifford are presently fundraising for this American trip. We are hoping to bring 3 teams to the tournament; u.14, u.15 and u.17 teams.
Already we have held a quiz and a couple of church gate collections. The girls have been given tickets to sell and we have a flagday and a Céili dance coming in April and May.
Before the USA cup we will be playing in the Eden Prairie tournament. All the girls are looking forward to the trip. They will be put up by host families in Eden Prairie. We hope to make a lot of new friends there.


Gort indoor 5 a-side tournament

Lifford Ladies entered 2 teams in the Gort indoor tournament on Saturday 10th. April. The two sides met in the semi-final with the older girls reaching the final after scoring a "golden goal" in extra time. The younger girls almost caused a huge shock and were unlucky to lose the game. Lifford went on to win the final 2-1.
Player of the tournament went to Irish u.18 captain Yvonne Tracy. She was the outstanding player throughout the tournament and fully deserved the honour.
We had an American girl play her first match for Lifford in the tournament. She is Holly Pierce from Portland in Oregon. Holly has been playing with Frankfort in the Bundes league. We look forward to Holly playing for Lifford this year.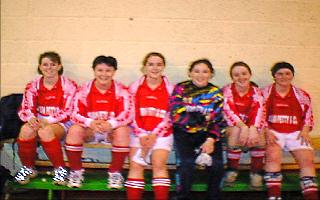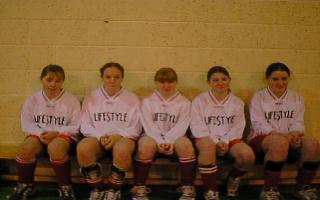 <- Lifford
"Oldies"
Tournament
winners


Lifford
youngsters->





Amy Porter

While I was in Dublin at the u.16 tournament I met Amy, our other American friend who played for Lifford last year. Unfortunately, Amy won't be coming to Co. Clare this Summer. We will miss her scoring ability and her general presence. It was nice to have met this nice girl from Arizona. Any more American girls out there want to play for Lifford?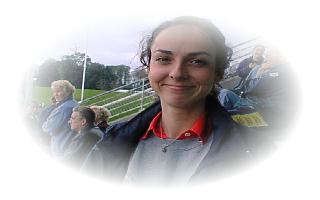 Lifford girls win Clare U.12 and U.15 Community Games titles.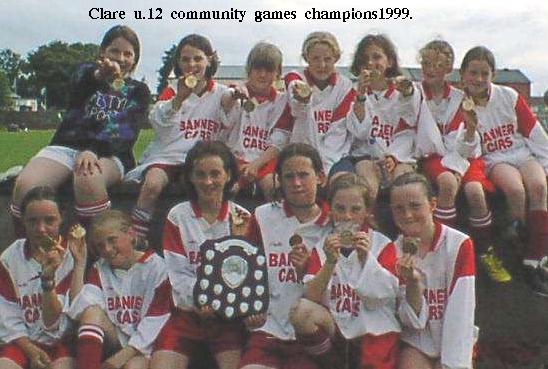 Lifford U.12 defeated Cloughleigh 3 nil in the final with goals from:
Ciara Normoyle, Rachel Ryan and 8 year old Shauna Woods.
Lifford: Karen Hogan, Rachel Mc.Gann, Helen Hehir, Mary Tierney,
Deirdre Kehoe, Louise Skelly, Kayleigh Spakouskis, Ciara Normoyle, Shauna Woods, Luíseach Walsh, Rachel Ryan, Enid O'Loughlin.






Lifford U.15 girls win a thrilling final 4-2 against a gallant Shannon team.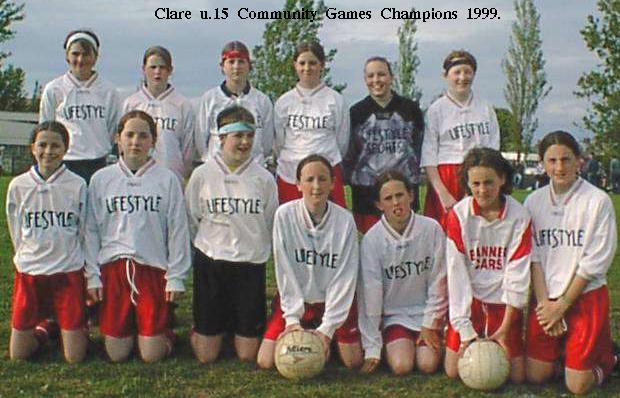 With the scores tied at 2-2 and seven minutes to go
extra time seemed likely, but 2 brilliant free kicks from Edel Malone
gave Lifford a 4-2 win. Sharon Dillan and Louise Mc.Namara scored the
other Lifford goals.


Lifford:
Gillian White, Claire Anne Neylon, Marion O'Donnel, Grace
Costelloe, Caitriona Donnellan, Edel Malone, Selina Moylan, Sharon Dillon, Eimear Naughton, Eimear Griffin, Louise Skelly, Ciara Normoyle.
Both Ciara Normoyle and Louise Skelly played in the U.12 and U.15 finals.



Lifford 4 Fairview Rangers 0.
Lifford Senior girls kicked off their Limerick senior league campaign
with a comfortable but hard - earned win over Fairview.
Yvonne Tracy gave Lifford a half-time lead with a great left-footed drive
from the edge of the box.
Two second-half goals from Irene Hehir and a last minute goal from 14 year
old Selina Moylan saw Lifford collect.
Lifford: Susan Mc.Namara, Eimear Johnston, Lisa Mc.Cormack, Louise Henchy,
Claire Daly, Sharon O'Brien, Aoife Healy, Samantha Mc.Carthy, Irene Hehir,
Yvonne Tracy, Caroline Slattery, Selina Moylan.
U.18 All-Ireland last 16
Lifford 3 Granville 1
Two goals from Samantha Mc.Carthy and one from Yvonne Tracy won Lifford
a place in the Munster final and the All-Ireland 1/4 final.
Lifford: Sue Mc.Namara, Eimear Johnston, Eimear Wehrley, Louise Henchy, Jean Toomey, Brenda Kerins, Marie Crowe, Samantha Mc.Carthy, Marie Fawl, Yvonne Tracy, Lisa Mc.Cormack, Caroline Slattery, Selina Moylan.


Holy Family, Ennis, win schools All-Ireland.
Holy Family school with a number of Lifford players on the team won the 6 a-side All-Ireland title sponsored by Mc.Donalds.
After winning in Clare they defeated teams from Limerick, Tipperary and Waterford to qualify for the finals in Dublin.
Their first match in Dublin was against a school from Donegal and 2 goals from Louise Skelly gave victory to the Ennis side.
An Edel Malone goal won the next match against Ballinasloe and in the final their opponents were St.Oliver Plunkett school from Malahide in Dublin. Goals from Louise Skelly, Eimear Naughton and Edel Malone gave Holy Family their first All-Ireland success.
Well done girls and congratulations to manager John O'Connor.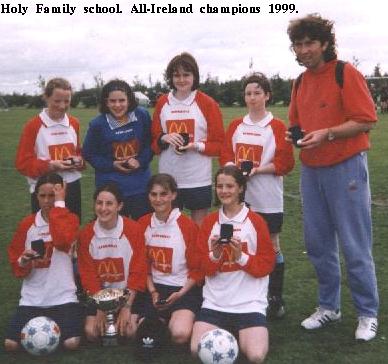 Holy Family School.
Team (not in order) Kate Keohane, Edel Malone, Louise Skelly, Eimear Naughton, Maria Hennessy, Gráinne Quigley, Rebecca Guilfoyle, AnnMarie Garry.
Manager John O'Connor.




limerick FC 0 Lifford 0
Despite dominating the game and creating a number of chances Lifford had to settle for a draw in this Limerick league match. Lifford were short a number of players but welcomed the return of Sonya Maher; back from college in America.




All-Ireland u.16 quarter final Wilton 1 Lifford 4
Despite the scoreline, this was a very close match with Lifford having to come from behind before sealing victory. Wilton started brightly and took a deserved lead after 10 minutes. Only a grear last-ditch tackle from sweeper Marie Curtin prevented Wilton from scoring a second goal.
Lifford then began to dominate the exchanges and created a number of clear-cut opportunities but could find no way past a resolute Wilton defence. An equaliser eventually came just before the interval when Charlene Reynolds scored following a brilliant run and cross from Selina Moylan.
There were chances for both sides early in the second half before Charlene Reynolds gave Lifford the lead when she ran on to a pass from Lisa Mc.Cormack Lifford forced a number of corners and Brenda Kerins was on hand to shoot home when the defence failed to clear one of them.
Samantha Mc.Carthy finished off the scoring with a great individual goal, beating 3 players with a run from midfield.


Munster u.12 league Wilton 3 Lifford 8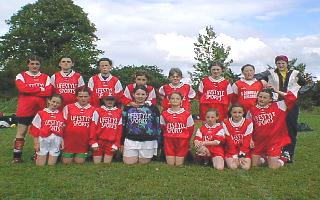 The Lifford u.12 girls continued their winning ways in an exciting match with Wilton. The Lifford girls were more experienced and had played a lot more matches than their opponents. The Lifford team are improving all the time and should prove to be a good side in the years to come.







Wilton Ladies
Here is a team picture of our friends in Cork, Wilton ladies.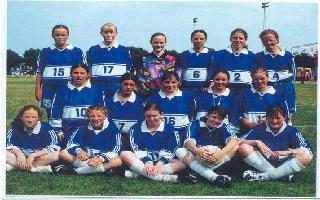 They finished runners-up in this year's Portsmouth cup, having won the title on a number of occasions.
Well done Wilton.




Opel Awards
Yvonne Tracy has been nominated for the Opel soccer awards in the u.18 girls category. The awards night takes place in the Burlington Hotel on February 20th. Congratulations to Yvonne. The honour is fully deserved.

Two Lifford girls on Irish teams
Yvonne Tracy and Louise Henchy were members of the Irish u.18 team that did so well recently in the European u.18 qualifying tournaments in Hungary and Poland.
The Irish girls finished second in Hungary to qualify for the next stage in Poland.
Here they defeated Poland, Turkey and Yugoslavia to advance to the final qualifying round in Norway. This takes place next May and will involve teams from Norway, Iceland and England.
This was the first time an Irish team had won a qualifying group. Hopefully they can carry on the good work. Congratulations to managers Mick Cooke and Sue Ronan.
The 2 Lifford girls played so well in the u.18 tournament that they both got a call-up to the senior squad for the European game against Croatia. The Irish team won 2-0 with Yvonne Tracy playing the entire match. She had previously played on the Irish senior team that drew 1-1 away from home with the Czech Republic.