Welcome to the TIFAP homepage
This is the 16th year of the The Togher International Festival of Amateur Photography Festival and we are still going strong. The competition is organized by a team of volunteers, who put in a lot of hard work and commitment every year to make the festival what it is today.
The launch of the festival 2002
The Togher International Festival of Photography was launched at the Doughcloyne Inn, Togher on Wednesday 20th March 2002. Mr. Tom O Driscoll, Lord Mayor of Cork was present to launch the festival. He described it as "a fabulous example of how community based efforts can grow" and congratulated the organising committee and volunteers for their continuing work to run this event.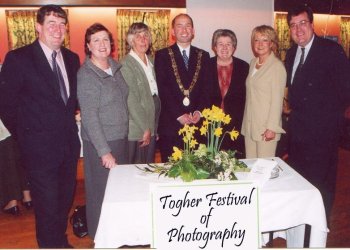 L to R: Sean Hayes, Manager Togher Branch permanent TSB bank, Cllr. Mary Shields, Cork City Council, Mary Cummins, Joint Co-ordinator TIFAP, The Rgt, Hon. Lord Mayor of Cork, Cllr. Tom O' Driscoll, Chrissie O' Callaghan, Joint Co-ordinator TIFAP, Cllr. Deirdre Forde, Cork County Council, Cllr. Dan Boyle representing C.C.V.E.C.

(Pic: Larry Cummins)
Event organiser Chris 0'Callaghan was "delighted with all the support received each year from sponsors and helpers" and that "all involved were justly proud of this festival". She also announced details of a special workshop for school children to learn about photography.
A dedicated team of volunteers runs this community-organised competition, and all proceeds from the competition are returned to local Cork charities such as Meals On Wheels, The Samaritans, Victim Support, and of late, The Penny Dinners.
A special 'Snapshot' section is dedicated to photographers who are neither camera club members nor students of photography. This section encourages all people new to the area of photography to start 'snapping'.One volunteer and past winner in the festival, John O' Callaghan described the event as "an excellent opportunity for young and old to take an interest in photography, which can be an affordable and fun hobby ".
Entry forms and competition details are available from photographic outlets throughout the city. Prizes and Awards are valued in excess of 2,500 Euro. An awards ceremony took place on May 24th and winning photographs are displayed at public libraries throughout the city and county of Cork.
Telephone enquires to Chris @ (021) 4961420 or Mary @ (021) 4965607

We hope you enjoy your visit to our website and don't forget to sign the guestbook and let us know what you think.


Joint Co-ordinators Chrissie O' Callaghan & Mary Cummins. PRO William O' Callaghan. Hon Sec. Jacinta Lucas. Catering Co-ordinators: Kitty O' Rourke, Anne Desmond, Alice Carey, Alice Downey.
TIFAP is Grant Aided by
Cork City Council Recreation, Amenity & Culture Committee, Cork County Council Arts Committees, City of Cork VEC, Cork City Council Development & Promotion Committee