We finally have a club crest.
On Saturday March 23rd, 2002 in Joe Dan's Drumartin, we formally launched our club crest. Paddy O'Hara, of Paddy O'Hara aaSeamless Gutters, Tourlestrane's Main sponsor for 2002-2005 launched the crest which will become the symbol of the team for years to come. We wish to thank Mr Lorcan Brennan N.T. Kilmactigue N.S. and his pupils who designed this crest.
The crest is a representation of St Attracta's Well, Glenavoo. The wells most distinctive features are the stepsinto it and the white cross. This very unusual cross is build into the well wall using white flint stone. The background mountain is of course our own Ox mountains and the tree is an Ash which overhangs the well. Many people balive that the water from "The Bessed Well" has curative powers.
St Attracta is the patron saint of our parish. Her name is widely commerated locally with our parish church in Tourlestrane, Kilmactigue N.S. and our cemetery in Rhue all bearing her name.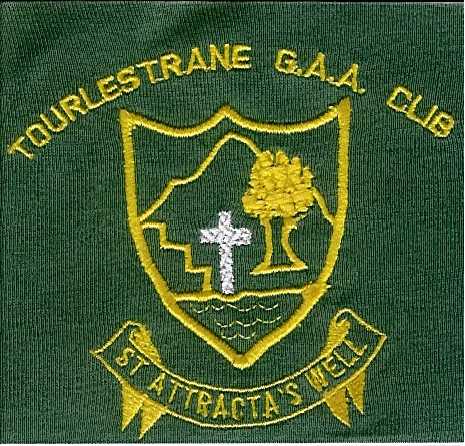 St. Attracta's Well
St. Attracta's Well is located in the townland of Glenavoo, a half mile east of Lough Talt on the farm of Francis and Christina Mullarkey.
Legend has it that St. Attracta killed a dragon which rose up from Lough Talt and terrorised the people of the parish. Water from this famous well flows into the River Einagh and onwards into the River Moy. Mass is celebrated annualy at the well every August.