Cumann na mBunscol Co Shligigh
is the national schools organisation for the promotion of Gaelic Games
Our four national schools are all very successfully involved.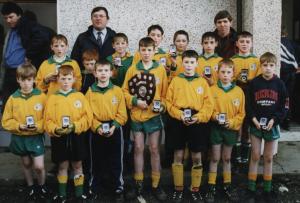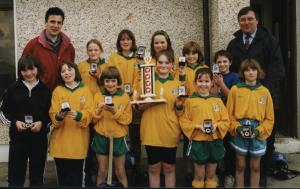 Kilmactigue Hurling and Camogie Champions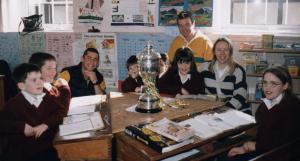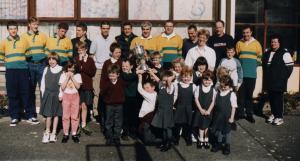 Owen B Hunt Cup visits Castlerock N.S ....... and Banada N.S in September !999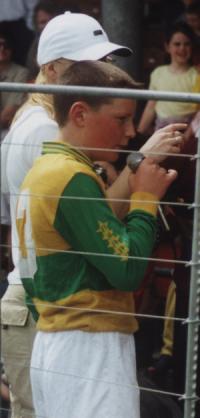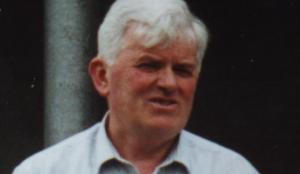 Brian the Drimina N.S. Captain Banada N.S. Principal Noel Owens N.T.

Primary Schools Roll of Honour
(listed as school years)
Patrick Brennan Memorial Cup (South Sligo Division)
Kilmactigue N.S 1980/81
Drimina N.S. 1990/91, 1992/93
Banada/Castlerock/Kilmactigue (amalgamation) 1993/94
Cumann na mBunscol
Boys Football
2 teacher section 3/4 teacher section 5/6 teacher section
Banada N.S. 1999/2000 Drimina N.S. 1990/91, 1999/2000 Banada/Castlerock/Kilmactigue
(amalgamation) 1993/94

Girls Football
3/4 teacher (A) section 3/4 teacher (B) section 5/6 teacher section
Drimina N.S. 1995/96 Drimina N.S. 1997/98 Banada/Castlerock/Kilmactigue
(amalgamation) 1994/95

Hurling Camogie Indoor Hurling ( Girls)
2 teacher section 2 teacher section All County section
Kilmactigue 1997/98, 99/2000 Kilmactigue 1997/98 Kilmactigue 1997/98