Tourlestrane G.A.A. Golf Classic 2000

Saturday July 15th
in
Tubbercurry Golf club

18 Hole Scramble

Two of our most dedicated club golfers
Paddy Henry (c) and Tony Carty
in action at Tubbercurry Golf club.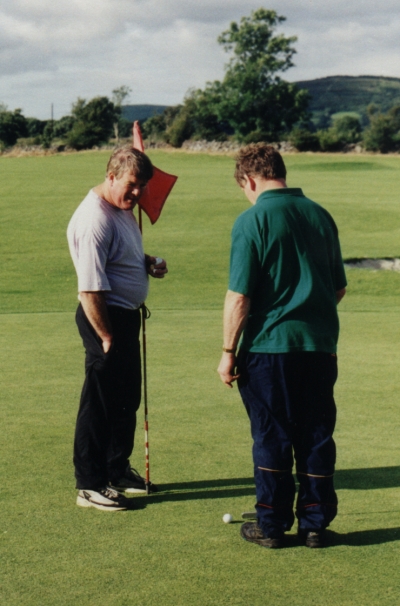 Winners 2000 Tom O'Hara, Tommie Clarke, Breege Walsh and Philip Croake
2nd Place 2000 M Cunnane, J White, S Cannon and T Gilholley

Participating Teams

1. Stephen Henry, Anthony Brennan, Michael Henry, Patrick Quinn.
2. Fintan Kennedy, Ronan Keane, Ken Killeen, Brian Walsh.
3. Peter Molloy, Thomas McVeigh, David McVeigh, Dr. Sean Flannery.
4. Neil Egan, Eamon Walsh, Patrick Egan, John Egan.
5. Brendan Leonard, Gerry Conolly, Mick Marren, Stephen Wynne.
6. Mairín Wade, Simon Wade, Kay Gilvarry, Ann Tunney.
7. Anthony Collins, Sean Carroll, Clive Slevin, Ray Smith.
8. Eamon O'Hara, David Durkin, Rory Brennan, Barry Brennan.
9. Eddie Walsh, Paul Burke, Pat Ridge, Geraldine Ridge.
10. Patricia Gawley, Margaret Keane, Jim Keiher, John Lawrence.
11. Frank Durkin, Agnes Durkin, Gerard Henry, Peter Forkan.
12. John Cremin, Sean Henry, Shane O'Connor, Joe Fitzgerald.
13. Charlie Scanlon, Paul Kilcoyne, Michael Leonard, Pat Sheerin.
14. Danny Jones, Harold McManus, Mark Burke, Teresa Ward
15. Bertie Marren, Fr Jimmy Henry, James Marren, John T Marren.
16. Bridgie Clarke, Keith Feehily, Padraig McDonagh, Sheila Tracey.
17. Tony Carty, Jerry Lundy, Kevin Moloney, Clement Reilly.
18. Mattie Brennan, Padraig McVann, Padraig Brennan, Matt Brennan T.D.
19. C Hamilton, J Neary, E Fitzgerald, D Bree.
20. Jim Mullarkey, Harry Sage, Niall McConnell, Monica Wynne.
21. Jamesy Walsh, Peter King, S Bainbridge, G Bevan.
22. Peter Kelly, Tom McCarrick, P Murphy, T Crolly.
23. Mickey Kilcoyne, T Woods, N Faldo, P Harrington.

Thank you to all the players !! who took part and to Tubbercurry Golf Club for having us. See you all next year.