News
The marriage of Elena Gómez and Gonzalo G. De Diego O'Donnell took place in Marbella, Spain last Saturday 7th Sept. Needless to say, there were O'Donnells there and I enjoyed their company. Got to know some whom I hadn't yet met. Here's a few photos -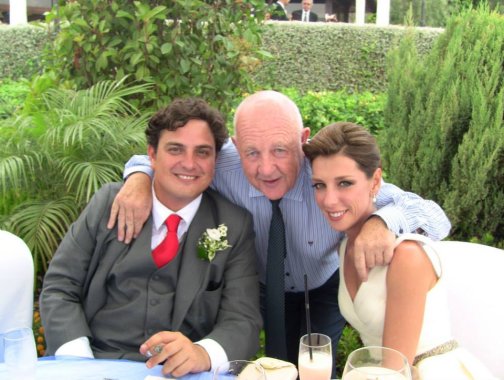 Conzalo, Vincent & Elena.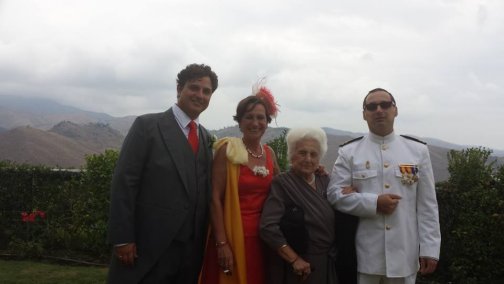 Gonzalo, his mother Maria Ana, her mother Maria & Leopoldo O'Donnell, cousin of the groom and captain of one os Spain's aricraft carriers.


---
ILMA. SRA.

DOÑA MARÍA VICTORIA TORROBA

BERNALDO DE QUIRÓS

MARQUESA VIUDA DE ALTAMIRA

FALLECIÓ EN MADRID

EL DÍA 5 DE JULIO DE 2013

Habiendo recibido los Santos Sacramentos.

D.E.P.

Sus hijos César, Álvaro, Alfonso y Patricio O'Donnell Torroba; sus hijas políticas Cristina de Solís y de Bustos, Paloma Porrero de Chávarri y Miret, Emilia Romero Rovira y Patricia Heigl Alemán; sus nietos Carmen, Cristina, Carla, Bárbara, Álvaro, Paloma, Alfonso, Jaime, Pepa, Fiacha y Alina; su biznieta Gabriela y demás familia

RUEGAN una oración por su alma.

El funeral tendrá lugar el jueves 12 de septiembre a las veinte horas en la Iglesia del Santísimo Cristo de la Salud (calle Ayala, 12) de Madrid.


---
Vanished by the Danube
A new book - memoirs of Charles Farkas (grandson of Evelyn O'Donell of Budapest.)

Follow this link for information on this wonderful new book http://www.sunypress.edu/p-5725-vanished-by-the-danube.aspx




---
Vincent O'Donnell Honoured

The Minister for Trade, Tourism and Transport conferred the Order of Clans of Ireland on 4 individuals at a special ceremony at the Mansion House on Saturday 28th April 2012. The Minister agreed to stand in for the Patron of Clans of Ireland President Higgins who was not available to attend the ceremony this year. Those chosen to receive the Order of Clans of Ireland were nominated by their Clans as an acknowledgement of their outstanding contributions to Irish heritage and culture. Vincent O'Donnell was one of the four and his award was in recognition of the work he has done for the O'Donnell Clan. For more information visit www.clansofireland.ie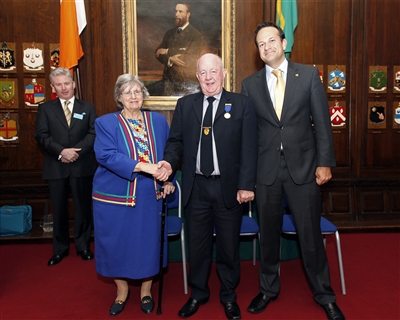 Norah Keohane Hickey, Chairperson, Vincent O'Donnell and Dr. Leo Varadkar TD Minister for Tourism.


Red Hugh plaque unveiled in Valladolid

A plaque commemorating the death and burial of Red Hugh was unveiled in a side street off the Plaza Mayor, Valladolid on Friday 12st of October 2011. Present were the following - Justin Harman, Irish Ambassador; Hugo O'Donnell, Duke of Tetuan and most senior of the Spanish branch of the O'Donnells; City Mayor; historians attending the Spanish-Irish History Conference, Irish people living in and around Valladolid; people involved with the film festival, especially those associated with "The Pipe" and Vincent O'Donnell representing the O'Donnell Clan Association.

To see what it said in the papers visit -
www.irishtimes.com/newspaper/breaking/2011/1021/breaking31.html
www.elnortedecastilla.es/20111021/local/valladolid/valladolid-recuerda-hugh-donell-201110211944.html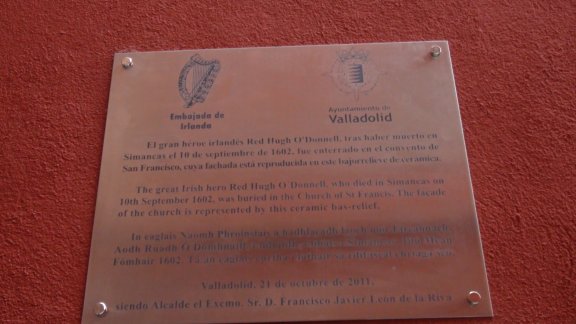 The plaque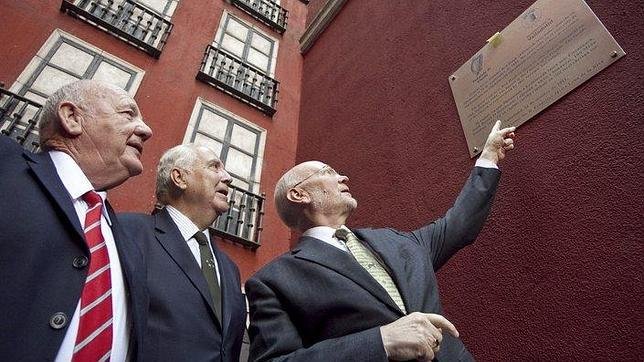 Vincent O'Donnell, Hugo O'Donell and Justin Harman admire the plaque.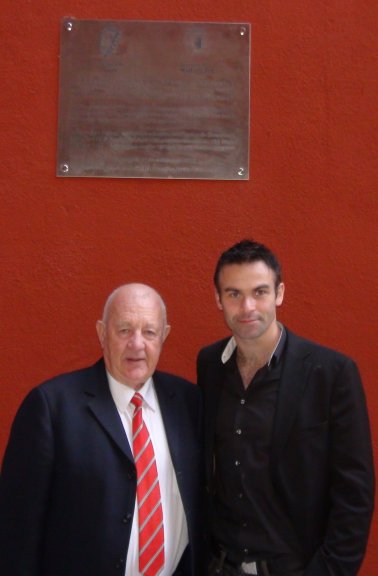 Vincent O'Donnell with Risteard Ó Domhnaill who filmed and produced "The Pipe".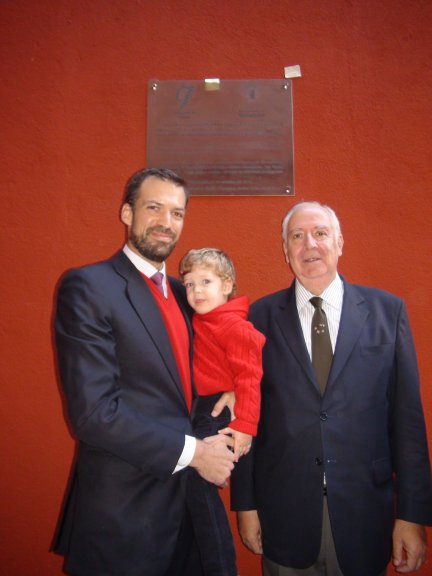 Three generations - on right, Hugo O'Donnell, Duke of Tetuan, standing beside him is his son Hugo, Marqueses de las Salinas with his son, Hugo.

For anyone visiting Valladolid and wishing to see this plaque here's a few directtions.

If you walk out of the Plaza Mayor by the Calle Manzana you will find on your right a restaurant named 'Pecaditos.' Walk in the front door, straight through and out the back door and look to your right. Don't forget to have a coffee.

The co-ordinates are 41° 39' 09.15" N and 4° 43' 41.32" W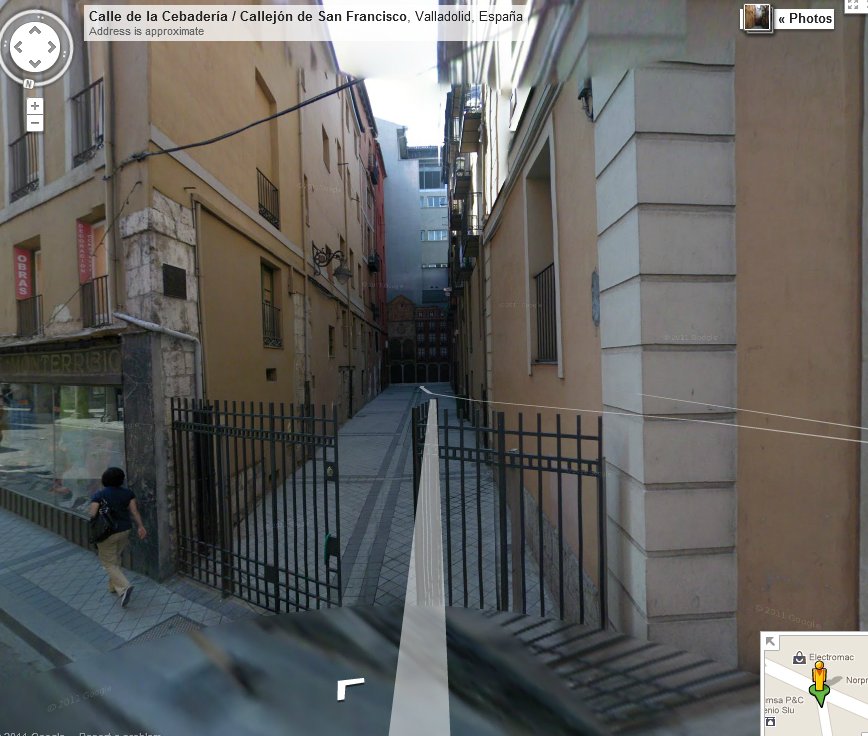 The area from the street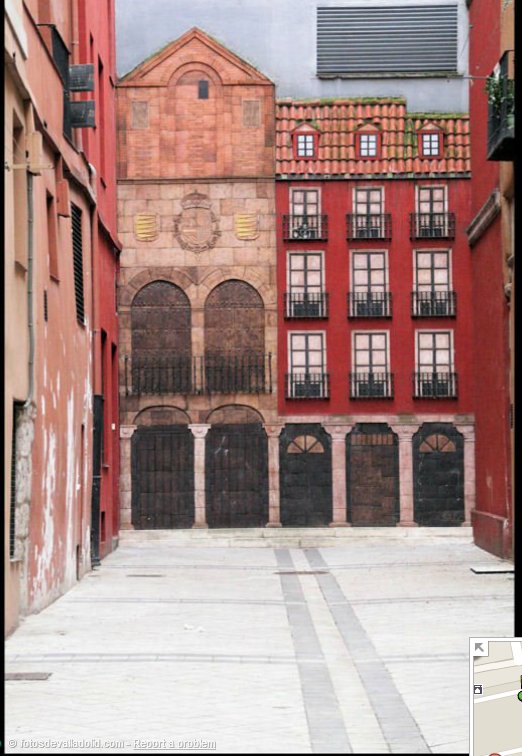 Inside the area, at the back of the Pecaditos Restaurant.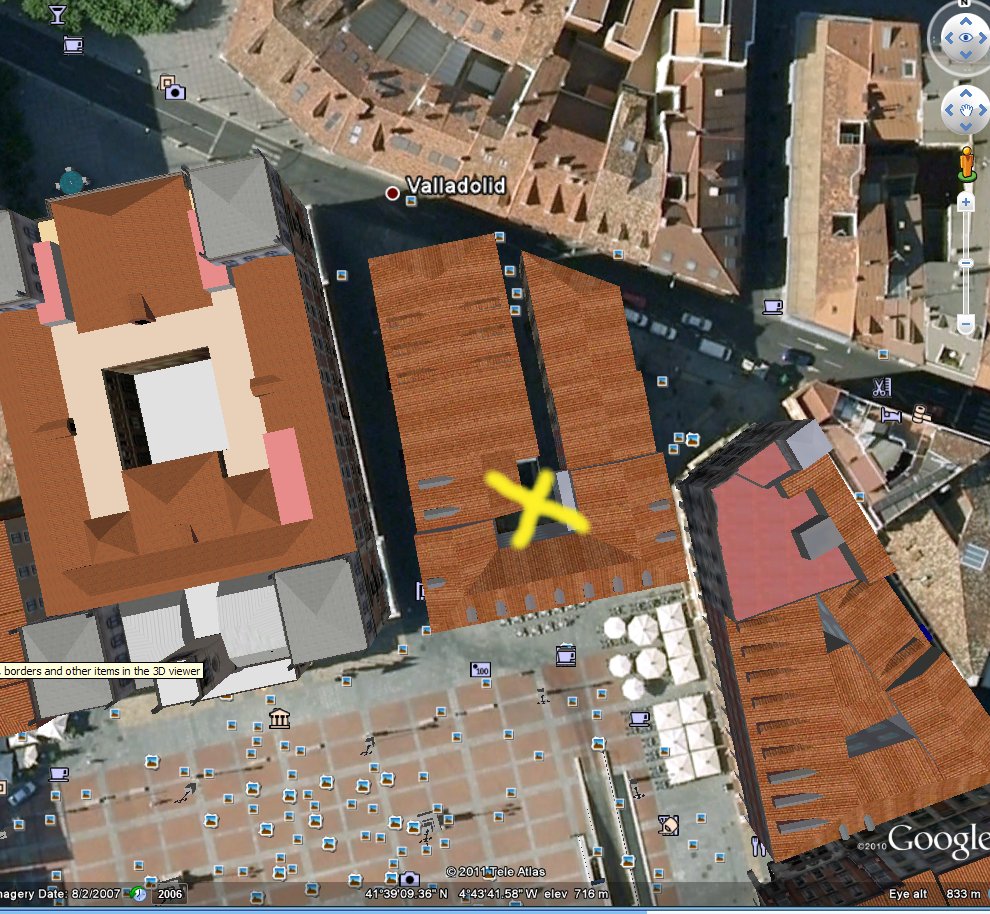 X marks the spot. Picture from Google map.
---
Tom O'Donnell R.I.P.




The following message arrived by e-mail a week ago - "Tom passed away 20th June after a 6 year courageous battle with Non Hodgkins Lymphoma. He often spoke about his O'Donnell reunion to Rome amd also about his trip to Ireland with his sons last summer." O'Donnell Abu" was played at his funeral."

Tom has been a member of the O'Donnell Clan Association for many years and attended som of our functions, the most memorable being the trip to Rome in 2008. He was very proud of his ancestory and brought his sons to Ireland and Donegal last summer so that they would learn some of the O'Donnell story.

We lament his passing and send our condolences to his wife, Colette and family.




---

Calle O'Donnell, Malaga At 12.30 pm (Spanish time) on the 11th March 2011 a crowd had gathered on the corner of 'Calle Eugenio Gross' and 'Calle General Mola' in Malaga. The purpose of this gathering was to witness the official renaming the latter as 'Calle O'Donnell.' There had been a 'Calle O'Donnell' in Malaga same as many other Spanish cities, but it had disappeared sometime in the 80's due to development much to the regret of the O'Donnells of that city. After many petitions to the city mayor it was decided to remove the name 'General Mola' (as it's now Spanish policy to remove names associated with General Franco and the Spanish Civil War) and to rename it 'Calle O'Donnell.'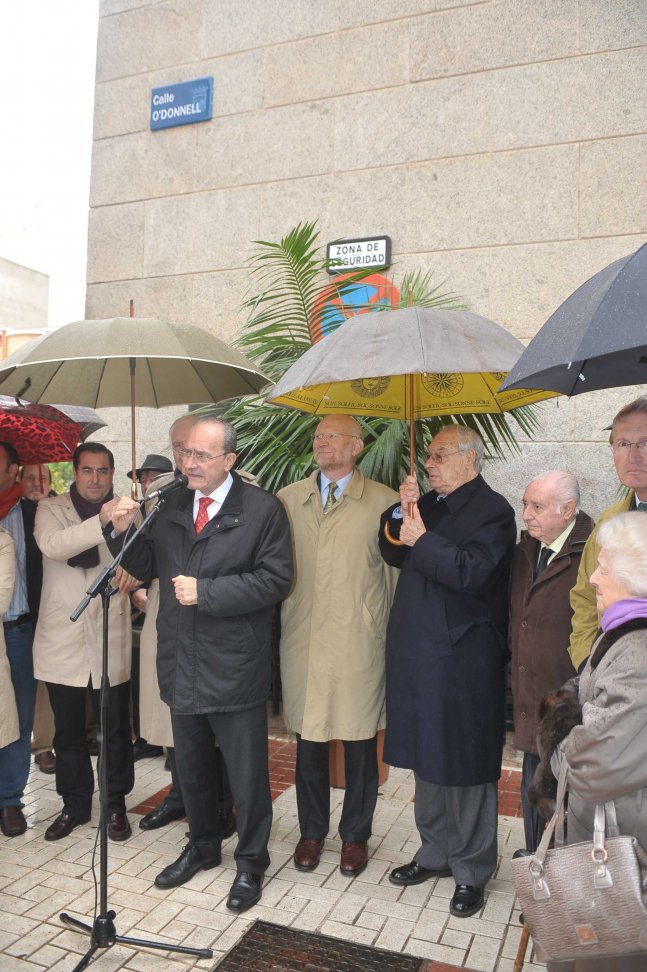 City Mayor speaking, to his left is the Irish Ambassador. Hugo O'Donnell, Duke de Tetuan is immediately behind the mayor with very little of him to be seen. And if you can see a black hat behind that again, well I'm under that hat.

And who was this O'Donnell after whom streets, a metro station, a communications tower and other features in Spain, Cuba, Porto Rico, North Africa etc. are named? He was Leopoldo O'Donnell (1809 – 1867), one of Spain's outstanding military and political figures. Quoting Rupert S. O'Cochlain in the 1950 Donegal Annual – "He served in the army from an early age, winning rapid promotion. He was given the title Count de Lucena and the high post of Captain General of Cuba for his services in the Carlist War. He returned home, rose to the rank of Field Marshal, became Prime Minster and Minister of War, He conducted a brilliant campaign against the Moors that won Morocco for his country in 1860. This military victory made him tremendously popular. He was created Duke of Tetuan and received many other worthy honours in acknowledgement of his political and military skill. He died without issue in 1867 and the title went to his nephew Carlos."

But to us Irish, he was the grandson of Joseph O'Donnell (1722 – 1787) who immgrated from Mayo to the continent, eventually arriving in Spain where he became Colonel of the Regiment of Ultonia and rose to the rank of Lieut. – General. Joseph was great, grandson of Calbhach Rua who was moved from Co. Donegal to Mayo during the Cromwellian Plantation (mid 1600), Calbhach Rua was great, great grandson of Mánus (21st chieftain, died 1563) who in turn was grandson of Aodh Rua, died 1505 and is commemorated by a sculpture on the pier of Donegal Town.

Amid a sea of umbrellas, lashing rain and a near gale force wind the ceremony began. Speakers were the City Mayor, Justin Harman the Irish Ambassador and Hugo O'Donnell, Duke de Tetuan (most senior of the Spanish O'Donnells). We then repaired to a hotel for lunch and more speeches etc. In my short speech, on behalf of the O'Donnell Clan Association, I referred to the contribution made by Irish people throughout the world, and that the ceremony we had just witnessed earlier was a testimony to that of the O'Donnells of Tyrconnell.

****************************************************************************