Welcome to the website of F.E.S. Ltd., the privately owned, progressive engineering company based in the Whitemill Industrial Estate on the outskirts of Wexford town.
Providing quality and service to its customers at every stage of the fabrication process F.E.S. Ltd. offer a complete package from concept to creation of computer aided design, manufacture and installation of Mild Steel and Stainless Steel products.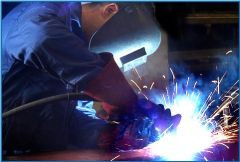 Please browse our site for a flavour of what F.E.S. Ltd. offer clients. Don't hesitate to contact John or Barry with any query relating to your fabricating or engineering needs!
F.E.S. Ltd. Mission Statement
The management and staff at FES Ltd share the dual goal of consistent quality and reliability in successful attainment of client objectives.
The success of this statement will be assessed against relationship built up with clients and the rates of repeat business generated.