| | |
| --- | --- |
| POPSTARS OF IRELAND | |
| | THE GIANTS CAUSEWAY |

| | | |
| --- | --- | --- |
| | POPSTARS OF IRELAND | |

| | | |
| --- | --- | --- |
| | SIX | |
At first millions of hopefuls turned up to become a part of the band. Some had no talent and just turned up anyway. The judges had just minutes to pick them out. After months of seeing who would become part the band, the final decision was made. The final band-members turned out to be:
Andy Liam Kyle Sarah Emma Sinead.
Now for their story. Six had to live in a house with each other and were only allowed out in disguise. Neidin was supposed to be in the band but later, she admitted she was only 16 and you had to be 18.
Neidin was replaced with Sarah Keating. Sarah's family celebrations went on all through the night.
A week later, every member of six had to choose their look.They also had to pick a song.They had many songs to choose from. They had their photo's taken. They opened the psychic's letter, who previously had predicted all the members of the band. Finally they picked two songs:
"THERES A WHOLE LOTTA LOVING GOING ON"
and
"UNITED WE STAND"
Later they found out having dinner that there song 'A Whole Lotta Loving' brought them to number 1 in the Irish pop chart. Then they went to HMV in Cork and Dublin and other music stores in the country.
BY C.Sheehy

SIX
Verse1

Six are here

six are cool

six are going some where

Verse 2

Six are better than Britney Spears and West life . I hear that six are going to London Making more songs and interviews
BY W.Toomey

| | | |
| --- | --- | --- |
| | SIX | |
This band came form a program called "Popstars". The popstars

names are:
Kyle

Emma

Andy

Sarah

Liam

Sinead
You had to be 18 years old to go on the program. A girl called Neidin was only 16 and got thrown out of the band. She said she was 18 and claimed she must have told them the wrong date of birth.

While the camera

s were off she told the truth to the band and after 48 hours she went home to DERRY

Síobhan K.

| | | |
| --- | --- | --- |
| | RONAN KEATING | |
Ronan Keating was born in Dublin. He was in a band called Boyzone.His dad had lots of different jobs, including being a lorryman and a barman.His mother was a hairdresser.
Ronan loved sport. He loved Gaelic Football. He drove his first car at the age of fourteen. At fifteen,He got a part-time job in a Dublin shoe-store.
Ronan was in a number of bands including one during his teen's with a group pals called Plameste.
Ronan was one of three-hundred boys to turn up for the audition of Boyzone.It was 1993. Ronan and his new found friends were about to take their first step to worldwide fame.The first Boyzone single was a huge success.
On March 15th, 1998 Ronan's son Jack was born. Ronan flew out to Los Angeles in January 1999 to write and record his debut solo album.
BY S.Keane






RONAN KEATING WAS BORN IN DUBLIN. HE WAS IN A BAND CALLED BOY ZONE. HE HAS TWO CHILDREN A BOY AND A GIRL .
HIS SONGS ARE
THE SMILE ON YOUR FACE

LIFE IS A ROLLERCOASTER

THE WAY YOU MAKE ME FEEL.

IN THIS LIFE

HEAL ME

KEEP ON WALKING

WHEN YOU SAY NOTHING AT ALL

BRIGHTER DAYS

IF YOU LOVE ME
BY J. HENNESSY

| | | |
| --- | --- | --- |
| | U2 | |
U2 were formed in Dublin in the late 70s early 80s. The band members are:
Paul Hewson (Bono) D,O,B, 10/5/1960.
He is the lead singer of the band.
Larry Mullen J .(Babyface Mullen) D,O,B 31/10/1961.
He is the drummer of the band.
Howell Evans(The Edge) D,O,B, 8/8/1961
He is the guitar player
Adam Clayton D,O,B NOT KNOWN
He is the bass guiter player.
U2 are one of the worlds most memorable and famous rock groups. The group are famous for their songs being full of anger, and passion such as" The Unforgettable Fire"The Joshua Tree" and "Rattle and Hum"
BY S.Sexton

U2 Facts
No. I
U2 are a band that were formed in Dublin in the late 70s early 80s. They are four Irish men with a lot of talent
NO. II
When they burst onto the music scene they had hit after hit and never looked back.
NO. III
They are famous all around the world and have toured all over the world.
NO. IV
Some of their most famous songs are:
Where the Street's Have No Name
With or Without You
Elevation .
BY D. STANTON






| | | |
| --- | --- | --- |
| | THE CORRS | |
Starting Out
The Corrs became a group officially in 1990, and shortly after met John Hughes- who would become their manager. At the time Hughes was auditioning musicians for the film The Commitments . The band failed that audition , but impressed Hughes enough to nab themselves a spot performing at a special Commitments gig in Dublin. Young Andrea even landed a small acting role in the movie!
The next three years or so saw The Corrs performing gigs throughout Ireland though without a record deal. In 1994 the first real break arrived, in the shape of Jean Kennedy Smith, US Ambassador to Ireland. Ms Smith heard them perform at a small club in Dublin , and decided to invite them to play at a World Cup celebration in Boston. The Corrs never looked back

Singles
forgiven Not Forgotten (1995)

The Right Time(1995)

Love To Love You (1996)

Only When Ileep (1997)

I Never Loved You Anyway(1997,UK)

What Can I Do(1998)

So Young(1998)

Would You Be Happier (2001)

The Right Time(1995)

Love To Love You (1996)

Only When Ileep (1997)

I Never Loved You Anyway(1997,UK)

What Can I Do(1998)

Runaway(1995,re-mix released1998)

So Young(1998)

Would You Be Happier (2001)
Jim Corr
Pre- 'big time', Jim was a session guitarest with Dublin band The Fountainheads and various 'show bands' Jim decided to offically start a band with his sisters when he heard Alan Parker was filming The Commitments. He has always admired family band's like The Jacksons
A Day In The Life
Although it may seem like it to us, it's not all champagne and parties for pop band's. This is no exeption for The Corrs. Gruelling worldwide touring schedules have dominated the sibling's lives for the past few years. A typical day would often include rising at 4am to make several early morning TV appearances followed by radio interviews andmore TV recordings. Lunch for a couple of hours,more interviews ,then a full- blown concert at 9pm -phew!!
The Road Ahead
Now that The Corrs have secured global success,including the UK and USA what's next on the agenda? They have performed alongside some of the biggest names in music and they have even met the Pope. In the future it's touring touring, touring of course! And there's bound to be another big screen apperance from Andrea. Watch out for this lot!!!
By B.Brosnan

The Corrs of Dundalk

The Corr siblings hail from Dundalk some 50 miles north of the Irish capital, Dublin near the border of Northern Ireland. Here they grew up with Mum Jean and Dad Joey, who both encouraged the kids to take music lessons. For as long as they can remember, it was always the siblings intention to form a band of some sort.

The Corrs Younger Days
The three girls all went to the local St Louis Convent school, while brother Jim attended the Friary and later the Christian Brothers school . Sharon hated school and didn't get along with the teachers, while Andrea excelled academically, receiving Honours in most of her subjects .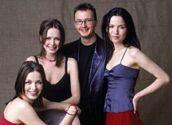 Talk on Corners
The follow up to the debut album reveals a more adventurous side of the Corrs. There is a harder, guitar oriented feel to some tracks on the album, but not at the expense of the group's folk roots . Talk On Corners in its first six months on the charts sold 1.1 million copies and it debuted at No. 1 in the Irish album charts.
BY K. DALY

| | | |
| --- | --- | --- |
| | Westlife | |
Westlife is an Irish pop group that is managed by Louis Walsh. They became the first UK boy band to top the charts at number 1 with their first five singles.
They are Nicky Byrne, Shane Filan, Mark Feehily, Kian Egan and Bryan Mcfadden.
Westlife started out with 6 members in Ireland as "IOU" and later "Westside". Mark, Kian and Shane are from Sligo in the west coast of Ireland. After signing with RCA Records they changed their names to Westlife as there was another band in the USA using the name Westside.
Kian

Kian comes from a big family They live about ten minutes from Sligo. Kians Dad worked for the ESB (electricity supply board). Kians mum is a house wife. Kian got married for the first time when he was seven. The wedding was at the back of an old empty house. The boys only got married to kiss a girl. For the fun, the girls dressed up in a communion dresses and Kian got dressed up in a bow tie. The marriage only lasted for a few days.
SHANE

Shane grew up in Silgo . He lived above a cafe called Carlton Cafe. Shane thought Silgo was a great place to grow up in. Shane is the youngest in the in the family . Shane liked to play rugby . Shane loved Elvis and Michael Jackson. Shane learned to dance by watching Michael Jackson videos. He watched them for hours and this helped him to learn how to dance.
BRYAN

Bryans Mam was a school teacher. Bryans Dad is a sales manger. Bryan lived in Dublin. Bryan never thought he would become a popstar .He always thought he would become an actor . When Bryan was seventeen he got interested in hip hop dancing.
By A.Furlong
NICKY

NIKCY GREW UP IN BALDOYLE. NICKY COULD WALK TO THE BEACH BECAUSE IT WAS ONLY A TEN MINUTE WALK. HE PLAYED A LOT OF FOOTBALL. HE PLAYED SINCE HE WAS TINY. NICKYS DAD USED TO BE A GOALKEEPER FOR DUBLIN. WHEN NICKY PLAYED IN MATCHES, THE PEOPLE USED TO SAY "GO NICO!!!!" NICKY WAS A GREAT FAN FOR MANCHESTER UNITED
| | |
| --- | --- |
| MARK | |
MARKS MUM IS A CIVIL SERVANT AND SHE WORKS IN THE DEPARTMENT OF AGRICULTURE. MARKS DAD WAS BROUGHT UP ON A FARM. MARK AND HIS FAMILY LIVE OUTSIDE SILGO. MARK IS THE ELDEST BOY IN THE FAMILY. MARKS HOUSE IS SURROUNDED BY BEAUTIFUL FIELDS. WHEN MARK WAS A BABY HE HAD TROUBLE SLEEPING, SO HIS MUM TURNED ON THE RADIO AND HE WENT TO SLEEP EVER SINCE HE ALWAYS TURNS ON THE RADIO!!!!

Westlife Factfiles
Nicky's factfile

FULL NAME; NICHOLAS BERNARD JAMES ADAM BYRNE

D.O.B. 9/10/1978 PLACE OF BIRTH; HOLLES STREET DUBLIN FAMILY; 1 SISTER 1 BROTHER SCHOOLS; BABLOYLE BOYS ST. NESSAINS SEC PLUNKET COLLEGE
Shane's factfile

FULL NAME; SHANE STEVEN FILAN

D.O.B. 5/7/1979

PLACE OF BIRTH; SLIGO GENERAL HOSPITAL

FAMILY; 3 SISTERS AND 3 BROTHERS

SCHOOLS; SCOIL FATIMA

ST JOHN'S PRIMARY

SUMMERHILL COLLEGE

Mark's factfile FULL NAME; MARK MICHAEL PATRICK FEEHILY D.O.B. 28/5/1981 PLACE OF BIRTH; SLIGO GENERAL HOSPITAL FAMILY; 3SISTERS 3 BROTHERS SCHOOLS; CALRY NATIONAL ST PATRICKS PRIMARY SUMMERHILL COLLEGE
Kian's factfile

FULL NAME; KIAN JOHN FRANCIS EGAN

D.O.B. 29/4/1980

PLACE OF BIRTH; SLIGO GENERAL HOSPITAL

FAMILY; 3 SISTERS 3 BROTHERS

SCHOOLS; SCOIL URSULA

ST JOHN'S PRIMANY

SUMMERHILL COLLEGE
Bryans factfile
FULL NAME;BRYAN NICHOLAS MCFADDEN
D.O.B. 9/10/1978
PLACE OF BIRTH; ROTUDA HOSPITAL DUBLIN
FAMILY; 1SISTER 1 BROTHER
SCHOOLS; ARDLEA ROAD INFANTS
ST DAVIDS PRIMANY
ST DAVIDS SEC
ROSMINI SEC
By S.Dilworth

The Wedding
The wedding of Kerry to Bryan of Westlife was held in Rathfeigh Co Meath. At first they wanted to disappear and get married. However they decided to have a big Wedding. The Wedding planner was Tara Fay of Zena productions. Kerry was an hour late for the Wedding. The dress was very beautiful and was desigend by Neil Cunningham. "Ever since I met Kerry she's made me wake up smiling every morning.Being able to call her Kerry Mc Fadden makes me so proud!"said Bryan.The Irish know how to party espicialy at a Wedding.And party they did at the dazzling recption.That followed Byran Mc Fadden and Kerry Katona's magical wedding ceremoney. In its time Slane Castle,which is an hours drive from Dublin, has hosted its share of concerts for U2,the Rolling stones and Bruce Springsteen among them,but rarley have the guests kicked off there shoes and injoyed them selfs as 205 friends and family did at the Mc Faddens celebrations.
By G.Forde










| | | |
| --- | --- | --- |
| | NAME:Samanta Mumba AGE: 18 CAREER: Acting & Singing | |

Samanta Mumba said never wears the same dress twice. The best present Samanta Mumba ever got was a watch. Her manager Louis gave it to her. Samanta Mumbas lipstick is always light brown . Her eyes were brown too. She loves wearing make-up in her videos. Samanta has just been pipped to the top spot in the U.K charts by Eminem. It was always very close with Samanta at number 1 in the midweek chart
These are Samanthas two singles:
Always Come Back To Your Love
Baby Come On Over.
By A.M. Russell

| | | |
| --- | --- | --- |
| | Samantha's Life | |
Sam: "I would never sing in front of my family even if I was paid to. I would never wear the same dress twice because you would never know when people take photographs of you. For Christmas I got a white jumper with flowers on the front of it and I love it. One day I popped to the set before I started filming. Suddenly I dragged back into costume fitting-I was so mortified!!! I had horrible underwear on and it was so embarrassing. So never wear weird underwear!"
Sam is still in her teens. Since she was three she was on the spotlight. Her dancing school was Billy Barry Stage School. She left secondary school because her manager Louis Walsh came calling and it has been a success since. She was on the Late Late Show when she was 11.
News
Samantha Mumba looks likely to making a leap to movie stardom as Steven Spielberg has offered her a part in his latest project, a big - budget film of H G wells' classic novel 'The Time Machine'. Landing the parts fulfils Samantha Mumba's self-proclaimed dream of getting into movies whilst her musical star is still very much on the up.
By F. Bresnihan

The Giants Causeway is Northern Ireland's most famous tourist attraction. There is a coastal path provided which stretches about 8km long from the entrance to the Causeway to beyond Dunseverick near Whitepark Bay.
Over the Causeway as a whole there is around 37,000 stone columns mostly 6 sided but some with 4, 5, 7 and 8 sided. All formed about 60 million years ago by the cooling and shrinking of molten lava from a vast volcanic eruption that formed the Antrim Plateau.
| | | |
| --- | --- | --- |
| | For more information click HERE | |