| | | |
| --- | --- | --- |
| | The Club | |
---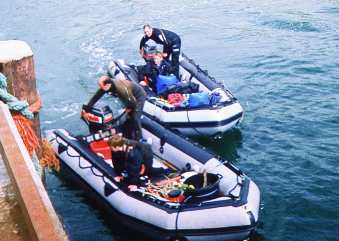 Wicklow Sub Aqua Club, over the years, have acquired equipment and facilities that are beneficial to its members.
Boats
Currently we have 2 Grand Raid Zodiac MkIII Inflatable boats (pictured left) which are powered by Yahama 40hp engines.
The boats are now in the club 9 and 11 years respectively and have served us well. Both boats have been used at various dive locations locally and throughout the country. Initially powered by 40 hp Mariner engines the engines were replaced in 2000.
The Zodiac Mark III is 5 metres long and 2 metres wide and is capable of 25 knots when carrying 2 people. Our boats have been fitted with prop-guards and are capable of 16-18 knots when carrying 5 fully kitted Divers. They have a range of 3 hours at full speed giving a range of approximately 54 nautical miles.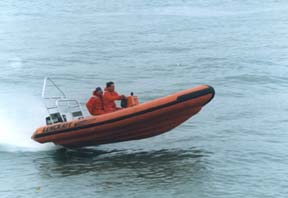 This year the club has decided to bite the bullet and are purchasing a new 6m. Lencraft Rigid Inflatable Boat (RIB) similar to the one pictured to the right. Delivery is expected in February, 2003. Powered by a Honda 135hp 4 stroke engine the new RIB will extend the range and improve the comfort of Divers.
With a length of 6.1 metres and width of 2.4 metres the rib is capable of 30 knots and can carry 10 fully kitted divers. With a 90 litre fuel tank the Rib has a range of approximately 90 nautical miles.
Compressors
Wicklow Sub Aqua Club have 2 compressors in use in the club. A petrol powered mobile compressor which is used throughout the year and carried to all diving sites that do not have local air filling facilities. This compressor is in the club for the past 12 years. It is capable of 200 litres per minute output at 232 bar and requires manually draining
The second compressor was purchased in 2000 and is powered by three phase electricity. It is capable of 200 litres per minute output at 280 bar and is fully automatic in operation.

Radios
The Club owns and operates 2 Navco VHF Handheld Radios similar to the one pictured at right.
---