Fishing and Diving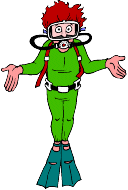 Baltimore has a fast-growing reputation for sea angling. Fishing is possible from the shore but for the best sport you need to go afloat. There are several well-equipped boats operating from the harbour. Catches on the offshore reefs and wrecks range from sharks and huge skate to cod and conger eels.
The clear water and abundant sea life also make ideal conditions for diving. There is fabulous diving on the reefs around the Fastnet Rock and the Stags. There are also numerous wrecks, ranging from a man o' war to the spectacular 160,000 ton ore-carrier 'Kowloon Bridge'.
Boat trips also offer unrivalled opportunities for watching seabirds and seals and it's not unusual to be visited by a school of dolphins, whales or even a turtle.
There is a Diving Centre catering for basic and advanced sub-aqua courses and offering advice and assistance to independent divers or clubs.
Dive sites
Dive sites that are accessible from Baltimore include '78 Rock, Alondra, Amelia Rock, Asian, Carnavonshire, C rescent City, Croa Lea, Dido, Fastnet Rock, Gascanane Sound, Gokane Point, Hourtien, Illyrian, Kowloon Bridge, Lady Charlotte, Lough Hyne, Ludgate, Malmanger, Miami, Mignonette, Mignonette Bow, Minihaha, Mystique, Nestorian, North Harbour, Cape Clear, Pinnacle off West Calf, Robber Bank, Tonelunga Rock, Toorane Rocks, Trafraska, Tragumna, U-260. 
Follow this link and click "Dive Sites" on the left column for further information and an interactive Map.