Steve Saunders Goldwing Page, Ireland's first Goldwing motorcycle related homepage, brings you lots of useful Goldwing & Valkyrie (F6C) places of interest. They include Goldwing discussion groups, Goldwing home pages, parts and accessory suppliers, Irish and other motorcycle web sites and more. It has to be said that the homepages tend to be a good read because they are maintained by enthusiasts who aren't trying to sell you anything and the better ones are updated often. Entries on this page won't be in alphabetical order , I just add the more recent ones to the top of the page, so make sure to check regularly for updates. If you have any interesting additions, please feel free to contact me, I will check them out and add them to this page.

Cycle Customizing. Offers a large selection of quality motorcycle parts and accessories, as well as cycle related gear and apparel. They also feature turn-key custom motorcycles.
Goldwing Gold Plating. Nick Fowler from the UK can gold plate (24 carat) your chrome bits. He was at the 2004 Irish and British Treffens and was kept busy the whole time. I had my GL1800 rocker cover trims plated and they look great. 3 year guarantee on all work. You can see some more samples of Nick's work (done while we waited at the UK Treffen) on my site on this page, www.goldwingfacts.com/picturepage29.htm or go to Nick's site. Nick can be e-mailed at Fowlerauto@aol.com or telephoned in the UK on 01704 563994 or 07813 370304.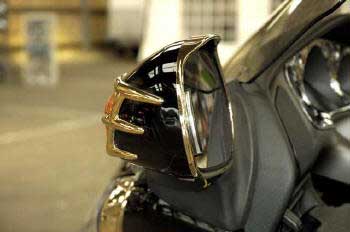 Bikelinks. The A-Z of motorcycling links.
Barry Benkert. Based in the UK, Barry can get many genuine Honda parts at really good prices. For example; GL1500 alternators for £200.00 Mufflers for £140.00 C.B. Aerials for £70.00 or chrome for £90.00. Contact Barry by e-mail at wingworld1@yahoo.co.uk for more details.
FastFred's Motorcycle Rights E-zine: Motorcycle event pictures and coverage.
Goldwing & Touring Homepage of Turkey. Some useful information for the Goldwing visitor to Turkey. Mix of Turkish and English language on this site.
Acumen Electronics. Based in the UK, Acumen make some interesting motorcycle instruments, and security and communication equipment.

Peak Trailers have been making motorcycle trailers since 1997 and they have some lovely models with independent suspension and a high quality finish.
American Gold Wing Association (AGWA). This organisation has been run (since 1983) by volunteers who serve without financial reward. Great group of people and their web site is well worth a visit.
New York Honda. New Yorks biggest authorized Honda dealer.
Capital City Wings. A GWRRA Chapter from Sacramento, California.
Justin Site. Patches, clipart, wallpaper and other stuff for Goldwing, Valkyrie, Shadow and other bikes.
Uncaged-Speed Merchant. An Irish bike company based in Arklow. Specializes in Harleys and other bikes.
Goldwing World. Teus Reijmerink from Holland brings this Goldwing site with a nice flash intro.
Biker Dating Directory. This resource has tons of links to all type of motorcycle sites and features a bikers dating service as well.
1800 Goldwing. A nice site dedicated to the GL1800 Goldwing.
Insidebikes.com. Comprehensive UK motorcycle site with bike reviews, insurance and product and events info and lots more.
Ulmer FreeWinger. A nice Goldwing web site from Germany.
Service Honda. Useful parts fiche, buy parts, bikes, even complete engines.
Goldwings UK Spares. Used spares for Goldwings. Plenty of GL1100 & 1200 parts listed, others to follow as stock rolls in.
JD Custom Lighting. Custom lighting and accessories for Goldwings.
Jimmy Quinn Customs. Belfast man Jimmy Quinn moved to the USA and for years has been producing brilliant original artwork for motorcycles. Have a look at some examples of his work.
Firecreek Accessories. This is the home of the Windbender windshields and they do an electric windshield for the GL1800 & GL1500 Goldwing.
Scotia Wings Goldwing Motorcycle Club. This is a Goldwing owners site for members in central Scotland.

We can help you find Quality New and Used parts for your bike, quickly and easily... Find that elusive part Now - just fill out our Part Finder form and wait for a supplier to contact you! IT'S EASY TO USE AND TOTALLY FREE!
Australian Wing Riders Association (Qld) Inc. Formed in the Queensland area of Australia.
CyclePages.com. Motorcycle helmets, gear, accessories and parts available online.
Goldwing gadgets. If you are looking for a CB radio for your GL1800 or GL1500 Goldwing but don't want to pay for the expensive Honda one, Goldwing gadgets have a kit for you. They also do a mobile phone interface for the Goldwing.

Based in Harolds Cross, Dublin. Capital are very good to deal with and give great prices on bikes and accessories.
The Wood Dash Factory. Real wood dash kits for Goldwings at the lowest prices around.
Online Cycle Parts. The Add-On range of Goldwing accessories can be found here.
WingToys. All the major brand names stocked for the GL1800 & GL1500.
Ian's R6 Site. Ian is an R6 fan and has put together a very useful site for the R6 enthusiasts out there.
Luxwood Auto Trim Inc. Wood dash kits for cars and motorcycles, including Goldwings.
Saber-Cycles UK. Saber-Cycles make quality accessories for Goldwings. Ron Wylie is the UK official distributor (and he looks after his Irish customers well) and is a great guy to deal with.
Medler Wings. Goldwing website from the east of Holland.
Joe Foley Alarms. Dublin Goldwing and Valkyrie owner Joe Foley has been fitting bike alarms for some years now and he is well experienced at fitting them to Goldwings. Now Joe is doing car and house alarms too.
The Motorcycle Accessory Centre. Based in Alberta, Canada and they sell accessories for Goldwings and other bikes.
HarleyDavidsonweb.com. A site for buying, selling and trading Harleys.
E111 Health Form. The French now require that the Health form E111 must now be dated for the current year of travel. They will not accept an undated form or one dated for a previous year. Download and complete the form and return to your local health board at least one month before you leave Ireland. Thanks to Brian Burgess for this information.
Dublin Motorcycle Touring Club. Bikers looking for touring info in Ireland need look no further than this very informative site.
A great selection of custom lights from Custom Dynamics, including some hard to get (in Ireland) examples.

GWOCI member Mick Fenlon's site. Has sections on Goldwings and also digital photography.
www.windsockwinddeflector.com A microphone windsock cover that really keeps the noise down and it's cheap too!
Out Of Bavaria. Reiner Kappenbergers site, which has details of some of his many motorcycle journeys.
The Eagles Nest. Australian site which collects Goldwing club patches from around the world and displays them on the web. The site owner, Bob Long is always keen on new patches.
Glow Rings. Luminous ignition trim that glows green in the dark and white in daylight. Looks really cool and not expensive either.
Motorbiking Ireland Info. Lots of rally and rock night info, bike runs, motocross, trials, road racing and lots more from this great site.
www.bikeireland-ie.com This site is a great resource for Ireland's motorcycle sites. Well worth a visit.
Goldwing Club of Poland. The official club for Polish Goldwing owners and not short of information either.
Goldwing Owners Club of Ireland. Opened on October 3rd, 2002.
Color-Rite. This company does touch-up paint and has some of the Goldwing colours.
Kansas Tour Riders. The Kansas Chapter B, Eastern Region site. This is a nicely done club site with some good information for the Kansas Goldwing owner.

Goldwing CB Radio Interface. Stuart Hall, from the UK makes CB radio interfaces for Goldwings. He can supply the interface, ptt switch and the mounting pods for the CB. His prices are very good. No web site but Stuart can be contacted at 01803 552792.
New Zealand Goldwing Riders. The first Goldwing club site from New Zealand.
Baby Biker. Based in Warwickshire, UK. Baby Biker are the experts on motorcycle gear for children. Helmets, gloves. boots, waterproofs etc. Nice people to deal with and you can shop from their secure server site.
Haynes Publishing. The world renowned motorcycle and car servicing and repair manual people. Mail ordering online available, secure server.
HondaClassifieds.com User Friendly Honda-Only Classified Ads.
Australian Goldwing Association Inc. This is the official web site and represents a large proportion of Goldwingers from down under.
North Wales Wings. A nice web site from Wales. Professionally laid out with lots of photos.
Ozark Riders. GWRRA members from Mountain Home, Arkansas put this web site together to promote their area. Some nice info & pictures.
Boogey Lights. Neon light kits for Goldwings and other motorcycles.
Paddy McCreanors Goldwing Page. As Paddy says; "Six pages of motorcycle related stuff and nonsense."
Cycle Innovations. These people do a single carburetor conversion for the GL1000, 1100 and 1200. Cheaper than replacing your shot carbs with four OEM items.
Caledonian Wings. A Goldwing web site from Scotland, hosted by Mrs. Helen Hamilton and launched early 2001.
Trent Wings. A nicely put together site from the Trent region of the GWOCGB.
Elite Wings. A new (early 2001) UK club which organizes outings for Goldwing owners.
Goldwing Club Rhein-Mosel. A very well informed site for German Goldwingers.
British Alpine Region, GWOCGB. Based in Switzerland and is the only overseas branch of the British club.
Black Knight Goldwing Site. Paul Morgan brings us a nice set of pages from the UK.
RepairManual.com. Repair manual for a large range of motorcycles and other vehicles are available here. Really easy to navigate.
Bikelinks4you. A quite substantial directory of motorcycle links.
Americade. The world's largest touring rally. Find out about the event here.
Niehaus Cycle Sales. The Hondaline range of accessories for the GL1800 can be found here, along with lots of pictures & prices.
GL1800 Message Board. This message board came along with the announcement of the GL1800 and has answers to most of the questions we are asking about the new Wing.
Glowire. This company is from Indiana, USA and they do neon lighting kits for Goldwings and other bikes. Great for parades etc. and the kits start at really low prices.
Gold Wings Home Page. Hosted by Mike Roop, from Ohio, USA. Mike brings a perspective from across the ocean and has lots of information for Wing nuts.
Bikersweb. A great online bikers magazine from the UK. Updated regularly.
The Goldwing Club Of Australia. A nice site from a great group of people down under.
God's Country Touring Club. A new (November 2000) and rapidly growing Goldwing homepage from the US. Nicely laid out.
NIBiker. A great site from Northern Ireland. Well informed on the biking scene both locally and further afield..
Motorcycle Union Of Ireland (Southern Centre). The main information web site for Irish bikers. Most of the major Irish clubs & associations can be reached from here and there is plenty of information for the enthusiast.
Colin Appleyard. UK Goldwing & accessory dealers web site.
Goldwing Product Review. Goldwing and general motorcycle products tested and reviewed in magazine articles.
DNK Motorcycle Things. Online motorcycle store which has a large stock of Goldwing and other bike goodies.
Classic Wing Club. This is an excellent site for owners of old Goldwings. Lots of maintenance tips etc.
Wing Things. All of the major Goldwing accessories available from this huge web site. Hard to beat on prices and the enormous range. Secure order form too. I use them and they are very reliable.
David Silver Spares. Well established British company dealing in hard to get parts for older motorcycles, including older Goldwings up to early GL1500 models. Good prices too and thoroughly reliable to deal with.
Motorcycle City. An absolutely huge motorcycle links page listed by country and other categories. Kept fresh with up to the minute links.
Kennedy Technical Group. These are the people to contact if you want to connect your cellphone to your Goldwing. They make an adapter that allows you to use your mobile through the existing helmet headset and the reports are all good! Go to their web site to find out more.
Motorcycle Start 4 All. A large motorcycle links site that seems to get bigger daily!
Sports Resource Zone. Another well stocked links site that is always up to date.
Chrome World. An online shop that stocks most of the well known brand names in Goldwing accessories. Looks really easy to use (although I haven't used them myself yet) and you can order offline too, if you are shy about using your credit card over the Internet.
Motorcycle Reports. A very useful facility on this web site. You can order reports on hundreds of motorcycles, old and new, going back to the 60's.
Butler Motorcycle Mug Holder. A real quality product for holding your drinks on your Goldwing. Far superior to the wire ones that we usually see. Pay a visit and see for yourself.
Sunrise Cycle Goldwing Accessories. These are the people that make the beautiful Daytona wood dash kits. They come highly recommended by anyone in America that I have contact with and I had their walnut dash kits fitted to the three GL1500's that I have owned. At the moment you can't place orders online but can telephone them on 00 1 904 441 6362, that includes the international access code (remember that they are five hours behind Ireland on the timeline). Ask for Mary, she is a very helpful lady. Their prices are much cheaper than ordering from the UK dealers and there is a wider choice of wood finishes, which can be seen on their web site.
Goldwing Owners Club of Great Britain. The main information centre for all the affiliated clubs and members in the UK.
Bikers best. We see John de Weerdt at Goldwing treffens every year. He is the big friendly Dutch guy who sells ' wing accessories at really good prices. For example, the new type headlight as fitted to the 1998 on GL1500's (US models) which sells in Ireland for around £245, Bikers best sell for around £80! You can order a catalogue or goods online.
Broughs Books. This web site link has been repaired, after previous problems forced me to delete the link (visitors couldn't surf to their homepage). Goldwing books and workshop manuals available online, including books on the Valkyrie.
Goldwing Owners Club of Northern Ireland. Goldwing owners from Northern Ireland have their own web site. Click the link to learn more about them.
Texas Wings. The name says it all. Another great site this. All the usual and there is a nice section with a lot of pictures of wing owners with their bikes.
Honda Goldwing Motorcycle Discussion Group. Home of the Wings On The Internet (WOTI) discussion group. This is one mail list that you just don't want to miss out on.
Ironbutt Goldwingers. These guys are real bikers, only high mileage wingers need apply. A very up to the minute and well stocked site that has all the information that a serious tourer needs.
Hot Grips. Heated handlebar grips that are only around a quarter of the price of the Honda item. You can order these online. They are available to fit a number of motorcycles.
Corbin Saddles. You all know this one. A nice site with pictures of their saddles, which are available for a number of machines.
SoloCruiser Inc. Some really great accessories for the Valk owner, many of them I haven't seen available nearer to home. Good reports about this company.
Cruise America. If you plan on visiting the US and fancy touring around, you can hire a Goldwing, Harley or choose from a number of other bikes from Cruise America. The feedback indicates that this is a professional setup and highly rated.
Big Bike Parts. Accessories for most monsters, including Goldwings. These parts are available from many of the UK dealers but are cheaper to buy from the source. A well laid out and easy to navigate site.
GWRRA. Goldwing Road Riders Association. This group claims to be the biggest one marque motorcycle association (for Goldwings) in the world, and it most probably is. Their website certainly is huge, with many chapters throughout America linked to the main one. The GWRRA is also the home of "Wing World" magazine, which has a circulation of almost 70,000 per issue! Nick Hoppner, Wing World's Editor is editor@gwrra.org . This site is a real top quality place to visit, lots to see and learn.
GWRRA. Chapter FL1-H2. This is the sunny Florida chapter and they have a well focused web site, thanks to Cindy Douglass, their webmaster. Pictured here are Patti & James Benson, GWRRA newsletter editor/publisher.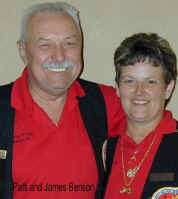 Goldwing Hire In The UK. HGB motorcycles in London can let you hire a GL1500 for a day, weekend or week. You can get in touch with them through the above link. By the way, you must be over 35 years old to avail of this service.
Black Forest Motorcycle Tours. Available from the Black Forest Shop. Various bikes, including Goldwings are available. Not cheap, but having been to the area several times over the years myself, I know that you will see some breathtaking scenery;
Motorcycle Action Group, Ireland. I know, not a Goldwing subject in the strictest sense, but this one deserves a mention because MAG's activities concerns the rights of all Irish bikers. This dedicated group of men and women have been striving for better rights for bikers for some years now. They have been instrumental in helping to stave off some of the crazy anti - bike laws that came out of Brussels in the past and - very significantly, managed to get Carole Nash involved in the Irish motorcycle insurance scene, bringing some welcome competition to our market. Almost every biker over twenty - five years old has benefited from the new situation. The continued existence of MAG benefits everyone who rides motorcycles in Ireland and becoming a member is in your interest. MAG is also the home of Roadrunner Magazine, which has improved vastly in recent times and is alone worth MAG's subscription price. I have been a MAG member since 1994 and cannot endorse the group highly enough. Click the link to visit their web site and see for yourself, the touring directory and bikes for sale sections are excellent.
Goldwing Radio Repairs. Service Department, Clarion Canada Inc. 2239 Winston Park Drive, Oakville, Ontario, L6H 5R1. Telephone 00 1 905 829 4600 Fax 905 829 4608. Send the radio, they will give you a quote and the rest is up to you.