Wolfe Tone Youth Club News & Notices
Next Executive meeting: Tuesday 21st May 2013. 8.00.
Next managers meeting: Thursday 23rd May 2013. 8.00.
A.G.M. Tuesday 28th May 2013.

Lucky Numbers Draw 25th April 2013.

Jackpot was €3100, no winner, three €20 winners and 20 €50 winners. This is the final draw for this season. Jackpot on resumption will be €2100. Thank you for your support.
17-05-2013: FREE goalkeeper training.
There is a FREE goalkeeper training session at Ballinalea Park, Ashford on Wednesday 22nd May from 6.30- 8.00. The training will be run by Darren Kelly, ex Ipswich Town and Ireland Youth and also former League of Ireland goalkeeper Ian Fowler. They welcome all keepers and aspiring keepers of all ages and all standards to this free session. Further details from Ian Fowler at 086 3651333. Click here for info.
16-05-2013: League and Shield success.
Wolfe Tone's all-conquering u14C wrapped up the League Division One title last night to add to the Division Two Shield already secured. They play for an amazing treble in the Division One Cup final v Arklow Town B on Saturday in Wicklow. Fantastic achievement boys, all the best on Saturday- please go along to support them if you can.
Also, congratulations to u11A who have qualified for the Division Two Shield final where they will meet either Avonmore or Wicklow Rovers. Well done to them and good luck in the final!
12-05-2013: U14 Cup Final.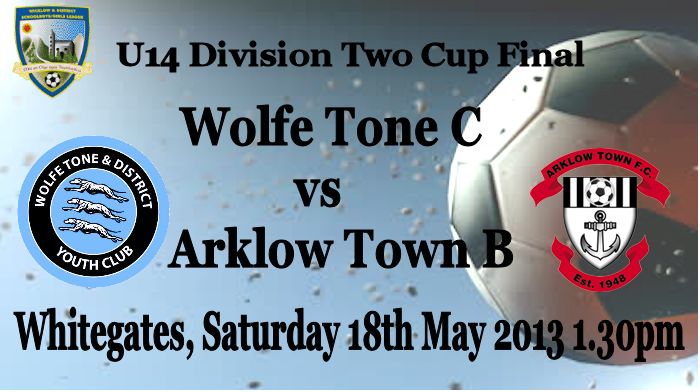 12-05-2013: Twirlers Display.
Wolfe Tone Baton Twirlers are having a display tomorrow, Monday 13th May at 5.30 in the club. The display is of all the winning routines performed at the National Championships recently. it is for family and friends of the girls and also anyone thinking of joining the Twirlers, drop in as they are recruiting at the moment.

09-05-2013: U14 Cup Final.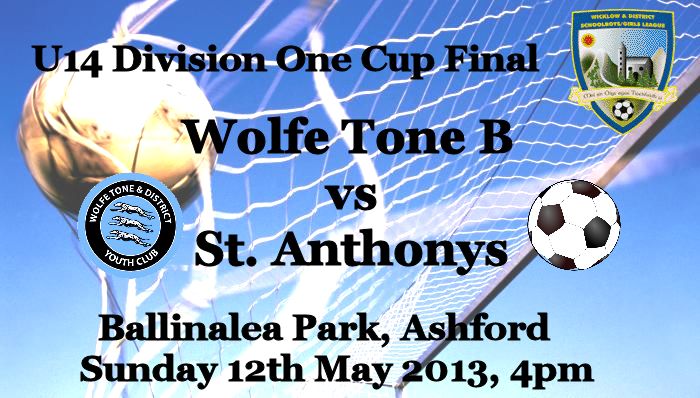 06-05-2013: U11 Cup Final.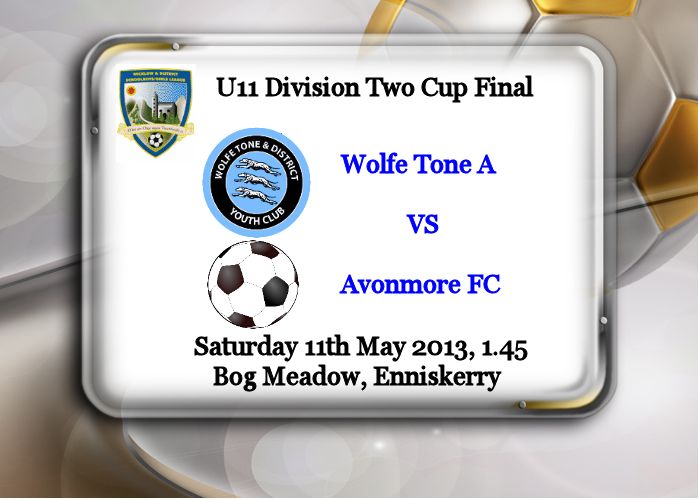 05-05-2013: U11 Cup.
Congratulations to Wolfe Tone u11A who beat Aughrim Rangers in the Division Two Cup semi-final today to qualify for the final. Well done to everyone involved!
Also, best of luck to u12B who take on Arklow United in a Division Two Shield play-off on Thursday evening at Newtown, 7pm.
02-05-2013: Shield success.
Congratulations to Wolfe Tone u14C who picked up the club's first silverware this season after a fantastic extra time 4-2 win against Ardmore Rovers in Ballywaltrim on Thursday evening. The team who lost their keeper to a controversial red card early in the second half showed great resilience to overcome a dogged Ardmore team. Well done boys! Some pictures here: http://bit.ly/13Q7Vk5
Team manager Robbie Flanagan has asked us to pass on a big thank you from the team for the fantastic support at the game. It was great to see such a large turnout to cheer on the boys, it meant a lot to the team so well done to everyone who showed up!