Wolfe Tone Youth Club News & Notices
Next Executive meeting: Tuesday 21st May 2013. 8.00.
Next managers meeting: Thursday 23rd May 2013. 8.00.
A.G.M. Tuesday 28th May 2013.

Lucky Numbers Draw 25th April 2013.

Jackpot was €3100, no winner, three €20 winners and 20 €50 winners. This is the final draw for this season. Jackpot on resumption will be €2100. Thank you for your support.
17-05-2013: FREE goalkeeper training.
There is a FREE goalkeeper training session at Ballinalea Park, Ashford on Wednesday 22nd May from 6.30- 8.00. The training will be run by Darren Kelly, ex Ipswich Town and Ireland Youth and also former League of Ireland goalkeeper Ian Fowler. They welcome all keepers and aspiring keepers of all ages and all standards to this free session. Further details from Ian Fowler at 086 3651333. Click here for info.
16-05-2013: League and Shield success.
Wolfe Tone's all-conquering u14C wrapped up the League Division One title last night to add to the Division Two Shield already secured. They play for an amazing treble in the Division One Cup final v Arklow Town B on Saturday in Wicklow. Fantastic achievement boys, all the best on Saturday- please go along to support them if you can.
Also, congratulations to u11A who have qualified for the Division Two Shield final where they will meet either Avonmore or Wicklow Rovers. Well done to them and good luck in the final!
12-05-2013: U14 Cup Final.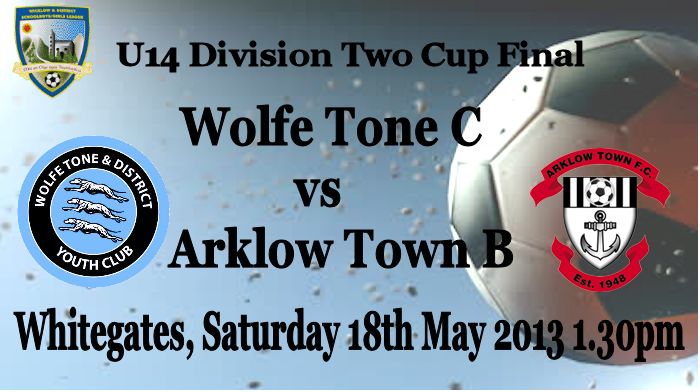 12-05-2013: Twirlers Display.
Wolfe Tone Baton Twirlers are having a display tomorrow, Monday 13th May at 5.30 in the club. The display is of all the winning routines performed at the National Championships recently. it is for family and friends of the girls and also anyone thinking of joining the Twirlers, drop in as they are recruiting at the moment.

09-05-2013: U14 Cup Final.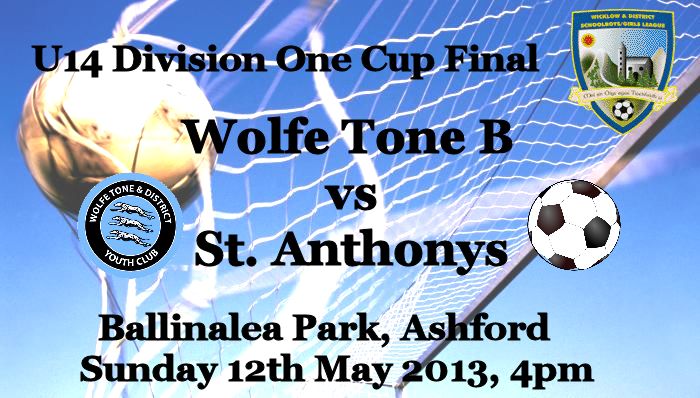 06-05-2013: U11 Cup Final.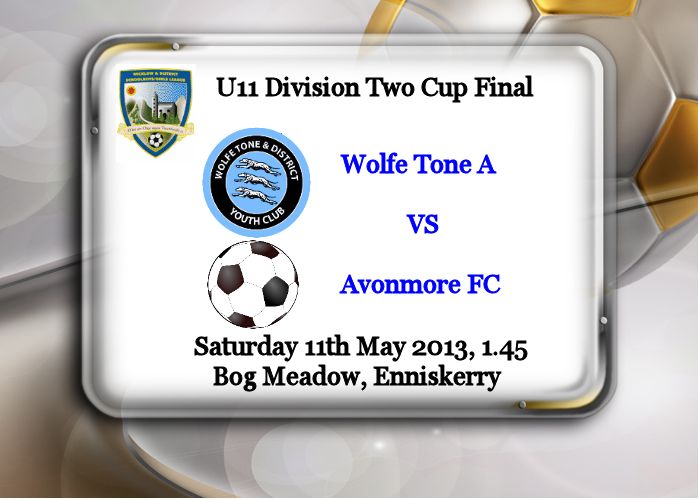 05-05-2013: U11 Cup.
Congratulations to Wolfe Tone u11A who beat Aughrim Rangers in the Division Two Cup semi-final today to qualify for the final. Well done to everyone involved!
Also, best of luck to u12B who take on Arklow United in a Division Two Shield play-off on Thursday evening at Newtown, 7pm.
02-05-2013: Shield success.
Congratulations to Wolfe Tone u14C who picked up the club's first silverware this season after a fantastic extra time 4-2 win against Ardmore Rovers in Ballywaltrim on Thursday evening. The team who lost their keeper to a controversial red card early in the second half showed great resilience to overcome a dogged Ardmore team. Well done boys! Some pictures here: http://bit.ly/13Q7Vk5
Team manager Robbie Flanagan has asked us to pass on a big thank you from the team for the fantastic support at the game. It was great to see such a large turnout to cheer on the boys, it meant a lot to the team so well done to everyone who showed up!
29-04-2013: U14 Division Two Shield Final.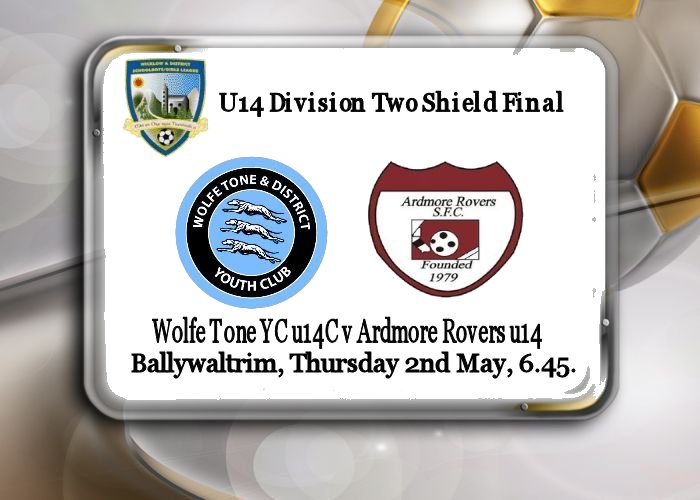 20-04-2013: Wolfe Tone Academy.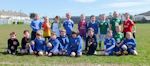 Ashford Rovers visited our 11am academy for a game this morning. The children had a great morning, enjoying their football. Next Saturday Wolfe Tone YC's two Academy groups will visit Glencormac FC. Click on the photo on the left for a larger image of the two clubs Academys together this morning.

16-04-2013: Wolfe Tone Baton Twirlers.
Best wishes to Wolfe Tone Baton twirlers who take part in the IBTA National Championships this weekend. This is the group's third year competing at the Nationals and we wish them every success, all that training will pay dividends!

13-04-2013: Fees for season 2012-13.
Unfortunately some fees for this season are still outstanding. Members should be aware that failure to pay your fees will mean you may not be re-signed next season and this may have the effect of the club losing teams. If you have not done so, please make urgent arrangement to pay your fees now.

13-04-2013: Cost of hiring the Centre.
The Club has revised the rates for hiring the various rooms in the Centre. The cost for a two hour party (hall, balcony, kitchen) is now just €60, one hour is €30. The main hall can be hired for €20 per hour. See Here for details.

13-04-2013: Temple Sportsfield training times.
With teams training outdoors and midweek matches, it is essential that teams adhere to their alloted training times on the pitches. Please see the schedule here

Click here for training rota.

26-03-2013: Beware of scammers.
It has come to the notice of the club that someone is going door to door supposedly fundraising for Wolfe Tone Youth Club. The club is not doing any door to door fundraising at this time and the Gardai are investigating. If anyone has any information please pass it to the Gardai and please watch out as one woman had her purse stolen by this person.

21-03-2013: Sympathy.
Wolfe Tone Youth Club extends its sincere sympathy to u12A coach Stephen Whelan on the death of his father, Peter. May he rest in peace.

20-03-2013: Loreto training.
Due to pitch maintenance in Loreto over the next few weeks, training there for this season has now finished for all teams.

18-03-2013: Academy Easter break.
There will be no Wolfe Tone Academy on Saturday 23rd or 30th March due to the Easter break. The Academy will resume on Saturday 6th April 2013.

17-03-2013: St. Patrick's day parade.
Well done to everyone who marched in the parade with the club today, the rain failed to dampen spirits! Some photos are online- Click here.

12-03-2013: St. Patrick's day parade arrangements.
All teams are asked to assemble at the club between 1.45-2.00 pm on the day. We will leave at 2.15pm to join the parade. No cars allowed in club car park as the gates will be locked after we depart. Children must be collected by a parent/ guardian after the parade and for younger children, the parent/ guardian should walk beside our group in the parade. The parade will finish outside Jackie O'Driscoll's pub on the seafront (opposite Sealife) and children should be collected from here. Wear your club colours on the day and dress appropriate to the weather.

03-03-2013: Wolfe Tone Baton Twirlers.
Wolfe Tone Baton Twirlers recently took part in an event in Greystones. Some photos from Rebecca Britton are in our albums- Click here.
28-02-2013: Old football jerseys wanted.
Paul MacManus is looking for old football jerseys for a charity which will send them to Tanzania. You can drop them into the club for Paul to collect.
26-02-2013: St. Patrick's weekend.
There will be no WDSL fixtures on St. Patrick's weekend, 16th- 17th March.
16-02-2013: Shield success.
Congratulations to u14C for the second week in a row as they beat Enniskerry by 5 goals to 1 to qualify for the u14 Division 2 Shield final. Now just need to bring home the silverware! Well done to everyone involved.
16-02-2013: Temple Sports Field.
Temple Sports Field 11-a-side pitch is open tomorrow, Sunday 17th February.
16-02-2013: Academy.
Wolfe Tone academy took part in a blitz at Ashford Rovers this morning and it was a great experience for the children. Thanks to Ashford Rovers who looked after everyone very well. Photos of the group are Here. A fantastic album taken by Steve Waldren is also on Picasa- Click here.
13-02-2013: Mobile website.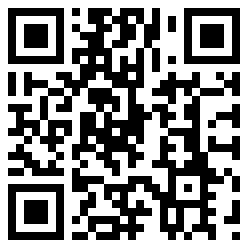 We are testing a mobile version of our website. The URL for your mobile device is http://wolfetoneyouthclub.ginwiz.com/
You can also scan the QR code on the left with a QR code reader. We would appreciate any feedback to info@wolfetoneyouthclub.com
09-02-2013: Cup update.
Congratulations to u14C who have qualified for the Division Two Cup final after an impressive 5-1 semi-final home win v Avonmore.
07-02-2013: U11A fundraising dates.
The U11A team is fundraising for a trip to England at Easter. The following are the events they have organised. Please support them if you can. Further details are available from any of the u11A management team.
22nd February. Table Quiz upstairs in Chrissy D's.
2nd March. Sponsored walk from the Vevay up to Bray Head with the kids.
9th March. Bag packing in Dunnes Stores in Portmarnock. Parents only.
14th March. Benefit night in Chrissy D's with our ticket draw & music.
07-02-2013: County players.
Congratulations to Victor Adamson of Wolfe Tone YC u11A team who has been selected on the u11 Wicklow representative squad. Also, congratulations to James Hanaway of our u14A team who is on the u14 Wicklow squad.
03-02-2013: Membership fees.
Outstanding membership fees are now overdue. If you have not paid your fees, please arrange to do so immediately. The club will have to look at the option of stopping players from playing unless fees are paid.
26-01-2013: A note on club fundraising.
Wolfe Tone Youth Club organises a number of fundraising initiatives throughout the year.
We run a weekly Lucky Numbers draw in conjunction with Ballywaltrim FC, the cost of this is €2 per envelope.
We run bag-packing events in the local supermarkets. Club members and parents volunteer their time for these events.
Our Christmas Draw is our major annual fundraiser. Members sell the tickets and return them to the club with the money raised.
The club needs to fundraise for a number of reasons. We have the cost of running and maintaining the Community Centre. Bookings for the Centre are down significantly but the bills still need to be paid. Membership fees are slow to come in but the club still has to pay League fees, training fees, coach education, etc.
In 2013 we hope to begin work on renovating the pavilion building. Unfortunately we received no funding from the Sports Capital programme. We will provide first class changing facilities which will be available for all the users of the Temple Sportsfield. We hope to also do some work on the pitches, mainly drainage.
The cost of this to the club is significant so our fundraising efforts will continue. We need everyone to support us in this- to buy the Lucky Numbers envelopes each week, to volunteer for the bag-packs and to support our Christmas Draw.
18-01-2013: All WDSL games off this weekend 19th- 20th January.
The WDSL have decide to call off all fixtures for this weekend.
This decision has been made in the interest of general safety for all concerned.
All games will be rescheduled for a future date.
15-01-2013: Young players wanted.
Wolfe Tone Youth Club has places available in our Academy for boys and girls born 2006- 2007. Our u8 team also has room for some new players (born 2005). E-mail us at info@wolfetoneyouthclub.com for more information or drop into the club.
09-01-2013: Lucky Numbers Draw.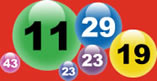 The Lucky Numbers Draw resumes on Thursday, 17th January. The jackpot stands at €2400 with three €20 winners each week. Please get your envelopes in on time for the draw.