Please Select A Publication


The Cavan & Leitrim Railway - The Last Decade - An Irish Railway Pictorial


Signalman's Memories


The Works - Celebrating 150 Years Of Inchicore Works


Down Memory Lane


Irish Steam Loco Register


Irish Narrow Gauge Today


Cavan & Leitrim Revival
When you have chosen the publication you want you can go to the Order Form to place your order.

---
The Cavan & Leitrim Railway - The Last Decade - An Irish Railway Pictorial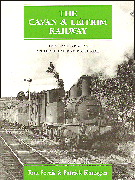 by Tom Ferris and Patrick Flanagan
Large Format, 64 pages, soft back, over 150 b/w photographs.
ISBN: 1-85780-073-7
Product Code: TFPF-02-CLR
Price: IR£10.00
This book is Midland Publishing second large format photo-albums on the Irish narrow gauge. This publication concentrates on the Cavan and Leitrim Railway, covering the final decade and the aftermath of closure of the railway, as well as its subsequent rebirth. Containing many previously unpublished photographs this book is a must for those interested in railways and die-hard enthusiats alike. As an added bonus all royalties from the sale of this publication are being donated to our project.




---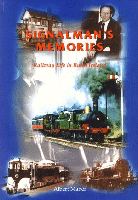 Signalman's Memories
by Albert Maher
A5 Format, 170 pages, soft back, heavily illustrated.
ISBN: 0-9533654-0-9
Product Code: AM-01-SM
Price:
IR£6.99
"Signalman's Memories" is the distillation of a series articles on the railways of the Irish south midlands contributed overs recent years to the Tipperary Star newspaper by retired railway inspector Albert Maher. The articles contain brief histories of the development of the railway on the Dublin-Cork main line between Portlaoise and Mallow, including the branches to Abbeyleix, Roscrea, Birr, Clonmel and Cashel, all areas in which the author either worked or lived.Also included are stories of the many colourful characters who worked with the author on the railways from the 1940's onward and whose contributions made the tough life of the railways in the immediate post-war years more bearable




---
The Works - Celebrating 150 Years Of Inchicore Works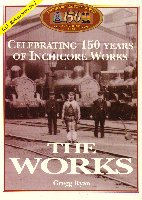 by Gregg Ryan
A5 Format, 96 pages, soft back, interesting b/w photographs.
Product Code: GR-01-TW
Price:
IR£6.95
It's a familiar sight to thousands of rail passengers every day. It has been the principal source of employment for generations of an entire community, providing not only food for the table, but recreation, education, welfare facilities and even housing, on a scale unheard of by most industries in Victorian Ireland.
Inchicore Railway Works is the largest engineering complex of its kind in the State. It is a landmark, identifiable by rail passengers with its unique turreted facade, the work of Sancton Wood who also designed Hueston (formerly Kingsbridge) Station as the terminus for the Great Southern & Western Railway.
'The Works', as the railway complex has always been known, has played a major role in Irish Life through the great epochs of history. Inchicore was making contributions to advancing when the British Empire was the only one on which the sun never set.
In the turbulent days of the Great War, the Works turned out munitions; in the 'Troubles', the workforce was equally adept at making their skills available to Independence Fighters - and during the Civil War, Inchicore provided armoured vehicles. World War II defences were also provided for by the men at Inchicore, in preperation for any invasion during what was then termed 'The Emergency.'
Innovations, from Dr. Drumm's battery train to Bulleid's Turf Burner, were unique to Inchicore. Today, 'The Works' still thrives, adapting as always to new technology in order to survive - though on a greatly reduced workforce.
Through out good times and bad, the men and women of Inchicore made, and continue to make, a unique contribution to the infrastructure of the State.
This book is not a technical manual - it is not compiled principally with the railway enthusiast in mind. It is about people, the personalities who made Inchicore what it is today, from the great engineers to the labourers, the girls of the 'sewing class' to the boys who entered its gates on grey, January mornings in wartime to begin careers as engine-cleaners, fitters or body-makers.
It was compiled as a tribute to their ingenuity, their hard-won skills, for the 150th Anniversary Year.




---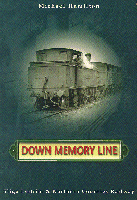 Down Memory Lane
by Michael Hamilton
A5 Format, 128 pages, soft back, heavily illustrated.
ISBN: 1-873431-18-8
Product Code: MH-01-DML
Price:
IR£6.50
Written by our member, Michael Hamilton, an ex. Sligo, Leitrim & Northern Counties Railway employee, this book also sets new standards for social histories of minor railways. Michael is a third generation railwayman and the book is written with the authority of one who was there, from the schoolboy who grew up in a railway gatehouse to become a boy porter and then a guard. Many interesting photographs and documents contribute to what is a well written, most importantly, a well printed publication.




---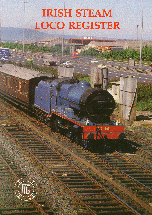 Irish Steam Loco Register
by the Irish Traction Group
A4 Format, 144 pages, soft back, b/w photographs.
ISBN: 0-947773-33-9
Product Code: ITG-02-ISLR
Price:
IR£10
IR£6.50
(Save £3.50)
The Irish Traction Group presents this list of all known steam locomotives of the public railways, tramways, contractors, and industrial lines. In addition it records references to unidentified steam locomotives, but it may never be possible to give fuller details of such locomotives, nor be certain that every locomotive has been accounted for in this volume. Non-steam traction is not covered in this book.




---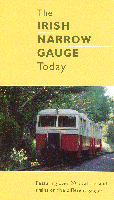 Irish Narrow Gauge Today
Midland Publishing/Cavan and Leitrim Railway
VHS Full Colour Video, running time 55 minutes.
Product Code: MPV-18-INGT
Price:
IR£10.00
For most enthusiasts the Irish Narrow Gauge died in 1961 with the closure of the West Clare Railway - the last passenger carrying narrow gauge line. However, today a flourishing narrow gauge preservation scene is to be found North and South of the border.
This video features all the established preservation sites such as the Foyle Valley Railway in Derry, Peatlands Park at Dungannon, Tralee/Blennervile, and the Cavan and Leitrim. Embryonic projects at Fintown in Co. Donegal and the West Clare at Moyasta Junction are also covered.
Industry is not overlooked and several interesting Bord na Mona locations not covered in "Irish Railways Volume 6 - Peat Railways Of Ireland" are included. A visit to the Irish Steam Preservation Society at Stradbally and a look at a private peat bog in the midlands complete the picture.




---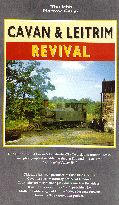 Cavan & Leitrim Revival
Midland Publishing/Online Video
VHS Video, running time 30 minutes.
Product Code: MPV-07-CALR
Price:
IR£10.00
This video has been produced by Midland Publishing and Online Video for the Cavan & Leitrim Railway Company Limited, which is rebuilding part of the line from Dromod north towards Mohill, as an attraction for visitors to this unspoilt part of Ireland. The video consists of cine film of the original line while it was still in operation, around the time of closure and video footage of the early days of the restoration project in Dromod. A good reminder of what has been acheived by those in Dromod in such a short period of time.




---