YOUR LOCAL PIRATE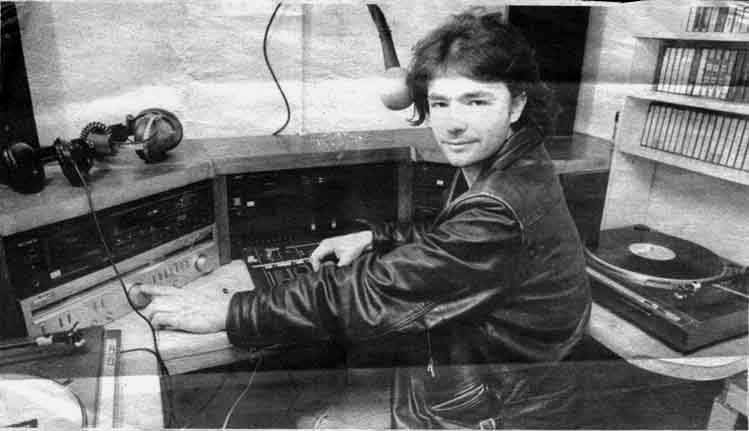 CREEPY,HOST OF THE CREEPY CRAWLEY SHOW,IN THE STUDIO.
By Justin Hynes
In the heyday of pirate radio anybody with even the remotest interest in broadcasting could buy some relatively cheap gear,and flood the airwaves with their favourite records and happily indulge in their DJ-ing fantasies.
The independent radio and television commission,however,put paid to those days with the granting of licenses for three major radio stations.The days of the amatuer broadcasters were well and truly over.There were,of course,a handful of dedicated broadcasting buccaneers who kept the pirate flag flying,Radio Dublin being the most notable.
Then almost six months ago,a new station appeared.Dun Laoghaire Local radio began broadcasting on 106 f.m. in February,to provide the Borough with its own local radio station.John Daly,a founder of the station,told Southnews that the setting up of D.L.R. was a reaction to the I.R.T.C.'s lack of action on the community broadcasting licenses.
"We have been into the I.R.T.C. to find out about the community licenses,but there were none pending",he said."Most of the people at D.L.R. have been involved in radio for years,and it's the only living they know.So we went ahead and set up the station to provide a local service for Dun Laoghaire".
When the station began broadcasting the format was restricted to playing continuous music tapes,with DJ-s only going on the air at the weekend,to vastly increase the amount of local input into the station.
"At the momeent it's mostly music,and we will play any music people want to hear",he said."If someone sends in a request for a particular record then we'll play it,there is no rigid fiormat to the mosic we play.You might hear megadeath one minute and Neil Diamond the next!".
"We are upping the amount of community related material on the station as people become aware of it",he said."We will be featuring a lot of local news and interviews with local people.The point we want to stress is that D.L.R. is a station for the community.If there is any information people would like to pass we'll broadcast it.It is first and foremost a local station".
Summer 1993