art
Contact Details:
8 Daleview, Ballybrack Village, Co. Dublin, Ireland.
Tel and Fax: 353 1 2824989.
Mobile: 086 4127200
Email: copperfastened@hotmail.com

Anthony Kelly was born in Dublin, Ireland and from 1985 to 1989 he attended Dun Laoghaire College of Art & Design graduating with a Distinction in Fine Art. Since then he has exhibited regularly. His recent work includes:

The Floating World
October 2002 (Paintings) West Cork Arts Centre, Skibereen

Zone de Confort
February 2002 (Paintings) Gallerie de Saint Lucie, France

Seventh International Wexford Artists' Book Exhibition
August 2001 Wexford Arts Centre (Limited edition book)

Iontas 2001
June 2001(Paintings) Sligo Art Gallery, Ormeau Baths Gallery, Belfast & Crawford Municipal Art Gallery,Cork
curated by Nuala Fenton, Fenton Gallery, Cork & Dr Isobel Johnstone, Hayward Gallery, London

Her Reward
2001 Short experimental film, colour, super 8mm

Copperfastened
online perpetual film 2001
www.geocities.com/copperfastened/

Comfort Zone
Dec 2000 Wicklow Arts Centre (Paintings/Limited edition book)
in collaboration with the writer Nicole Proetta.

The Mirror of the Sea (with Jay Roche)
September 2000 Concourse Space, County Hall, Dun Laoghaire Installation Programme
Included public talk & discussion session and publication of catalogue.

No Trustpassing
September 2000 Catalyst Arts, Belfast.
(Mixed Media Assemblage)

Lure (with John Carter)
August 2000 Signal Arts Centre ( Painting installation work)

Darklight/Straylight
May 2000 Arthouse (Projection Installation) in association with Pallas Studios Dublin.

Intermissions
Feburary 2000 Arts Centre Co. Wicklow (Projection Installation)

Pallas Salon Show
2000/1999 Pallas Studios Dublin (Paintings)

Open
1999 Dundrum open submission show (Mixed media assemblages)
curated by Therry Rudin

Unfinished conversation
1999 Dun Laoghaire Rathdown Co. Council Offices
(Projection Installation)

Sharkbite
1999 Arts Centre Co. Wicklow (Installation)

At random (with Alan Lambert)
1999 Arthouse Temple Bar Seed (Projection Installation)

Architecture and timecode @ night
(with Alan Lambert)
1998 Arthouse Temple Bar Aspidistra
(Projection/Video Installation)

Anthony Kelly is a member of the independant filmakers group 'Solus'

His work is represented in the Dun Laoghaire Rathdown Co. Council Public collection, The French & Japanese Embassies, Fyffes Corporate collection and also in many private collections.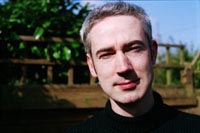 art