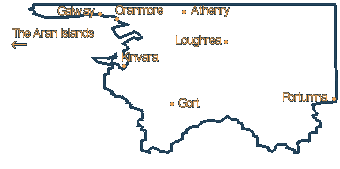 Kilmacduagh
5km from Gort on the Corofin road, Kilmacduagh is a holy

place founded by St. Colman, son of Duagh, in the 7th century.
The monastic remains are striking and encompass a Church of Ireland cathedral, part of which dates from the 10th century; an excellent example of a leaning round tower structure; John the Baptist's church and St. Mary's Church, also in ruins. There is a tower house north of the cathedral, which served as the abbot's house.
There is also a small monastery of Augustinian Canons (12th-13th century) known as O'Hyne's Monastery.

Kinvara
(Cinn Mhara - the head of the sea)
Kinvara is a quaint and colourful market and fishing village nestled between the limestone mountains of the Burren and the waters of Galway Bay.
Kinvara was once a thriving port. In the 19th century traditional Connemara sailing crafts would fill Kinvara Bay laden with

turf and other essentials. The Cruinniú na mBád summer sea festival is organised by the village to recall this trade and sees the Galway Hookers compete in thrilling races and events. Another summertime festival is the Fleadh ná gCuach, a traditional music festival held on the first bank holiday in May. Dún Guaire castle, 1 km from the town, is a 16th century castle, which stands out prominently on the seashore. Named after the 7th century King of Connaught, Guaire whose palace had occupied the same site, the castle was built by the O'Hynes and later passed into the hands of the O'Shaughnessy and then the Martyn families. It was sold to John Gogarty a poet and writer in 1924 who subsequently sold it to Lady Christabel Ampthill. The castle is open to the public and hosts medieval banquets with traditional Irish music and story telling.
Duras House, 5 km west of Kinvara, was formerly the home of Count Florimond de Basterot (1835-1904), a famous writer and traveller of the time. It was Count de Basterot, together with his friends Martyn, Lady Gregory and W.B. Yeats, who developed the idea of the Irish National Theatre, which emerged as the Abbey Theatre.

Kilcolgan
(Cill Cholgáin - The Church of Colga)
The village is named after St. Cloga, who

left Iona in the 6th century to found his own monastery. (Which now lies under the Protestant church) Kilcolgan Castle overlooks the estuary of the Dunkellin River and was once the home of the St. George family who also owned Tyrone House (now in ruin).
Drumacoo, an ancient church site, dedicated to St. Sourney, contains the St. George family vault.
Moran's famous Weir Oyster Pub can be found at the mouth of the Dunkellin River, an impressive sea trout fishery.

Oranmore
Located at the Eastern end of Galway Bay,

Oranmore falls under the shadow of the Clanricarde Burke castle, which played a prominent role in history during the Civil and Cromwellian wars.
A megalith or large stone tomb lies on the other side of the Galway Road. Classed as a boulder dolmen, this structure has been dated to 2,000 B.C.
Galway Bay Golf and Country Club contains a championship golf course, clubhouse and leisure centre at scenic Renville Park.