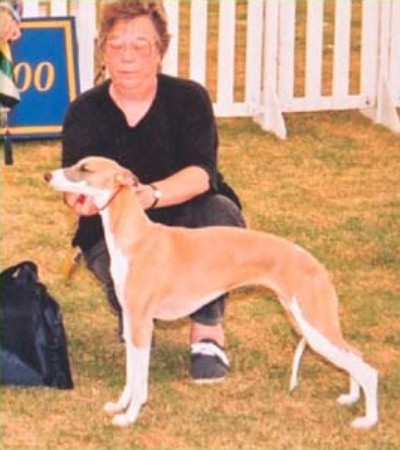 We got her from Barry and Carole Kennett (Selinko) at just six and a half months. Barry and Carole owned her mother, Cranberry, and whelped the litter in their home. I wanted to buy Cranberry but Carole sensibly wouldn't let her go. So she suggested Lily.
Among her many wins, some highlights:
BP at Manchester under Edith Newton - Nevedith
BP, BOB under Lyn Yacoby (Cobyco) and RBPIS under Andrew Brace (Tragband)
BPIS under Marian Spavin (Dialynne)
Junior Stakes under Albert Wight (Sharval)
CC at Belfast under Marian Spavin (Dialynne)
RCC at Northern Ireland Whippet Club under Ferelith Somerfield (Oudernarde)
She has also won since arriving in Ireland and is part way to her title.
She is usually handled by my mum, Jennifer winning the junior stakes on a stinking hot day at Windsor 2000
She is now retired to kick up her heels on the sofa.