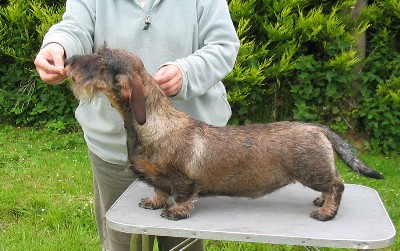 Rita was the baby of Olive's first litter but she has grown up into a beautifully balanced bitch.
First time out she won a lovely puppy class of four with a dual RCC winner behind her under Mrs Bethel (Hampdach).
She has unfortunately had to spend most of 2007 behind Jessica but finally she won her final point at the last show of 2007. During the year she has won masses of open classes. On the Circuit 2007, she won two out of three open classes with over ten bitches in competition and the other she was second.
In England she has always been placed in her classes.
During 2008 she tried motherhood and was very good once she realised that the singleton puppy was actually hers. The hot water bottle was definately a welcome bonus.

Click here for a collage of cute puppies of her and her siblings.