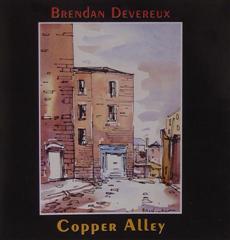 This is Brendan's first collection of songs. The title track takes it's inspiration from the life and work of the Dublin poete maudit James Clarence Mangan, who lived and died in the first half of the nineteenth century.
This album is available for sale via the links below. Copper Alley is also available directly from Brendan at 20 Euro incl. post and packaging to anywhere in the world. (See here for contact details.)
"......[Brendan Devereux is] an undiscovered talent..... and is worth keeping an eye on". - John O Regan Froots magazine.
You can listen to samples of Brendan's songs.
Rescue Me

The Silver Spoon

Ginto

Deremedy

Don't You Know The Rhythm of Your Heartbeat Fight My Way
Forever You When You Find Love Festival Weekend
The Girl That Got Away Copper Alley