Home
The Beach
History
Pictures
The Church
How to Find Us
Links
Walks
Angling
Village Hall
Local Attractions
Local Accommodation
Brittas Bay News
Events for 2002
Golf
County Council
Airfield
Eating Out

Last Edited 1st February 2004
Please contact the
Webmaster with any queries,
suggestions or broken links.
Copyrightę2001-2004
Best Viewed at 800x600

Visit our new site being developed at:- www.brittasbay.org
Welcome to the Web Site of
Brittas Bay
Co. Wicklow
Incorporating Ballynacarrig. Situated in a Designated Area of Outstanding Natural Beauty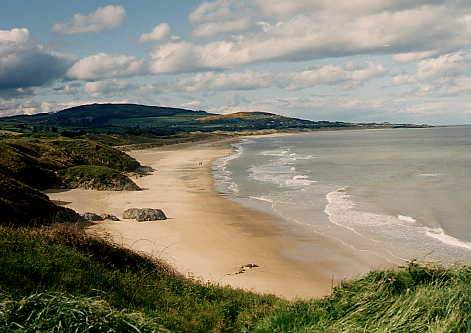 The Picturesque Bay at High Water
Brittas Bay is one of the finest beaches on the East Coast and is the most popular beach around for day tripping Dubliners to get out of the city on a summer day. Brittas Bay has a 5km stretch of beautiful white sand dunes and clean beaches. This beach has won a European Union (EU) Blue Flag - the interntional emblem for the highest quality beach areas in Europe - for five consecutive years. With no headlands to interfere with the peaceful rhythm, it is ideal for bathing, sailing and walking. Brittas has a 2mile/3.2km stretch of powdery sand and sand dune system which is a designated area of significant interest. The dunes are home to many interesting wildlife species and plants, including a number of rare species.
Brittas - the word, which occurs in Brittas Bay, the County Wicklow seaside resort, and in several Irish place-names is a direct borrowing from the Old French bretesche meaning "brattice/boarding/planking". The word refers to wooden defences often associated with a motte or castle-mound of the Anglo-Norman period; the use of the word "brittas" in place-names implies that the mound in question is an Anglo-Norman motte, rather than a native Irish raised earthwork.
Click here to submit your site to the search engines for free!
Site design and evolution by:-

.