JOHN S. BECKETT
(5th February, 1927 – 5th February, 2007)
Irish musician, composer and conductor,
and cousin of the writer and playwright Samuel Beckett.
<![if !vml]>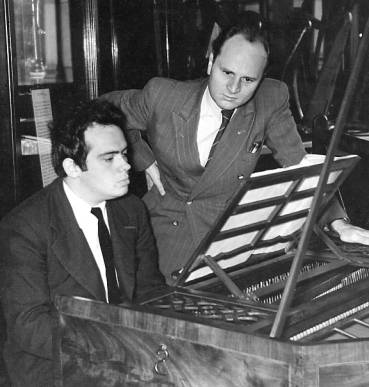 <![endif]>
John Beckett with the German conductor Otto Matzerath, at the Weber
harpsichord in the National Museum, Dublin , 1950.
(Courtesy of Gillian Smith.)
<![if !supportEmptyParas]> <![endif]>
John Stewart Beckett and his twin sister Ann were born in Sandymount, Dublin to Gerald and Peggy Beckett. Gerald, brother of Bill Beckett (Samuel Beckett's father), studied medicine at Trinity College Dublin and became County Medical Officer for Wicklow. Gerald played rugby for Ireland, and captained a golf club. A quiet man with wide interests, he was quite irreligious, with a dry sense of humour, describing life as "a disease of matter". He was very musical and enjoyed playing piano duets with a neighbour (David Owen Williams, who later became a director in the Guinness Brewery) and also with his nephew Samuel Beckett and with his son John. John inherited his father's mordant wit, but not his love of sport.
<![if !supportEmptyParas]> <![endif]>
John attended St Columba's College, Dublin, where he was taught music by Joe Groocock, whom he admired little short of idolatry, and who furthered his lifelong devotion to the music of Johann Sebastian Bach. (John shared the same initials, J. S. B., with the famous composer.) John wrote his first fugue at around the age of fourteen in the Groocock family home while visiting one weekend.
<![if !supportEmptyParas]> <![endif]>
John's father's friend Mr Williams, who had served in Germany during World War II, brought home a complete set of vocal scores of Bach's Cantatas, which made a huge impression on John.
<![if !supportEmptyParas]> <![endif]>
The Becketts lived for a time in Dundrum and then, in 1933, moved to Greystones, County Wicklow. John's father worked in Rathdrum, also in Wicklow.
<![if !supportEmptyParas]> <![endif]>
John furthered his study of music by attending the Royal College of Music in London. He was there in 1948 but spent the year of 1949 in Paris, where he studied composition under Nadia Boulanger and taught English in a school at Saint Germain-en-Laye. He returned to Dublin in 1950 and his father died in September of that year. Between 1950 and 1952, he befriended the pianist, organist and harpsichordist John O'Sullivan, Michael Morrow (whom he met in the National Library) and the singer Werner Schürmann. Michael Morrow (1929-1995), who was born in England but lived in Ireland at that time, studied in the National College of Art and was a self-taught musician – his father had given him a present of a recorder when he was fourteen years of age. He brought John to his home at Strand Road, Merrion and, playing his lute, accompanied his teenage sister Brigid who sang songs by John Dowland. Michael, Brigid, Werner and John Beckett played recorders and Werner's small octavino (a portable spinet tuned an octave higher than normal pitch) came in handy as a continuo instrument. John persuaded Werner to sing some German songs for a Radio Éireann broadcast. At around this time, John also met the harpsichord maker Cathal Gannon. John obviously formed a favourable impression of Cathal, for he later said, 'I took to him like a duck to water. I liked him, I respected him and I respected his knowledge, his interests, his enthusiasm, his simplicity, his directness, and became very, very, very affectionately fond of him.'
<![if !supportEmptyParas]> <![endif]>
To celebrate the bicentenary of Bach's death in 1950, John played the harpsichord continuo part in a performance, in the Metropolitan Hall, Dublin, of Bach's B minor Mass, sung by the Culwick Choral Society and the Radio Éireann Choir, conducted by Otto Matzerath. The historic Weber harpsichord of circa 1768 was borrowed from the National Museum for the occasion, but as it could not be tuned up to the correct pitch, John was obliged to transpose and play the continuo part (the 'thorough' or 'figured' bass) in C minor – a semitone higher – while the rest of the orchestra played in the original key. John remembered that the harpsichord was not in good condition.
<![if !supportEmptyParas]> <![endif]>
John met Vera Slocombe, who had been married to the cinematographer Douglas Slocombe, in Dublin sometime around 1950 and lived with her in a flat in Hatch Street, moving later to a flat in Baggot Street. John and Vera went to London in 1953 with Michael Morrow, who shared a flat with them first in Islington and then in Hampstead until Michael got married. John and Michael often played in a restaurant in Picadilly named Forte's Musical Fountain, earning a few pounds a week. Following the move to London, Michael gave up painting and concentrated on music.
<![if !supportEmptyParas]> <![endif]>
John was back in Dublin again by 1958, when the first complete performance of Bach's Saint Matthew Passion took place, with Victor Leeson conducting the St James's Gate Musical Society. As it was believed that a harpsichord was not available, John played on a piano that had drawing pins attached to the hammers in order to give it a harpsichord-like sound. When the work was performed again the following year in the St Francis Xavier Hall, Upper Sherrard Street, using the same forces, Cathal Gannon's new harpsichord was used. The continuo part was played by David Lee on the organ, John on the harpsichord and by Betty Sullivan on the cello – a collaboration that would last for many years. Although poorly attended because of a gala concert at the Gaiety Theatre on the same evening, the performance was a tremendous success and critiques in praise of it appeared in four national newspapers on the following day. One reviewer wrote:
Betty Sullivan and John Beckett were a lovely continuo. Mr. Beckett was a little insistent at times in the orchestral passages, but his realisation of the harpsichord part was at all times beautifully apt and exciting.
In 1960, Musica Reservata, a group specialising in Renaissance music was founded in London and was directed by Michael Morrow and conducted by John Beckett. The group performed in England and on the continent during the sixties and seventies and made many recordings. In addition to being a keyboard player, John played the recorder and viol. John also composed avant-garde incidental music for various experimental dramas broadcast on the BBC Third Programme; he collaborated with his cousin Samuel, writing music for his stage work, Act Without Words and his radio play Words and Music.
<![if !supportEmptyParas]> <![endif]>
By 1961 John was back in Ireland and was involved in a serious car accident in which he broke his two arms, a hip and an ankle. Whilst recovering in hospital over a period of five months, he practised his music on a clavichord that his friend, Cathal Gannon, had made some years previously. Later in the year he married his partner, Vera. At around this period a record was made of music played by John on Cathal's first harpsichord. In 1963, John appealed to his father's friend, David Owen Williams, now a director in the Guinness Brewery, to provide Cathal with a special workshop in which he could make harpsichords and restore antique pianos. John was present (and photographed) at the handing-over ceremonies in the Brewery when a harpsichord was donated to the Royal Irish Academy of Music in 1965 and another sold to RTÉ in 1966.
<![if !supportEmptyParas]> <![endif]>
Bach's Saint Matthew Passion was performed again in the Concert Hall of the Royal Dublin Society in March 1966, in which the continuo was played by John O'Sullivan on the organ, John Beckett on the harpsichord and Betty Sullivan on the cello. The performance featured two orchestras conducted by Victor Leeson, The Guinness Choir, The O'Connell School Boys' Choir and various soloists, including Bernadette Greevy.
<![if !supportEmptyParas]> <![endif]>
John returned to England, where he taught the recorder and had a viol consort class at Belmont School, which was attached to Chiswick Polytechnic. In 1967 he acquired a plain, unadorned Guinness-Gannon harpsichord.
<![if !supportEmptyParas]> <![endif]>
John's marriage to Vera Slocombe broke up in 1969. By March, 1970 he was back in Dublin, now with his companion, the viola player Ruth David. They lived together in a very basic cottage at the foot of Djouce Mountain in Kilmacanogue, County Wicklow. There was no running water and guests of a sensitive nature were horrified to discover that they were expected to use sheets of newspaper when directed to a rough outdoor privy. Every weekday John drove to the Royal Irish Academy of Music in Westland Row, where he taught harpsichord, viol and directed a chamber music class. Rhoda Draper and Andrew Robinson were among his viol students at this stage. His harpsichord students included Malcolm Proud and Emer Buckley. Other students who partook in the chamber music sessions, normally held in the Dagg Hall, included David and John Milne, Clive Shannon, Patricia Quinn, Michael Dervan, Siobhán Yeats and even Liam Óg Ó Floinn, who played the uilleann pipes, an instrument that John liked very much. The traditional fiddler Nollaig Casey also attended; John always got her to play an unaccompanied slow air at the class concerts. A traditional flute player also performed at the concerts, though he did not attend the class.
<![if !supportLineBreakNewLine]>
<![endif]>
The famous series of Bach Cantatas, performed during February in St Ann's Church, Dawson Street, Dublin, under Beckett's direction, began in 1972 and lasted for ten years. Nicholas Anderson of the BBC took a great interest in these Sunday afternoon concerts and several times recorded those Cantatas that the BBC had not yet recorded. Because of this connection, The New Irish Chamber Orchestra and The Cantata Singers, conducted by John Beckett, were invited to perform an all-Bach concert at one of the Proms in the Royal Albert Hall, London, on 22nd July, 1979. This was the first time that an orchestra and choir from the Republic of Ireland performed at one of the Proms.
<![if !supportEmptyParas]> <![endif]>
The Cantata series was revived several years after John left Ireland, with the Orchestra of Saint Cecilia (essentially the same personnel as the New Irish Chamber Orchestra), whose artistic director is Lindsay Armstrong.
<![if !supportEmptyParas]> <![endif]>
John regularly performed music by Haydn, notably his piano trios and songs, which were sung by Frank Patterson and which were recorded by RTÉ radio. John founded the Henry Purcell Consort in 1975 and brought a great deal of Purcell's music to Dublin audiences. He recorded an LP of Purcell songs with Frank, re-recording some for a BBC radio programme. He also played with the Dublin Consort of Viols (an offshoot of the Consort of Saint Sepulchre), which specialised in the performance of works by Purcell, Byrd, Lawes, Jenkins (whose music John adored) and other composers of that genre. He worked regularly with the New Irish Chamber Orchestra and went with them to Italy in 1975 (where, amazingly, he sat through an entire performance of Handel's Messiah), Sicly in 1977, and China in 1980, a trip that he greatly enjoyed. He regularly tutored the annual Irish Recorder Society courses and viol-playing sessions at An Grianán, Termonfechin, which were organised by Theo Wyatt. By this time, he and Ruth had moved to Bray, County Wicklow.
<![if !supportEmptyParas]> <![endif]>
At around this time in his life, John recollected a journey to the Great Blasket Island, off the west coast of Ireland, which was made in a currach over a rough sea during the 1940s, when the island was still inhabited. He relished the experience of living and drinking with the locals in their rough cottages and listened to the simple music and songs that they performed. John was well read, loved simple ethnic pots, Byzantine icons (especially those darkened with age), and was heavily influenced by the writings of his cousin Samuel Beckett, James Joyce (whom Samuel had worshipped) and Kafka. He developed a liking for the sparse, angular shapes of Chinese and Japanese calligraphy, which was mirrored in his extraordinary handwriting. The roughness and irregularity of a Japanese tea bowl fascinated him. His two greatest treasures were a bamboo chair, purchased in China, and an old Black Forest clock, which had been fixed by Cathal Gannon and about which he often spoke. He also relished well-flavoured, peasant food and had a strong penchant for garlic which he often carried in his pocket, using the cloves to flavour his much-loved whiskey.
<![if !supportEmptyParas]> <![endif]>
John venerated James Joyce to the same extent that he worshipped J. S. Bach. Joyce's Ulysses was Beckett's bible; he claimed that he read it religiously once every year. He visited Joyce's grave in Switzerland with his close friend Paul Conway; they also made an extensive trip around Germany, visiting all the places associated with Bach. He had travelled to Switzerland specifically to see a collection of paintings by Paul Klee, an artist whom he greatly admired.
<![if !supportEmptyParas]> <![endif]>
<![if !vml]>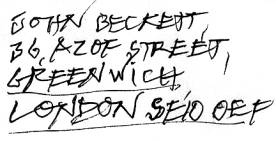 <![endif]>
<![if !supportEmptyParas]> <![endif]>
Throughout his life, John wrote letters in his almost unreadable handwriting or banged them out in an unchanging style on an ancient typewriter, which often was in need of a fresh ribbon. Addresses on envelopes were often handwritten and caused great difficulty for the postal service. His musical manuscripts were also very difficult to read and singers often had trouble in deciphering the words of songs.
<![if !supportEmptyParas]> <![endif]>
In 1983 he sold his house and harpsichord and left Ireland for good, moving with Ruth (and his cat, Murray) to Greenwich in London. As his health was poor – he had suffered a number of heart attacks – his doctor had warned him against any more conducting. He later had a hip replaced. He worked, until he retired, for BBC Radio 3, producing music programmes and reporting on 'foreign' tapes. When he lost his beloved Ruth in 1995 and then, in December 2004, his sister Ann, he lived alone and became somewhat reclusive and depressed. John had visited Ann in Dublin on a regular basis and more frequently when she became ill; after she had died, he could not be persuaded to return to Ireland and refused to attend a reunion of the Beckett family in Dublin. The negative image that he always seemed to have of himself – he felt somewhat overshadowed by his more famous cousin – became more pronounced and he was inclined to be morbid. He requested that Japanese music for the shakuhachi (an end-blown flute) be played at his funeral. He died, sitting in his chair, listening to his radio, on the morning of 5th February, 2007. He was discovered by Paul Conway, who had travelled from Dublin to surprise him on his eightieth birthday.
<![if !supportEmptyParas]> <![endif]>
ASSESSMENT AND CHARACTER
John was one of the first generation of brilliant harpsichordists that emerged in the middle of the last century. His playing was marked by energy and ebullient rhythm, always with the utmost clarity, and he was highly regarded as a continuo player by his contemporaries in the UK. A most affectionate and faithful friend, John could be a bitter opponent with a very sharp tongue. He worshipped J. S. Bach, and held Handel, Vivaldi and Corelli in extraordinary contempt. Other favourite composers were Mahler, Schubert, Chopin, Brahms and Fauré. He came to appreciate the French baroque composers late in life, thanks to the encouragement of one of his students. He disliked the sound made by some contemporary orchestras performing baroque music on period instruments. He once told Cathal Gannon that he would love to conduct a performance of Strauss waltzes.
<![if !supportLineBreakNewLine]>
<![endif]>
Like many conductors who are wonderful with choirs, his relationship with orchestras was (by comparison) slightly stand-offish. They saw little nuance in his arm movements, which tended to be extra large; and while orchestral players prefer to be shown things by gesture in the course of rehearsing, John's method was to mark each player's part, in great detail, in soft black pencil (having completely erased all previous markings) in advance of the first rehearsal, and then to give further instructions verbally. Reading his handwritten music, especially his continuo parts, which were thick with chords, was just as difficult as reading his handwriting.
<![if !supportEmptyParas]> <![endif]>
<![if !vml]>

<![endif]>
<![if !supportEmptyParas]> <![endif]>
When recording, John nearly always delivered the goods on the first take. Very often the best buzz of all was to be had in the final rehearsal. Despite a confident exterior, he was not at his happiest in public performance, appearing to scowl at the musicians when conducting. This did not prevent him, when a performance went particularly well, from repeating an entire Cantata at a Sunday afternoon concert.
<![if !supportEmptyParas]> <![endif]>
Often regarded as a formidable, gruff individual, he was generally a good and encouraging teacher, though he could at times be demanding. He stretched his students to their limits, but most were grateful to him for what he had taught them and for the fact that he had made them play music that, without his encouragement, they would never have tackled. Inwardly, he was very tense; it was his custom to leave for work very early in the morning lest he get caught in traffic, which was something that he absolutely dreaded. He regularly arrived at venues hours ahead of schedule and the 8 o'clock rehearsals for the Bach Cantatas always began at one minute to eight.
<![if !supportEmptyParas]> <![endif]>
(Charles Gannon, Andrew Robinson, Gillian and Lindsay Armstrong, Rhoda Draper, Paul Conway and Brigid Ferguson.)
<![if !supportEmptyParas]> <![endif]>
<![if !supportEmptyParas]> <![endif]>
<![if !supportEmptyParas]> <![endif]>
Back to Cathal Gannon
<![if !supportLineBreakNewLine]>
<![endif]>
Website design by Charles Gannon. Contact: cg_info@inbox.com. Updated December, 2007.
<![if !supportEmptyParas]> <![endif]>