---
Mairéad Doherty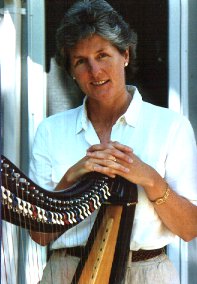 ---
Mairéad Loughnane Doherty was born near Nenagh, County Tipperary, Ireland. She began study of the piano at the age of six, but transferred her interest to the Irish Harp at age thirteen. Mairéad continued her study of the harp through high school, and while in college in Dublin also studied voice at the Royal Irish Academy of Music.
Mairéad emigrated to the US in 1971, settling in the Boston area. She has performed at such local institutions as the Boston Public Library, Harvard University, Symphony Hall and as special guest with the Christmas Revels. In 1992, Mairéad was a part of the committee which organised the Boston College Celtic Harp Festival (in commemoration of Belfast 1792) as well as being one of the headline performers at the week-end festival.
In Chicago in 1993, at the Parliament of World Religions, Mairéad was engaged to play meditative music on the harp for the more than 250 leaders of the world's main religions gathered there. This led to her current work with the Benedictine Community of Glastonbury Abbey, Hingham, Mass. where she co-presents retreats on Celtic Spirituality, integrating her harp music with liturgies and lectures on the history and spirituality of the Celts.
Mairéad continues to teach a few selected students and to give workshops. Having recorded with several artists over the years, she recently produced two recordings on her own label, Anam-Chara; Strings for the Spirit and The Celtic Christian Era in Poems, Song and Prayer.
Recordings available on CD and cassette from Anam-Chara Records, 33 Curve Street, Sherborn, Ma. 01770, USA or telephone ++1 508-653-7480.
---
Page created by Cormac Cannon 1998
Please send all comments etc. to Reiskmore Music
Site last updated: November 1998