Sergio Leone-Spaghetti Westerns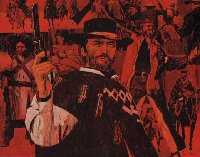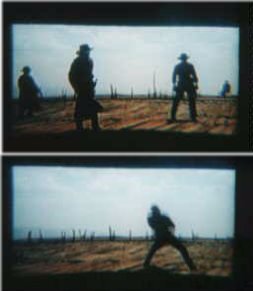 The expression "spaghetti western" is like a magnet to me. I am forever drawn to these unique movies no matter how awful some of them are.
When the great Italian film director Sergio Leone died suddenly in 1989, BBC TV in the UK marked the occasion by running a "Leone Season" of his spaghetti western movies which was to me (as an outright fan since I saw A Fistful of Dollars on its first cinema outing in Dublin in 1967) a long-overdue celebration of a great movie talent.
The extraordinary thing about all of his westerns is that they can be watched over and over and yet never lose their appeal. I am not joking when I say I have watched all of his western movies literally hundreds of times in all those years.
For the record, the film titles are:
A Fistful of Dollars
For a Few Dollars More
The Good, The Bad and The Ugly
Once Upon a Time in the West
A Fistful of Dynamite
(also known as Giu La Testa or Duck You Sucker)
Prior to these, Sergio had directed a film called The Collossus of Rhodes but this rather boring film provides no hint of what was to come. Among the countless "sword and sandal" epics of the 50's and 60's it was certainly nothing special.
After the westerns, his next and, sadly, his last film, Once Upon a Time in America is undoubtedly a masterpiece of movie-making but, for some reason, it doesn't have the same fascination for me. I've only watched it about twenty times. In Dublin we were fortunate in that we were shown the full nearly-four hour version from the word go whereas, for example in the USA, the film was butchered by the executives before distribution.
But, back to the westerns.
Whilst they are revered by millions today, when they first appeared they received a mixed reception from the critics. At the time, one of the most respected film magazines of the time was Films and Filming, unfortunately no longer with us. This is what they had to say about the Leone Westerns. To my great regret I wasn't able to get the November 1968 issue which reviewed Good, Bad, Ugly - it was all sold out and in those days I couldn't afford an annual subscription!!! If anyone has this review I'd love to see a copy* of it.
* Thanks to Ernie Farino of Los Angeles, California the GBU review is now added below. Thanks a million, Ernie.
Films and Filming September 1967 review of A Fistful of Dollars and March 1968 review of For a Few Dollars More
Films and Filming November 1968 review of The Good, The Bad and The Ugly
Films and Filming October 1969 review of Once Upon a Time in the West
Films and Filming November 1972 review of A Fistful of Dynamite
---
Sometime in the 80's I bought a CIC pan and scan video of OUTITW which I still have. It is159 minutes BUT the famous opening credits scene is shown, ludicrously, in unexpanded 'scope resulting in unfocussed elongated images of everything (including Jack Elam's face). The closing scene is likewise presented and you can tell by the music cuts that someone must have taken a scissors and cut large chunks out of it. Surprisingly, after the film is over we get a black screen for several minutes with "Cheyenne's" theme playing in the background!!
---
STOP PRESS (August 1999)
A new book is on the way - the subject being "Once Upon a Time in the West" and the author is Ernest D. Farino, an absolute walking encyclopedia in the film world and a recognised authority on Leone/Morricone and Spaghetti Westerns. Further down this page there is a link to a Leone Discussion Board and regular readers of this board will have seen Ernie's rivetting contributions and marvelled at his intimate technical knowledge of the moviemaking world.
I simply can't wait for this book to be published.
---
I now pose a serious question to all other Leone fans:
Do you think that these movies would have been successful if Ennio Morricone had not been chosen to compose the music scores?
The one sure thing is that they DID come together and, in so doing, enormously enriched the life experience of at least one grateful Irishman.

---
For the trivia collectors among you the price of Films and Filming then was:
September 1967: four shillings (Euro 0.25 cent in today's money)
March 1968: four shillings and sixpence (Euro 0.29 cent)
October 1969: Five shillings (Euro 0.32 cent)
November 1972: 35p (Euro 0.44 cent)
and it was great value and worth every penny. No current film magazine comes close - no, not even Empire.