Welcome

Welcome to the "New Look" homepage! It's been redesigned to help you get more of a flavour for the site and I hope it works. This way, you can get a brief look at some of the things that are going on without having to read all about it.
Happy surfing and add us to your favourites NOW!
---
Check This Out..

A good friend of mine has written a VERY good book that every Beatles fan should run out to the shops to buy (or, it's even easier if you just click on the book!). This fictional book is, indeed, a breath of fresh air. It explores the possibiliy of Paul having been replaced in the greatest band of all time!
>>more
---
CD-WOW

My regular visitors will notice that I have well and truly sold out to CD-WOW! Their banner has been added to every page for the simple reason that they are the best online music and dvd site I have found. If you know of a site that has better prices, let me know and I will change again! This site offers free postage to ANYWHERE IN THE WORLD - here I am accommodating ALL of my visitors.
---
FrameYourMusic.com

I know a lot of Beatles fans have some record covers that they are quite fond of. In fact, a few Beatles record covers are worth a lot of money. This site sells frames for you to display (and preserve) your pride and joy! I have a few of these frames and cannot speak highly enough of them!
>>more
---
Any Ideas?


If you are looking for something on the Beatles that you can't find on this site, please let me know because I will add it (as well as help you find it). Your emails are very helpful in my quest to make the perfect Beatles website


Send me a suggestion
---

Beatles Merchandise
Click here to see the newest Beatles books, dvds, cds etc. that I have been made aware of!




---
"Birth of The Beatles" by Sam Leach

The Rocking City (sub-titled Birth of The Beatles) tells the story of Sam's life with The Beatles and how the amazing 1960's Liverpool Rock scene evolved. John Lennon called Sam "The pulse of Merseybeat" and Paul McCartney referred to those days as "The Sam Leach Era". Packed full of brilliant early photos the book is a must for all Beatle fans.
>>more
---

Yes, TheBeatlesWebsite.com award has really taken off! One is given out each month and the webmaster of any Beatles site worth looking at should follow the steps to apply.
>>more
Award Winners:
RockMusicMemorabilia.com
SamLeach.com
Paul-is-Dead
Beatles.com.au
Beatles Art 2004
Beatles no.9
Rooftop Sessions
Beatles Singles Page
Paul McCartney Photos
The Beatles' England
---
---

One of these original handbills is for sale for £1,600. However, fans are able to purchase a 2nd printing for £4 ($6.50 or 6 Euro), plus £1.00 postage.
>>more
---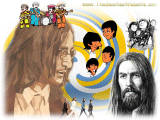 Download our

wallpaper
---


This site has lots of excellent Beatles posters at REALLY low prices.
>>more
---


This can only be described as a Beatles Pilgrimmage. If you have a little bit of money in your pockets and holidays coming up, follow this link..
>>more