About
Events
Performers
Commissions
Concorde on CD
Audience Comments
Young Composers
Concert Proposals
International Tours
Reviews
Articles
---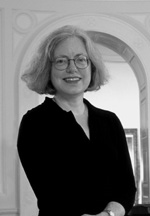 Jane O'Leary
Director, Pianist
Born in Hartford, Connecticut, Jane O'Leary has been the director and pianist of Concorde since it was founded in 1976.

A graduate of Vassar College and Princeton University, she is now living in Galway.

Active in the promotion and performance of new music, she was Composer-in-Residence at the Royal Irish Academy of Music in Dublin from 2000-2003.

She is a founder member of Aosdana, Ireland's academy of creative artists.
---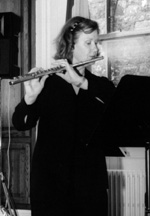 Madeleine Staunton
flute, alto flute, piccolo
A member of the National Symphony Orchestra of Ireland for over 20 years, Madeleine Staunton was a founder member of Concorde and has premiered many works for flute over the years.

Born in Dublin, she studied with André Prieur and has performed at festivals throughout Europe.
---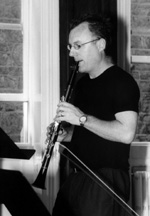 Paul Roe
clarinet, bass clarinet
Born in Dublin, Paul Roe held the position of principal clarinet with the National Symphony Orchestra of Ireland for many years.

He completed a Master's Degree in Community Music from the University of Limerick and now teaches in the Music Department of Dundalk Institute of Technology and works as a freelance musician, specialising in contemporary music, and as a facilitator to a variety of developmental projects.
---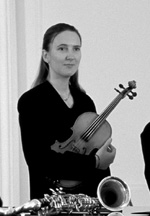 Elaine Clark
violin
Elaine Clark (violin) was born in Scotland and studied at the Guildhall School of Music and Drama in London, continuing her studies at Utrecht Conservatory in The Netherlands. Since 1996 she has been Co-Leader of the National Symphony Orchestra of Ireland.



---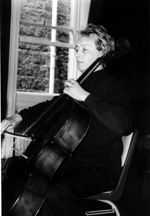 David James
cello
David James studied cello at the Royal College and Royal Academy of Music in London.

After completing his studies in the 1980's, he was appointed Principal Cellist with the RTE Concert Orchestra in Dublin.

In addition to his work in the orchestra, he has recorded with many traditional Irish musicians, toured with rock groups and appeared in several films.

His collaboration with American pianist Charles Rosen has resulted in recordings and concerts around the world.
---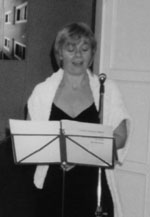 Tine Verbeke
soprano
A native of Belgium, Tine began her career in singing as a member of the RTE Singers in Dublin during the 1980's.

She has performed throughout Ireland and European centres and teaches at Alexandra College in Dublin.

She is also in demand as vocal coach for a number of Ireland's rock stars, including Bono and Christy Moore.
---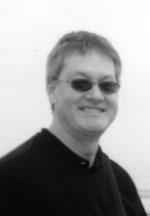 Richard O'Donnell
percussion
Originally from New Jersey, Richard graduated from Indiana University and City University of New York. He is currently Principal Percussionist with the National Symphony Orchestra and in 1996 was appointed to the staff of the Royal Irish Academy of Music where he is also Director of the Percussion Ensemble.
---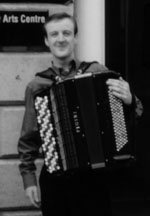 Dermot Dunne
accordion
Dermot was the first ever accordion player to be awarded the title of "Musician of the Future" by RTE. He continued studies of accordion and conducting in Kiev, The Ukraine, for five years and has now returned to Ireland where he is actively involved in music education and performance, teaching at D.I.T. Conservatory of Music and Drama.


---