St. Pauls triumph in Melvin' for sixth time .
by John Jackson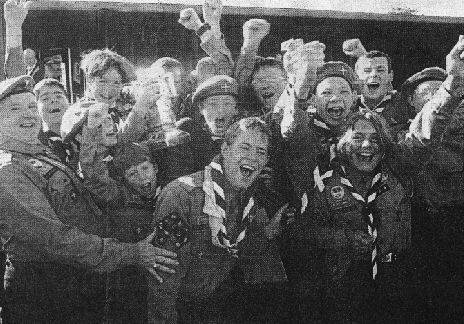 The l7th Waterford Troop (St. Pauls) retained the Melvin Trophy at the All-Ireland Scout Crafts competition which concluded at Mount Melleray near Cappoquin, Co. Waterford yesterday afternoon. It was the sixth time that the Waterford . group have won the coveted trophy which is valued at £10,000. Some 62 patrols took part in the competition which commenced on Thursday last, with a total of 525 scouts, including 200 girls and 200 leaders involved in the exercises. Scouts from all over Ireland took part, but information Director, David Barry, expressed disappointment that no competitors from either Kerry or Wexford, who are both strong scouting counties, were involved. Mr. Barry said the event was a huge success despite the adverse weather conditions over the four days. Safety was the top priority following last weekend's scare when a group of four scouts and two leaders from Youghal, Co. Cork, were trapped in dense fog in the Comeragh Mountains overnight. The group were found safe and well following a search involving a mountain rescue team and a helicopter. Mr. Barry said that three of the patrols competing for the Melvin Trophy were prevented from taking part because they did not have the proper safety gear and were insufficiently clothed. A radio base was also put in place to ensure that radio contact was maintained with the patrols at all times. The theme of this year's Melvin competition was A Bridge to Development. Four members of each patrol had to build a bridge on campsite equal to a bridge spanning a major river, while the other four members of the team spent 36 hours on an endurance test on the Comeragh Mountains. The jamboree, last held in Mount Melleray in 1989, had a new initiative this year with a public speaking competition sponsored by the Mental Health Association of Ireland. The inaugural winners were the 92and Cork Patrol (Glanmire) who were presented with their perpetual trophy by Mr. Aidan Foley, Vice-Chairman of the Association. The chief organisers of the weekend activities were Mr. Joe McLoughlin, National Scouts Commissioner, and Mr. Pat Murphy, Waterford Area Co-Ordinator, while Mr. Joseph Lawlor, Chief Scout of the Catholic Scouts of Ireland attended the presentation ceremony.
Results
| | |
| --- | --- |
| | Melvin Trophy - 1, l7th Waterford (St. Pauls); 2, 103rd Dublin (Willington). |
| | Telecom Eireann Perpetual Trophy (Expedition) - 23rd Limerick (Caherdavin). |
| | Diarmuid Murphy Perpetual Trophy (Hiking) - 8lst Dublin (Terenure). |
| | Waterford Foods Perpetual Shield (Cooking) - 109th Cork (Ballinora). |
| | Seamus O'Donovan Memorial Shield (Campfire) - 8lst Dublin (Terenure). |
| | Camp Craft Shield - 103rd Dublin (Willington). |
| | Kellogg's Perpetual cup (Trek cart race) - 30th Tipperary. |
| | Peace Trophy - 109th Cork (Ballinora). |
| | Manning Perpetual Trophy (best log) - 94th Dublin (Walkinstown). |
| | Best newcomers - lOth Leitrim; |
| | Best visitors Coleraine Girl Guides, Derry. |
The 29th Cork Troop from Mitchelstown captured an award from FÁS in Waterford who ran a number of training courses on the site which had been transformed into a tented village.
Detailed results can be found on our Melvin 96 results page.

Copyright © St. Pauls Scout Unit 1998
Last updated on 10-Oct-1998