For all those people who have never been fortunate enough to sample the taste of a Melvin, or for all those parents who wonder why their children spend so much time training during the summer months, here is a glimpse of life approaching and during a Melvin. This shows, without a shadow of a doubt, the commitment, skill and aptitude needed to partake in this supreme festival of scouting. However, the only consolation surrounding the nerves and apprehension which each scout feels prior to a Melvin, is that many scouts before and, no doubt, many after will feel the same way because they have been chosen to represent their unit, region and county amongst the elite at an event so full of passion, life and excitement, that is "The Melvin". While it is true to say that the training begins to get concentrated from mid July to the day of reckoning, it is not true to say that this is when training begins. With a creditable sixth place in the previous Melvin, training for Larch Hill began in the September of '94 (needless to say, some degree of training has already begun for Melvin '98 in Kilcully).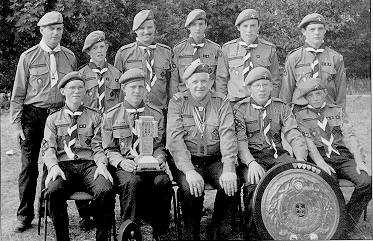 This training involves the whole troop and is in fact the troop meeting. This schooling of the younger scouts, allows them to advance and means that less pressure arises when the fortunate eight scouts are chosen for the event.With regard to Melvin '95, as per usual training stepped up a year when qualification was assured, with the winning of the Ted Ryan Memorial Trophy and the Regional Shield. The team consisted of seven scouts from the previous year and one new face to the Melvin scene, following the tragic death of our fellow scout and friend, Ros Davies, earlier that year. Prior to annual camp, training was to some extent low key, with two sessions per week, each for two hours. These meetings were still troop orientated with many non-team members attending. These training sessions involved the perfection of skills from campcraft to log writing, public speaking to orienteering and communications to first aid. However, being such close friends and knowing each other for so long, the fun element was never lacking, with the jokes, witty humour and fun never far away. While annual camp is a focal point for any troops year, it is also a time where a lot of training is completed. That year annual camp took us to Glenshelane, just outside Cappoquin. The vast quantities of fresh air, open space and good weather, finished off with a superb atmosphere, allowing the learning experience to be great fun. It was to be here that the foundation of our success was to be achieved with the finalizing and perfection of the team's campcraft. With the active day of swimming, hiking and orienteering coming to a close and the balmy nights around the camp-fire ending, annual camp drew to a close.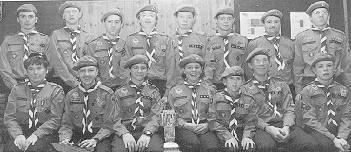 All our mention turned to Larch Hill and training went into overdrive (we virtually trained every weekday evening). With the Melvin only days away, everybody was still relaxed (or so they said) even though all hands were on deck. Many people worked every hour of the day in the scout hall so that the team would be fully prepared and have all the equipment necessary to achieve our goal. These people know who they are and they deserve much praise and thanks. When the day finally arrived everything was just right. We departed for Dublin early Thursday morning in high spirits, however, as we approached Dublin some nerves began to jangle. The closer we got the more nerves began to emerge. However, it was clear we were well prepared and when the opening ceremony ended, it seemed only a matter of hours before the closing ceremony arrived. It went so fast. Yet I can still remember every single detail. In fact, I could probably fill this book with stories from that Melvin. The trips on the D.A.R.T., the days spent in Dublin, the trip to Ireland's Eye (an island off Dublin), the initiative bases on the beach, the camp-fire and much more. It all passed in a haze but the friendship made that year still last to this very day. It was one of those weekends where everything went like a dream. Yet the hardest part of the weekend stood out a mile. It had to be the wait while the top ten teams were read out in reverse order. We had already won two trophies at this stage, the Campcraft trophy and the Dermot Murphy Memorial Trophy.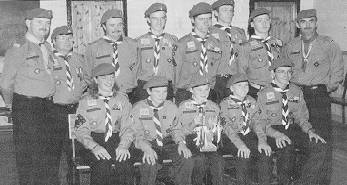 However the jewel of the crown still remained, the Melvin itself. As the top five were called out, our nerves reached an ultimate high. Just before the second placed team was announced, all I was thinking of "Please let it not be St. Pauls second". To our relief our prayer was answered. The roar that went up when we were announced victorious was unbelievable. All sorts of emotions were felt from relief to delight. Our dream had been realised and all the thrills and spills of the Melvin had been worth it - all the hours of training had paid off. To explain to a non scouting person the esteem in which this competition is held, it is the scouting equivalent of winning the All Ireland Hurling Championship. To win it once is a great success never to be forgotten. It creates memories that the eight scouts on that team will never forget and it will always stand to these people throughout life, no matter what path they take. However after another success in '97, we have now won three in a row - a success which shows the strength in our troop in more ways than one. In fact, three in a row is quite a miraculous achievement - just imagine the praise heaped on any team which won the All Ireland Hurling Championship on three successive occasions.
Copyright © Kevin Butler 1997.