Our Productions

Noel Lambert Puppet Theatre - Ireland - Phone: +353498548883 Mobile: 0861541043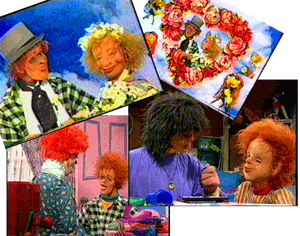 With a genuine and an extensive experience in puppets for Multimedia. Noel and Eva Lambert make their own puppets as well as develop their own techniques. They have built and manipulated characters for TV, film, theatre and advertisement. Their credits include, the critically acclaimed puppet drama series, Rimini Riddle ( 95 half hour episodes) on prime time television, Dinin, a pre-school series (130 fifteen minutes episodes, The End(Late Saturday night adult TV40 episodes). The Bank of Ireland RTE Proms, (Four years). The Ark , 6 weeks performing in seven different puppet techniques such as Balinese Shadow puppets, Czechoslovakian marionettes to Punch and Judy style puppets. Lately they have toured Ireland and traveled the world with various puppet shows. Including all three of their trilogy
Their unique and versatile skills cover every aspect of puppet production, in the children's entertainment market, from mechanism to costumes, script to music, and design to stage direction. They are involved with new innovations of merging hi-tech with low-tech puppet constructions and experimented with a large amount of different materials, such as hot foam latex and silicone skins for animatronic puppets, cold foam, wood, wool, paper and a multitude of other materials. They have developed their own highly specialist manual/animatronics' eye mechanism, dmx lighting effects and experimented with merging live action puppets with 3d animation (Puppetoonz). They have been involved for eleven years passing on their skills and expertise teaching puppets to DLCAD students. You can expect the Noel Lambert Puppet Theatre to rival the best in this very specialist field.
They are now touring their trilogy of plays.
Click below on each show for more information.