PERFORMANCE

Expressed
CREATING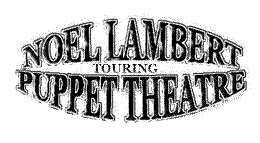 Noel Lambert Puppet Theatre - Ireland - Phone: +353498548883 Mobile: 0861541043


A touring Puppet company that operates independent of the famous "Lambert Puppet Theatre of which Noel is a founder member and Director. The creative engine of the `Noel Lambert Puppet Theatre` is husband and wife team Noel and Eva Lambert. Together as Master Puppeteers they perform their shows with all the skill you would expect from their combined experience of puppets, spanning decades. Eva is a highly accomplished Designer and Puppet maker, and takes responsibility for those aspects of their productions, while Noel creates the Scripts and Music.
Noel is a founder member of the legendary Lambert Puppet Theatre and is among the most innovative puppeteers working today, an artist who blends puppetry, imagery and music in his striking performances. As an accomplished composer he has written music and songs for over 26 productions of the " Lambert Puppet Theatre ", as well as music for many children's TV, film and Theatre productions. He has worked as Principal Puppeteer for Jim Henson's Creature Shop, performed in the Central Puppet Theatre (Obraztsov) in Moscow . He has worked many years for TV, Film and Touring productions. His wife Eva is a professional puppeteer and was a member of internationally acclaimed "Companie Philippe Genty" she has performed in puppet shows around the globe for many years. She is a highly prominent puppet maker and puppeteer and has worked in many TV and Theatre shows both abroad and in Ireland .
The Secret of this company's success is big likeable creatures in colorful costumes within a relative small set up that fit most schools, halls or theatres. The shows has been presented in schools, on fields as well as in front of a 1500 seater outdoor theatre with equal success in captured audiences. When performed on a big stage with additional help of the shows expansive lighting and sound system the show has demonstrated to be more than adequate in reaching a large audience.
Together they have collaborated for more than 10 years, performing and creating hundreds of puppet productions. Their joint credits include 'Rimmini Riddle', (RTE 4 series), "Dinin", (RTE/Tyrone Productions 5 series), 'The End' (RTE), The Romps RTE Bank of Ireland Proms. The Ark , Temple Bar, Special Olympics, 2 years touring of Ireland and in the Middle East .